3/11/2011
members of trip: Ricardo Moreno Contro (Pollo) and Zach Taylor
ascent/descent route: west gully via Williams Lake.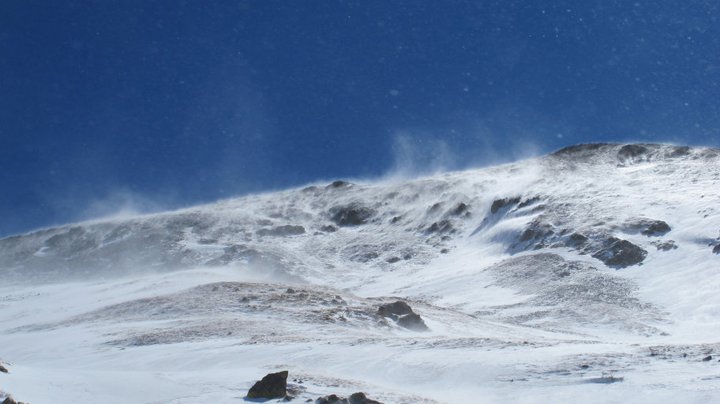 photo-Wheeler Peak. photo by Ricardo Moreno Contro, 2011
Wheeler Peak is the highest peak in New Mexico sitting at 13,161'. It sits across the Williams Lake valley from Taos ski area. I had been looking to get out of town and had three days off so I called Pollo to see if he had the time too. Turns out he did.
I had been wanting to climb Wheeler for awhile. It is the highest peak in New Mexico, I had never been up in the New Mexico high country before, and I wanted to go somewhere new. I brought up the idea of Wheeler Peak with Pollo and he said it sounded great. On the 10th I drove to summit county to look for some hard to come by topos and have lunch with a friend I had not seen in a bit. Pollo did some translating work in Vail and we met in Leadville about 3pm, dropped his car in Leadville, loaded his gear in my Blazer and started driving.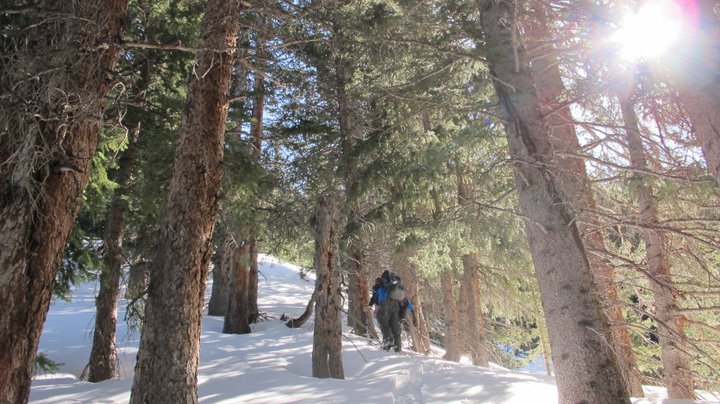 We passed the city of Taos around 9pm and found a camping spot off the road to the ski area above the city of Taos. We drank a beer, set up camp, and discussed our plans for the morning. I had not been able to find a topo anywhere in Vail, Summit, Leadville, or BV although I had looked at a topo online prior to leaving and read several trip reports. I had talked to a forecaster from the CAIC, the northern New Mexico Avalanche Information Center, and a member of Taos Ski Patrol to try to get an idea of snowpack/avalanche conditions. From what I could gather it has been a relatively low snow year with a snowpack resembling early season Colorado; depth hoar topped with wind slab on east and north facing aspects and west facing aspects were supposedly pretty scoured.
Our proposed route went up a west facing aspect with pitch angles averaging in the 25-30 degree range. We got up at 6, packed up camp, and drove up to the Taos ski area. We drove slightly past the ski area on a road the curves up behind the ski area to a lot called the Hikers lot. This was the trailhead.
photo- Zach Taylor skinning through the woods beneath Wheeler Peak. photo by Ricardo Moreno Contro., 2011
We skinned for about two miles up a well used winter trail to just before Williams lake. From there we cut left and began breaking trail through the woods towards the west face of Wheeler Peak. We reached the bottom of the avalanche path that runs down from the Wheeler Walter saddle pretty quickly.
The snow was pretty low angle here and we were not really worried about a big natural running but chose to switchback through the trees just to the side of the slide path until treeline just to be as safe as possible and practice good route finding.
As the trees disappeared we were greeted with beautiful views of Wheeler, Walter, and the entire Williams Lake drainage. The New Mexico Sangres are very cool peaks.
photo-Ricardo Moreno Contro skinning towards Wheeler Peak from above Williams Lake.  photo by Zach Taylor, 2011

photo- Zach Taylor near treeline on Wheeler Peak.  photo by Ricardo Moreno Contro, 2011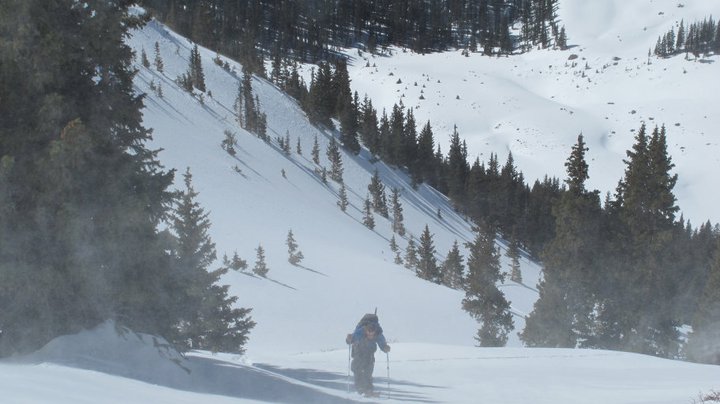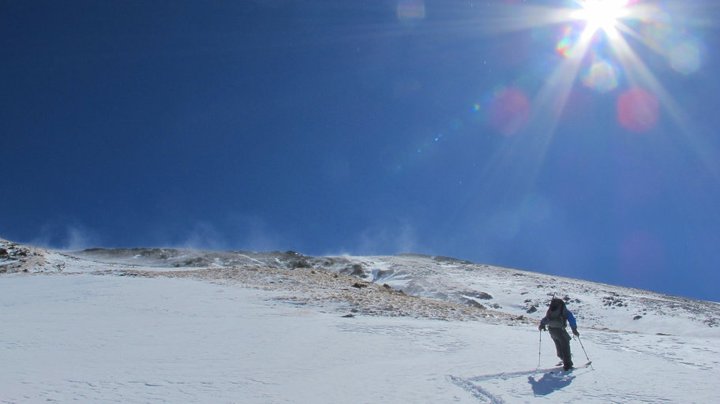 photo- Zach Taylor in the west gully beneath the Wheeler Walter saddle.  photo by Ricardo Moreno Contro, 2011

    We continued to make good time.  When we got to about 12,000' we noticed two more prominent steep lines that came off Wheeler peak's West face that looked fun.  We stopped here and dug a pit to do some tests and see if it was safe enough to get onto some steeper terrain.

    Here are my observations at the time;

The pit was on a WNW aspect and was 118cm deep.  The pit revealed two easily noticible weak layers; basil facets at the base of the snowpack and a distinctive 7-8 cm deep mid-pack faceted layer that was buried about 60 cm off the ground.  The basil facets did not fail on any test.  The buried faceted layer 60cm off the ground seemed to be the problem layer here.  The first block we cut failed while I was cutting out the back with my saw.  It popped out with energy on a smooth planar surface (0Q1).  I did a column compression test on the next column which scored a 11Q1, failing on the mid pack faceted layer discussed above.  That was followed by an ECT 29 Q2 score again failing on the same weak layer. 

    Based on these results we chose to stay in the gully on pitch angles 31 degrees and lower.  We observed no cracking, collapsing, or whumping and saw no avalanche activity on similar slopes in the drainage.  We did observe one soft slab avalanche that had run adjacent to the ski area across the valley since the last storm cycle.  The slide was on the hike to peak at the ski area but just out of bounds (ENE aspect?).  I would guess from my vantage that the slide ran 100 to 130 feet wide and about twice the vertical.  It was too far away for me to venture a guess at the depth of the slide.  I would probably call it a D2-R2 in size and destructive capability.

    Overall we felt conditions were very yellow light.  We were comfortable skinning up the lower angle parts of the slide path and being below steeper terrain since we knew there was no one above us.  We would not have been comfortable crossing through ave starting zones or pitches 34 degrees and steeper.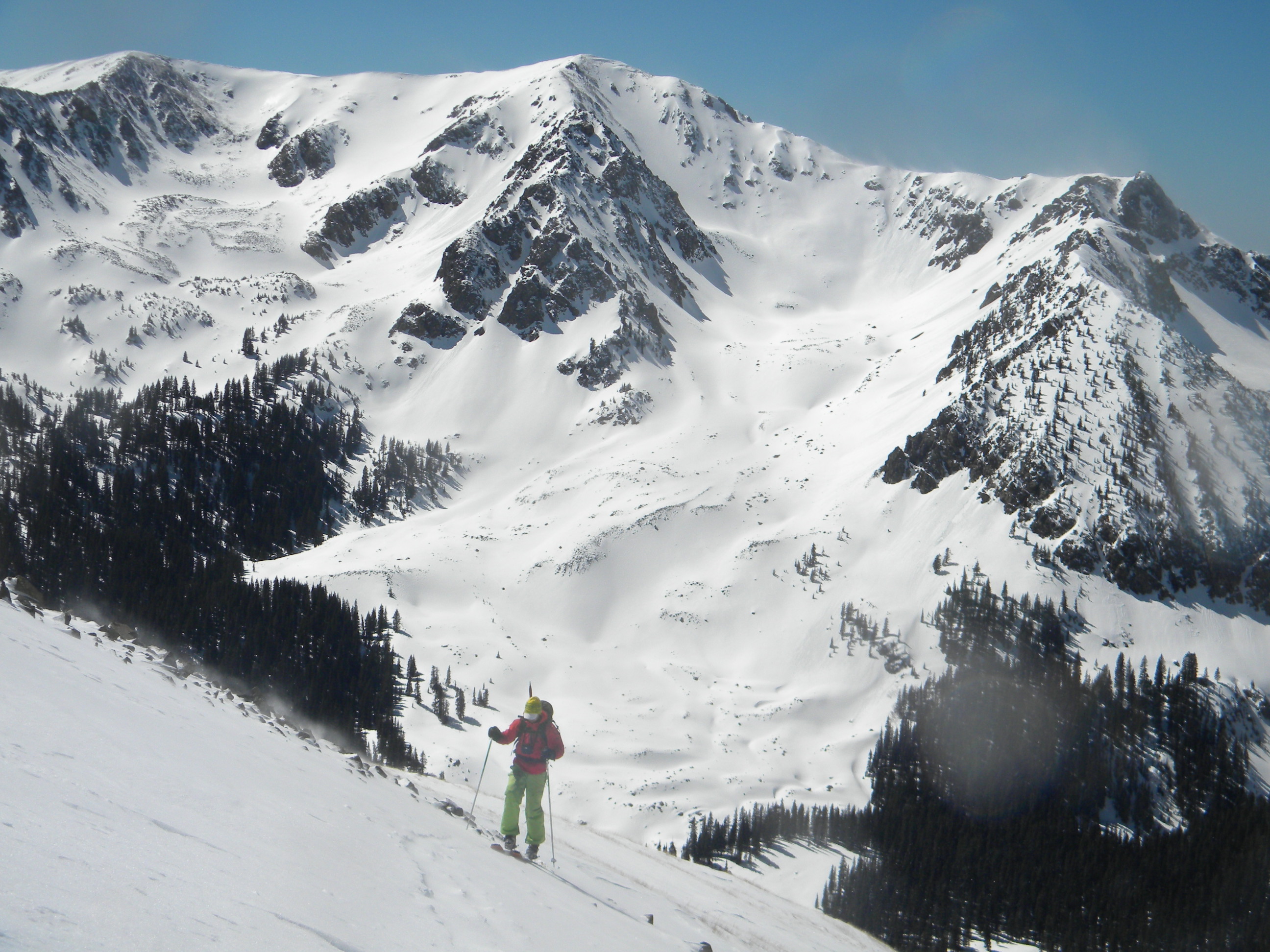 As we continued up the gully snow began to peter out a couple hundred vertical feet beneath the Wheeler/Walter saddle.  We stashed out skis/board and scrambled up to the top of the saddle.  From there we turned right and walked to the top of Wheeler.  We took some pictures, enjoyed the views and then did the easy walk across to the summit of Walter as well.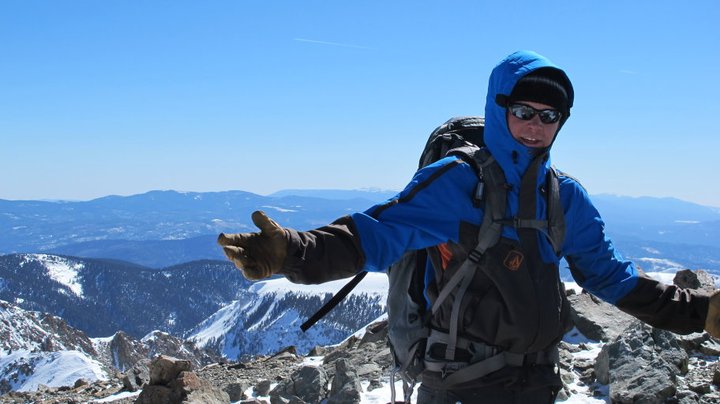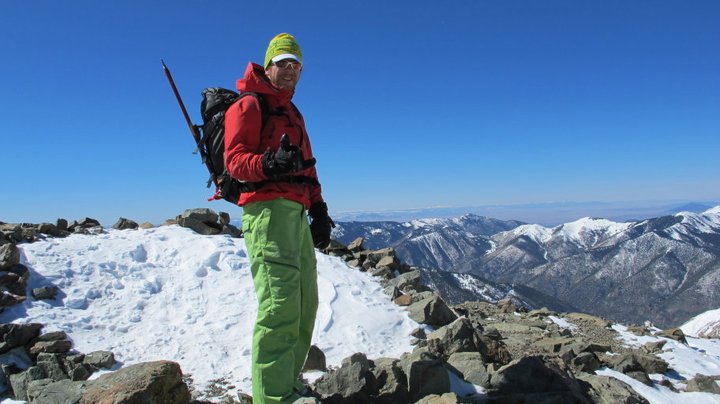 photo-Zach Taylor on the summit of Wheeler Peak, New Mexico.  photo by Ricardo Moreno Contro, 2011

photo- Ricardo Moreno Contro on the summit of Wheeler Peak, NM.  photo by Zach Taylor, 2011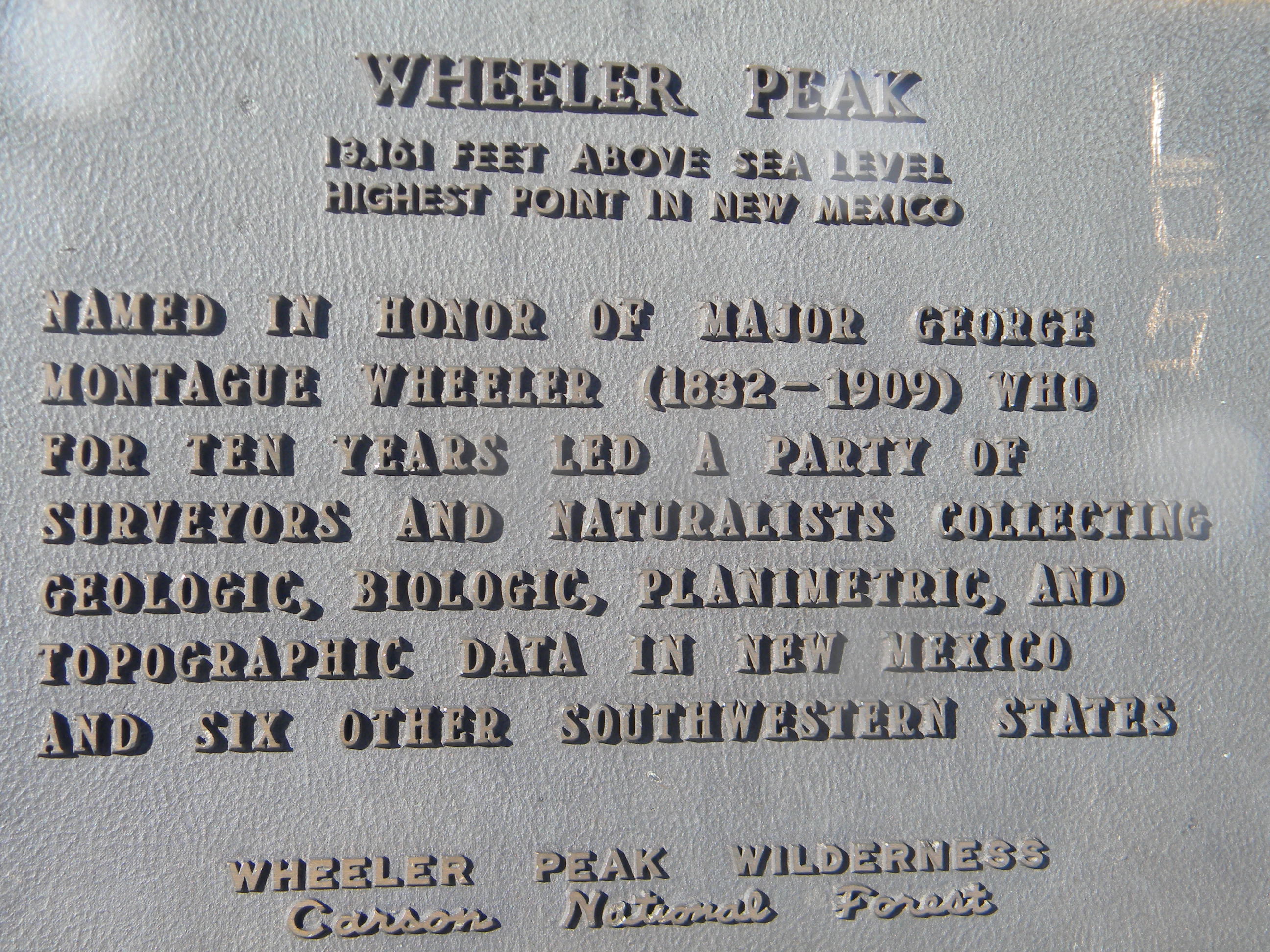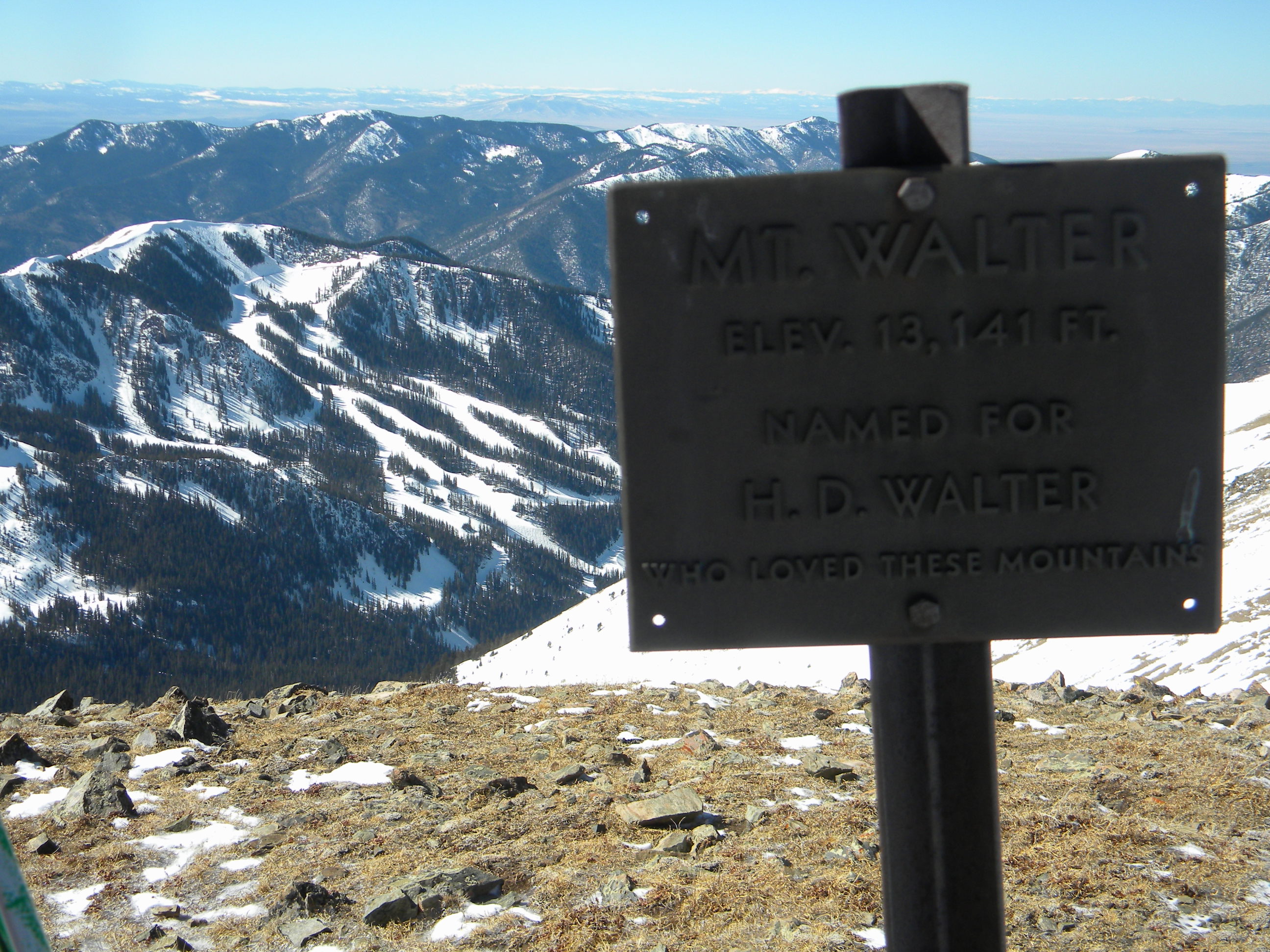 The plaque on the summit of Wheeler Peak.  photo by Zach Taylor, 2011

photo-The plaque on the summit of Mt. Walter with Taos Ski Valley pictured in the background.  photo by Zach Taylor, 2011

  The summit of Walter was about a 10-15 minute walk from the top of Wheeler.  It is the second highest point in New Mexico, although many debate whether it is its own mountain or just a lower summit of Wheeler.  Either way, it was there, it had great views, and it gave us the gift of more time in the alpine before heading back towards civilization

    With the high winds (gusting into the high 30s/low 40s) we headed back down to the Wheeler/Walter saddle after a couple minutes on the top of Walter.  We walked down some steepish loose scree/talus for a couple hundred vertical feet before returning to our planks and the descent.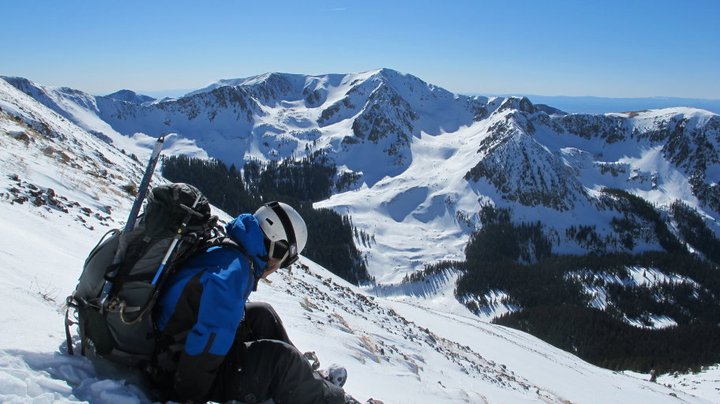 photo-Zach Taylor getting ready for the descent from about 500' below the summit.  photo by Ricardo Moreno Contro, 2011

    The top several hundred feet of continuous snow was broken by some rocks in places and was very tight in others.  Even though the pitch angles were only about 30 degrees it was pretty interesting and slightly technical to figure our way back down into the gully proper through the rock bands and narrow snow on the higher reaches of the snow covered portion of the mountain.  After a few hundred feet of tight turns and billygoating we got into the wide open 30 degree gully and enjoyed some hero turns down to the valley trail just before Williams Lake.  Enjoy the action shots!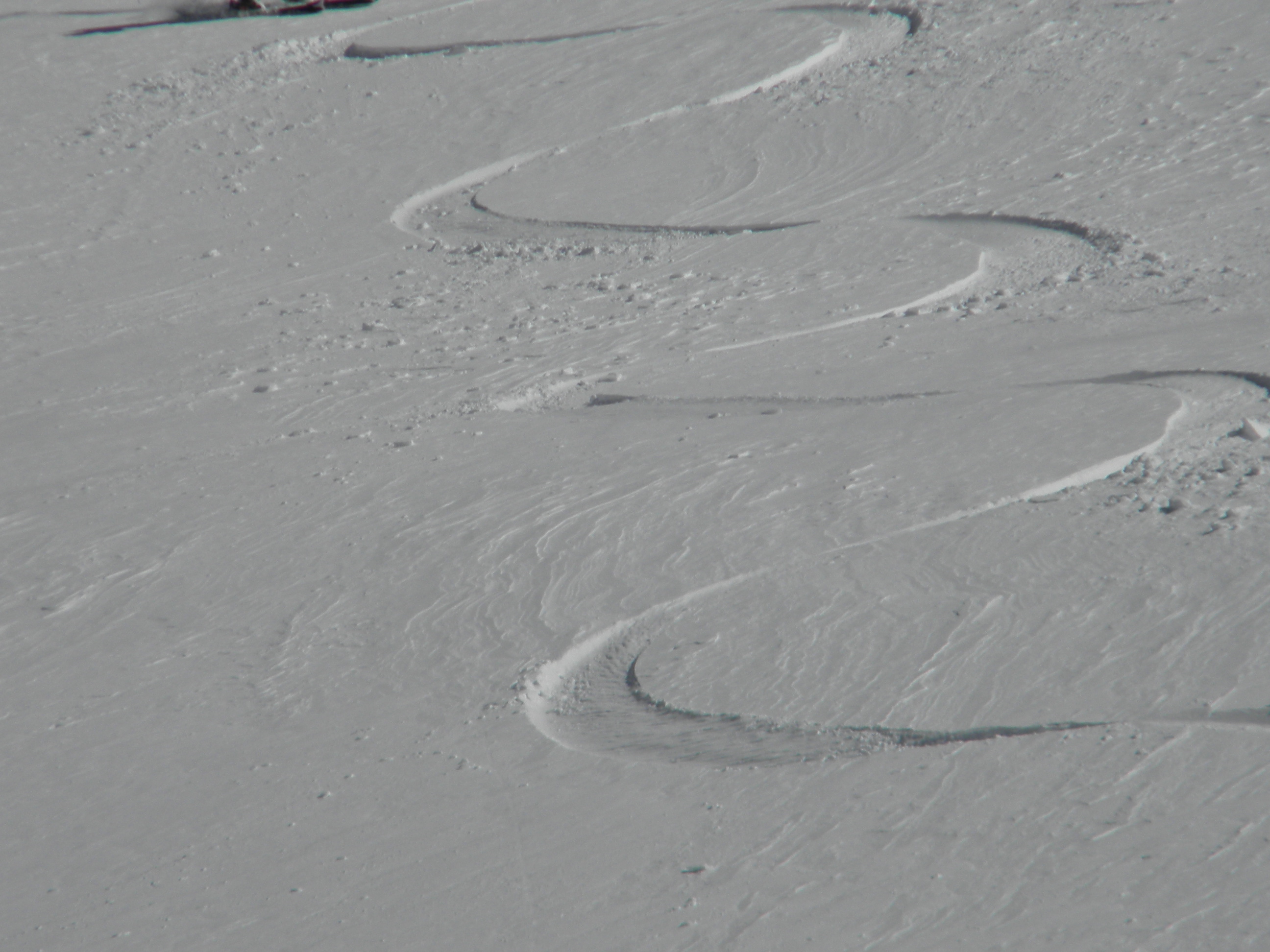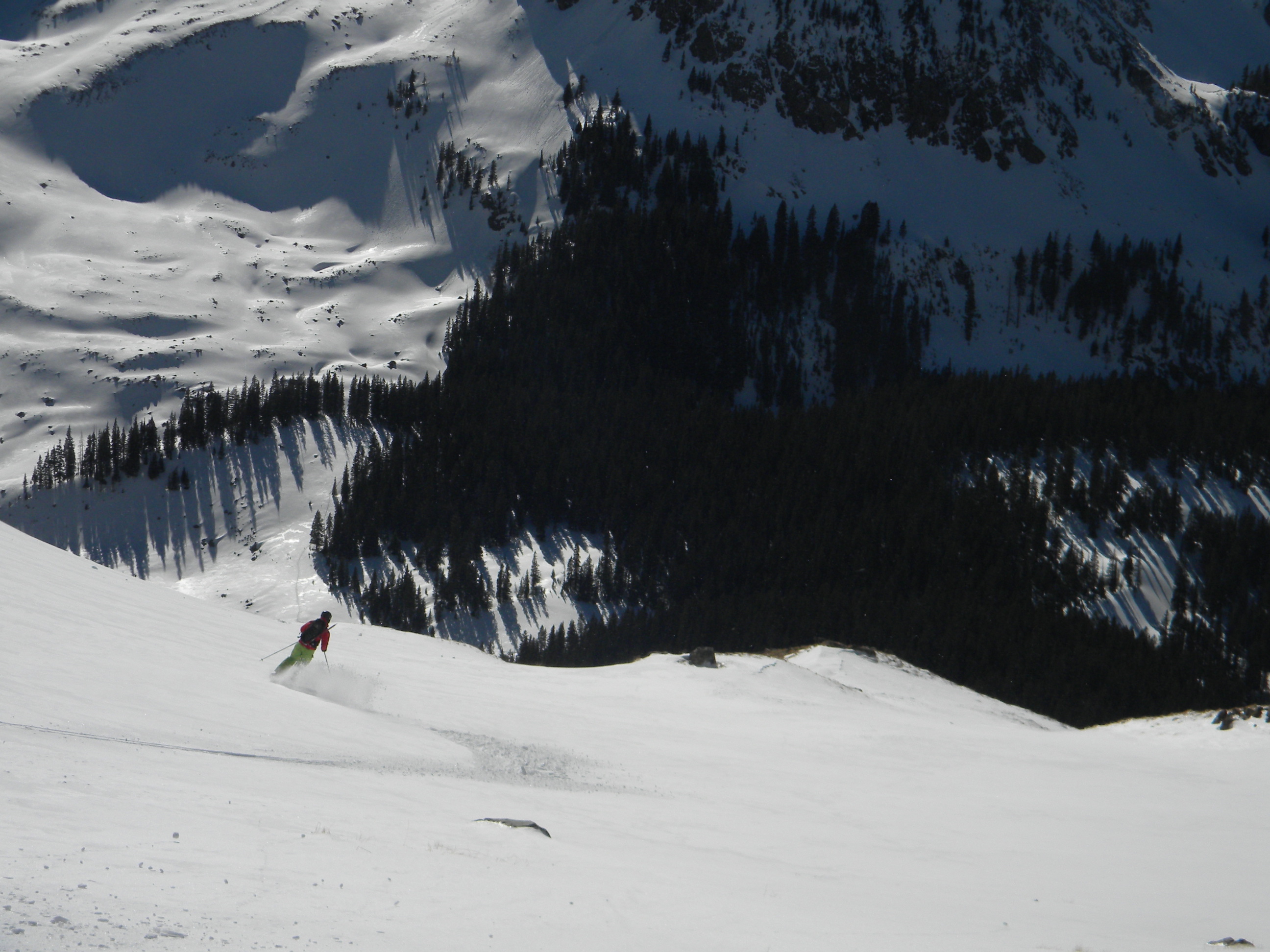 photo- A look at Zach Taylor's tracks coming off Wheeler Peak.  photo by Zach Taylor, 2011

Ricardo Moreno Contro skiing down the west gully of Wheeler Peak.  photo by Zach Taylor, 2011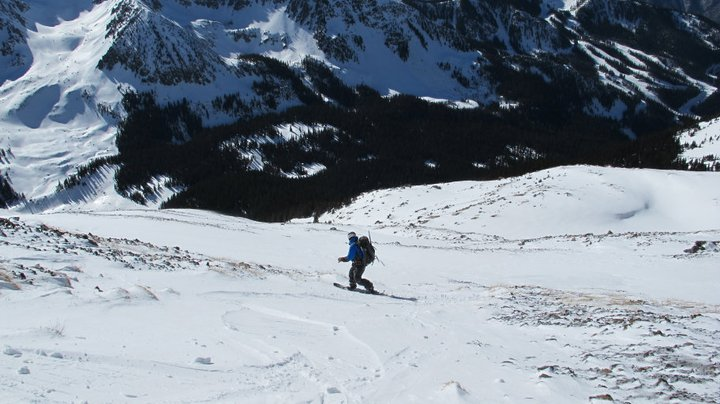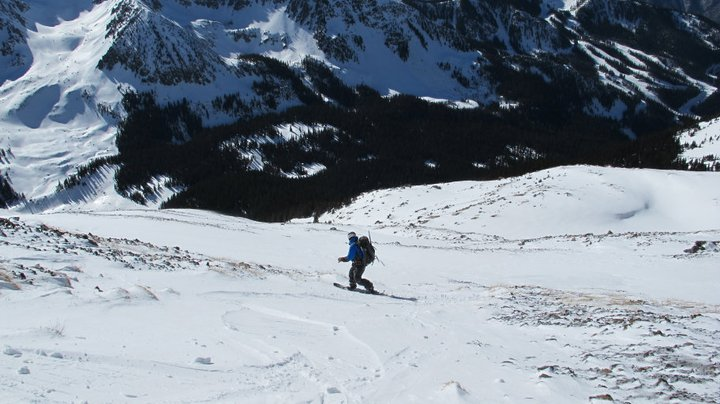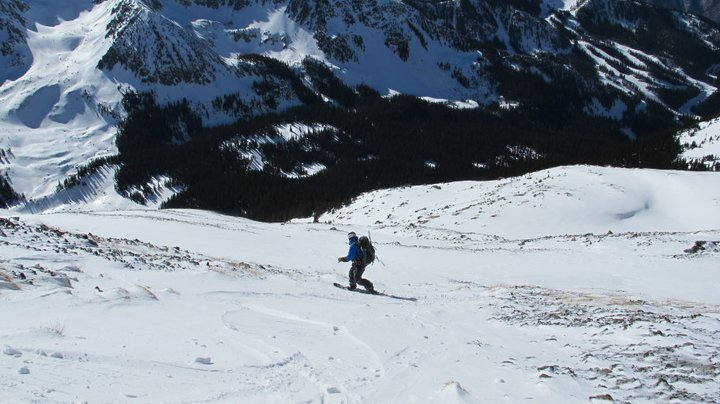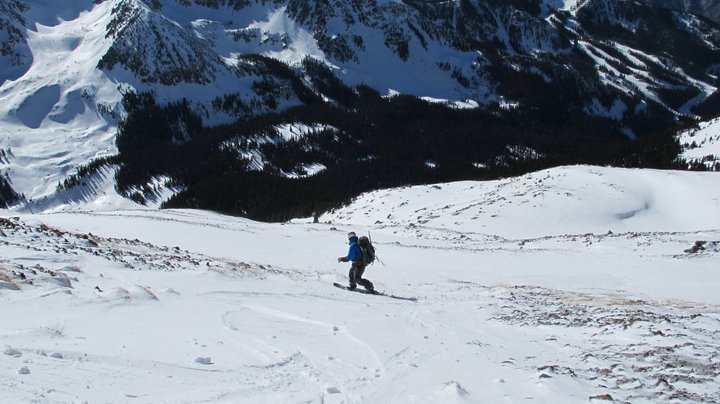 photo- Zach Taylor riding down the upper sections of the west gully of Mt. Wheeler.  photo by Ricardo Moreno Contro, 2011

    The snow was mostly powder for the first 500' and then turned to slushier sun-affected snow as we descended below 12,200' or so.  It was just slushy and sun affected enough to be fun without creating difficult riding conditions.   

    It was a fun descent that I am surprised more people do not do regularly.Sshhhh.  Thankfully the relatively far distance from major population centers and the small population of this area should keep it less traveled and more pristine than many places in Colorado for a long time to come.