5/27/2010
-members of group:Danielle Lytle, Summer Roach, Zach Taylor, Blake(our guide), and two girls from Texas who's names I do not rememeber
-ascent/descent route: standard hike up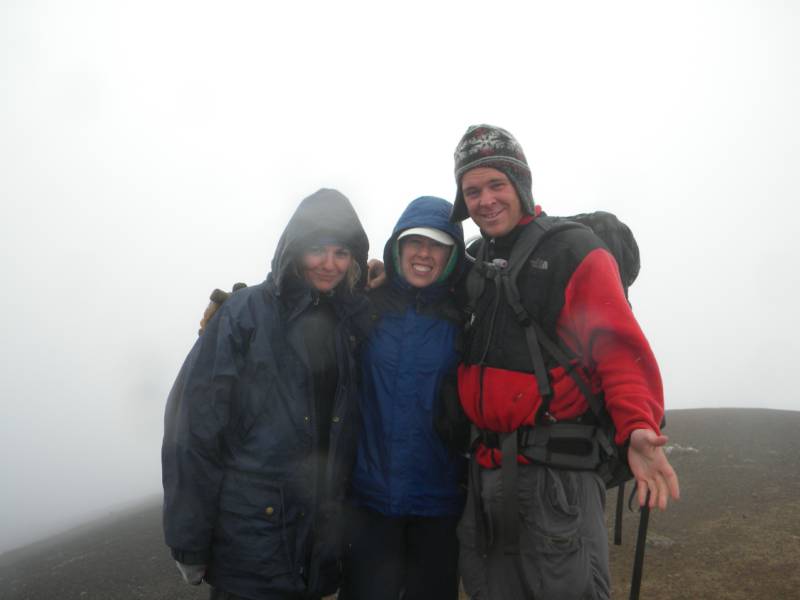 photo-A look at Volcan Acatenango covered in cloud. photo by Zach Taylor, 2010
Volcan Acatenango is the second highest peak in Guatemala, second only to Volcan Tajumulco which sits just to the north of the city of Quetzaltenango near the Mexican border. Volcan Acatenango and its sister volcano, Volcan Fuego, over look the city of Antigua in the south central portion of the country. Antigua is about an hours drive from Guatemala City International Airport and probably the coolest city I have visited in Central America. Volcan Acatenango is currently dormant and does not pose any eruption potential at the time of this writing. Its sister volcano, Fuego is active and frequently spouts lava and smoke from its crater.
I had been traveling in Guatemala and El Salvador for a couple weeks with Summer and Danielle and was itching to climb a peak in the area. I didn't want to have visited this beautiful, mountainous country without climbing a mountain. Summer and Danielle are both avid mountain hikers back in the states so it did not take to much convincing to recruit them. Because of the danger of being robbed on the trail and all the issues associated with finding your way to the trailhead in a third world country we decided to hire a guide. We used Old Town Outfitters which have an office right off the main square in downtown Antigua. I had some trepidation with using a guide as I have never used one before but it made sense in this situation. Old Town Outfitters did a good job and I would recomend them to anyone interested in a guided experience in this area.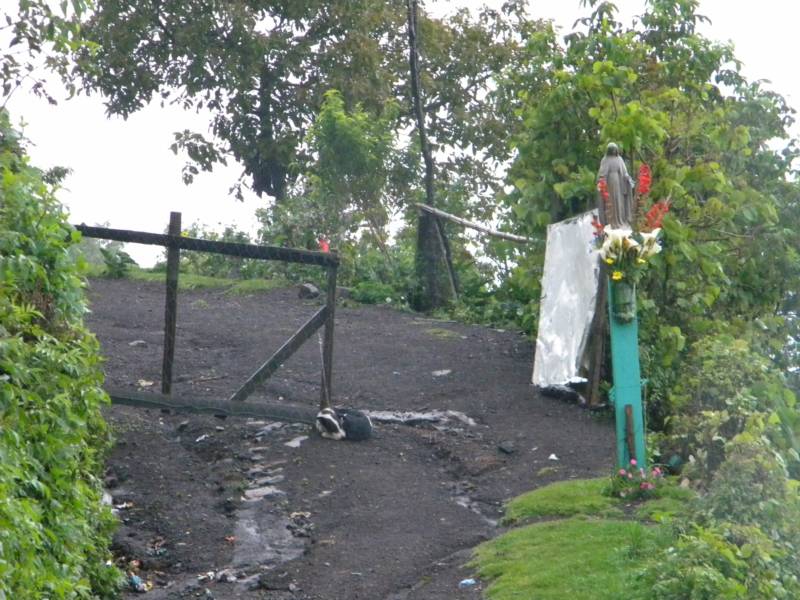 I was unable to find any kind of map to the area. I do not believe the government of Guatemala has anything resembling our USGS unfortunately. Therefore I had no map and only have fairly vague directions here. We were climbing in clouds for much of the day too which did not help.
We woke up in our hostel at 4am and made our way to the Old Town outfitters office a few blocks away by 5. We met Blake and hopped in his van with two other girls from Texas that had signed up for the trip too.
We drove through the dark and watched the sky begin to lighten as the sun rose. Eventually we turned onto a potholed dirt road and followed that for a while.
photo-The "trailhead" to Volcan Acatenango. photo by Zach Taylor
Eventually(probably a two hour drive) we pulled over on the side of the road and got out at the trailhead. This volcano hike takes you through four distinctive ecosystems, farmland, cloud forest, alpine forest, and finally alpine above treeline for the last bit. We were joined here by our local Mayan "guide"(bodyguard) who accompanied us on the hike. I do not remember his name.
Our group began to hike up the trail. Very quickly we were hiking through cornfields. Blake explained how industrious the Guatemalans are with their farmland here. They first plant corn. When the corn gets big enough they plant black beans at the base of each corn stalk. The bean plants grow up the corn stalk and then both plants are harvested. They get two crops where our US farmers would only get one. After this harvest they plant squash were the corn and beans were and grow that till the squash is ready for harvest. After that they replace with corn and start the cycle all over again. These farmlands year round never sit unused. I was quite impressed by the efficiency of this set up.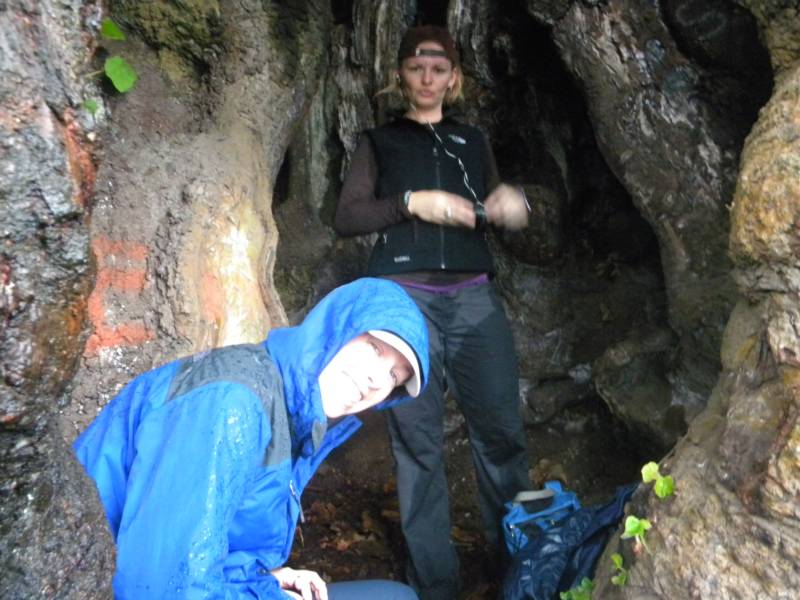 It began raining on us pretty quickly and we donned rain gear as we began to wind into the "cloud forest." This area is characterized by mainly decidous trees, ferns, and bamboo. We stopped at a pretty cool tree. It was very large and rotten on the inside. You can fit several standing adults inside.



We continued to climb and entered into the alpine forest. Here it is very similar to the forests we have in the western US. Coniferous trees dominate and the ferns and lower plants disappeared as we entered this area. It was cloudy but as the clouds moved in and out we were able to look down into the valley about two thousand feet below. It was pretty. We were there at the beginning of the rainy season. It was still fun but I would definitely recommend doing it during dry season to enjoy better views and weather.

We stopped at an old cabin here to take a break and have a snack. Blake said that we were about halfway to the summit from there.

Pretty soon we began hiking again. Trees eventually became more sparse and we finally crested treeline. It was windy, wet, and pretty cold at this point. We had all our layers on as we started hiking towards the crater rim from treeline. At this point I hiked out ahead of the group a bit and made it to the crater rim about five minutes before the rest of the group. I enjoyed a few minutes of solitude on the crater rim in the rain and fog before the rest of the group arrived.
photo-Summer Roach and Danielle Lytle taking a break inside the trunk of a very large old tree. photo by Zach Taylor.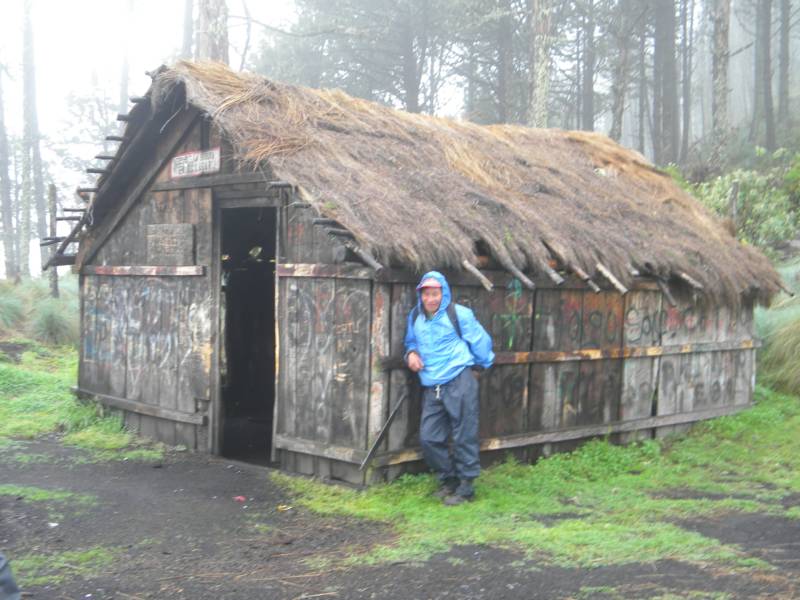 photo- Our Mayan guard leaning against an old shelter about halfway up the volcano. photo by Zach Taylor, 2010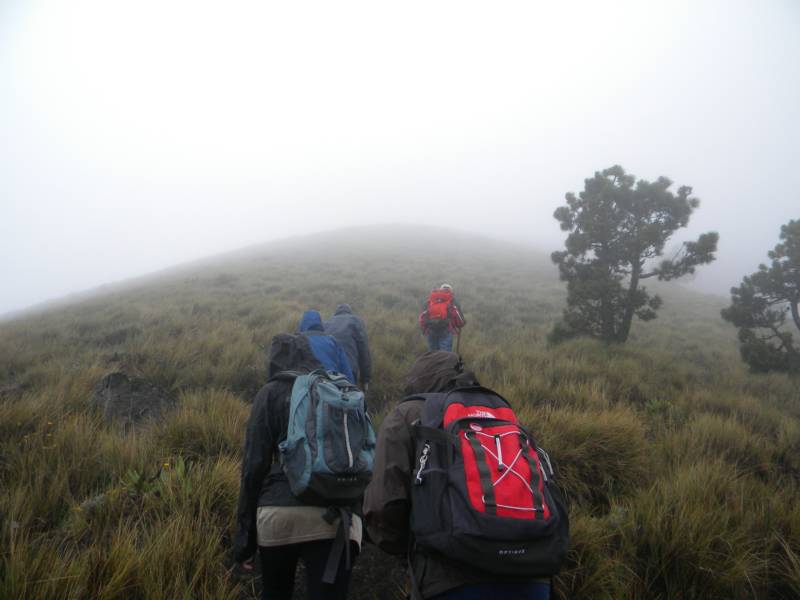 hiking above treeline on Acatenango. photo by Zach Taylor, 2010

Volcan Acatenango has two summits along its rim. Yepocapa(12,565') which is the lower northern summit and Pico de Mayor, the higher, southern summit. As you approach the crater rim from the standard hike Pico de Mayor stands to your left and Yepocapa to your right. We turned left and made our way along the volcano rim to its highest point, Pico de Mayor. The last of the hike to the summit is on loose scree. We spent a bit of effort sliding around on this before making it to the top.
photo-from left to right Danielle Lytle, Summer Roach, and Zach Taylor enjoying Pico de Mayor's summit on Volcan Acatenango. photo by Zach Taylor, 2010

It was pretty chilly and wet here but we hung out on the summit for a bit enjoying our efforts. Unfortunately we were completely encompassed in cloud and had no views of the mountains around us. On a clear day I imagine the views here to be beautiful though. After a bit we decided to head down. Blake led us down a slightly different way. We descended some steep, loose scree which I enjoyed making some scree skiing turns down until we linked back up with our ascent line right at treeline.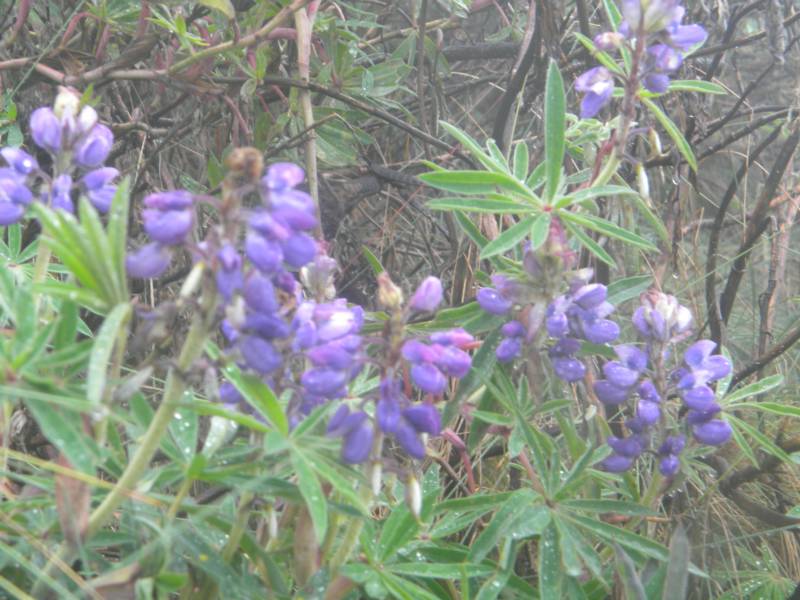 photo- some plants on the hike out. photo by Zach Taylor, 2010

We hiked out through clouds which gave way us we descended back from under them onto the lower mountain. Everyone was all smiles as we hopped back in the van and drove back to Antigua.

This was a nice hike in a foreign country. There are no technical challenges on this mountain. It is just a hike. Without a map I do not know the exact elevation gain or mileage of this hike. I would guess it to be about 4000' elevation gain and 8-10 miles round trip. It felt like hiking a Sawatch peak in Colorado like Mt. Elbert or Mt Massive.

If you are planning on hiking this I would pack like a summer outing in Colorado. Bring several layers for both warm and cold weather. Bring rain gear, food, and water for a full days hike. There are no water resources once you are on the volcano.

Our guide and his outfit recommend jeans for the hike. This is because the vegetation is prickly and irrating to walk through without legs being covered. However once jeans are wet, they stay wet. I was very glad to not be wearing jeans on the day I was there. Nylon pants like what is used by most hikers in Colorado during the summer are ideal for this kind of hike. I do not mean to knock on Old Town Outfitters or Blake at all. They did a great job in everything else on this. Just keep in mind that they recommend jeans on this hike, not because they are the best, but because they protect your legs better than shorts and quick drying fabrics like nylon do not seem to be available down there for pants.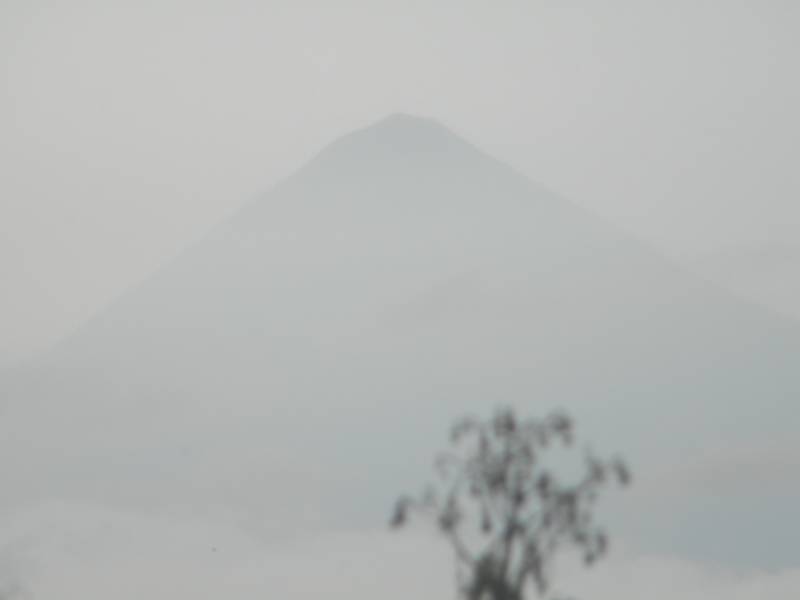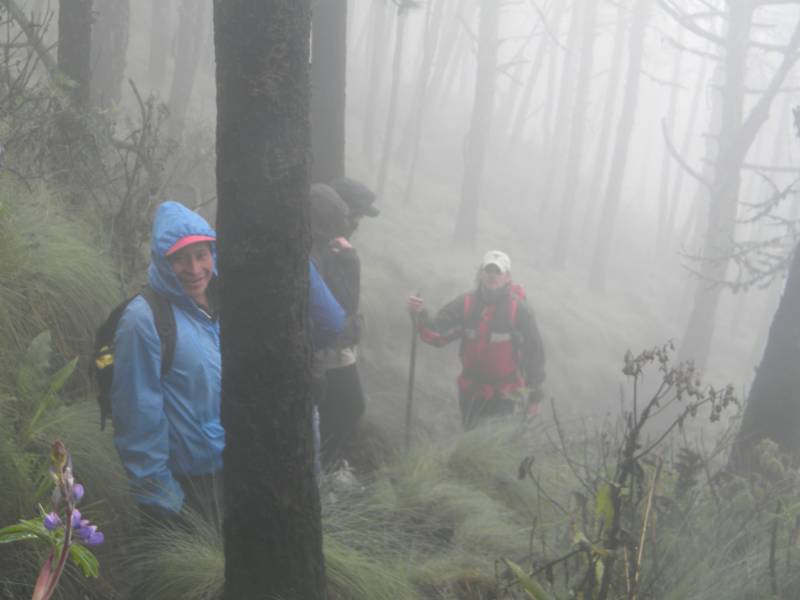 photo- Hiking out in cloud. photo by Zach Taylor, 2010

Standard Colorado summer hiking apparel for a 14er will work perfectly for these types of hikes in Guatemala. I would personally find shorts uncomfortable because of the prickly plants and jeans uncomfortable because of the water retention problem if it rains or they somehow get wet.

We got back to Antigua and went out to a steak dinner at Estancia restaurant which was quite nice. It was my birthday and I had a great time climbing a volcano, having a steak dinner, and then some irish car bombs at the pub later. We stayed at a hostel called Johnny's Place-Antigua. It was affordable and nice. Yon and Mario the two owners were very friendly, helpful people. I would recommend them to anyone looking for somewhere to stay while traveling in the area. Check their website for current rates,
http://www.hostelscentral.com/structure-17701.html
. I would also recommend Old Town Outfitters and our guide Blake to anyone headed up Acatenango that is looking for a guide. You can find their info at
http://www.adventureguatemala.com/
.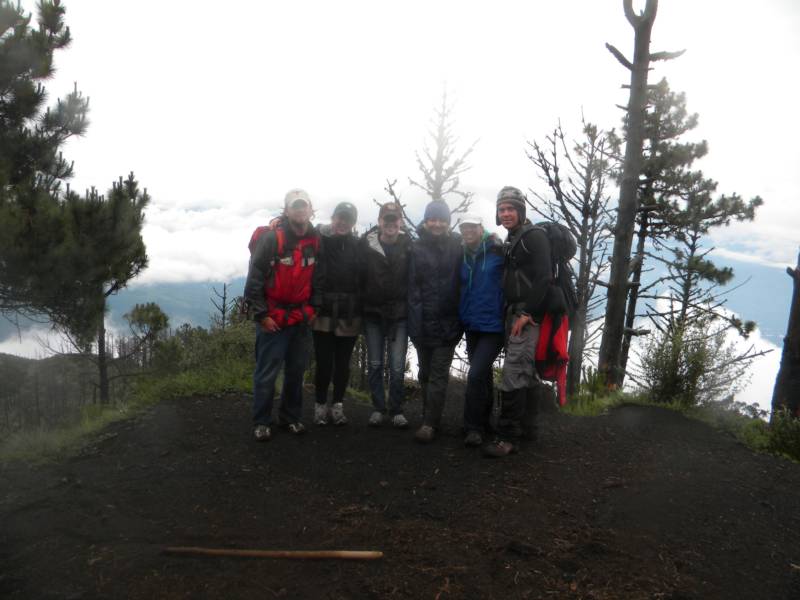 photo- Our group posing for the camera about halfway up Volcan Acatenango.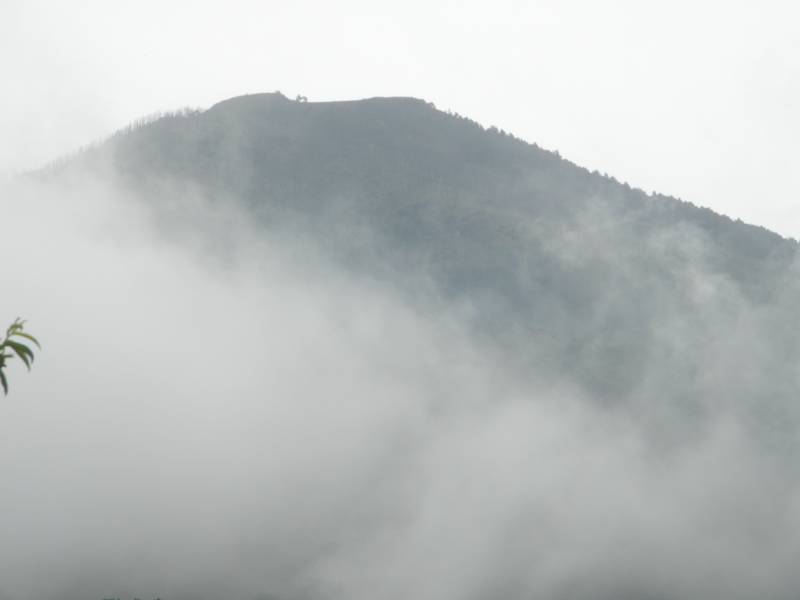 photo- Volcan Acatenango in the clouds. photo by Zach Taylor, 2010