5/14-5/15/2011
ascent/descent route: west couloir
members of group: Joel Paula, Jim Holva, Marc Manko, Zach Taylor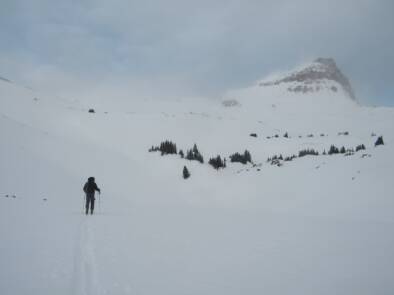 photo- Sam Jordan skinning towards Uncompahgre Peak, Nellie Creek drainage.  photo by Zach Taylor, 2011.


Uncompahgre Peak is the highest peak in Colorado's San Juan mountain range and the 6th highest peak in Colorado. It is a large, squarish peak comprised of volcanic rubble. Its standard route is a hike up and Uncompahgre is one of the easier peaks in the San Juans to hike, even though winter access is hard, its standard route offers a reasonable winter ascent. However on its west side there are several couloirs that offer more interesting options for the skiers and splitboarders out there.

I had been bumming around the San Juan mountains climbing peaks and snowboarding for almost two weeks at this point. A group of friends and I had just gotten out of Chicago Basin, one of the most remote areas in Colorado and most of the group had left for home. I was still off work though and looking to do some more riding in the area before heading home. Jim and Joel were also of similar mind. We looked at some maps and guidebooks and settled on Uncompahgre's west face.

We made our way to Lake City (for the third time in two weeks) and drove up to the Matterhorn Creek trailhead on May 13th from our hotel room in Durango. We were able to get up to the turnoff for the Matterhorn Creek trailhead off Henson Creek road at 10,480' that day. We got a late start and were still tired from a week in Chicago Basin so we set up camp and cooked brats for dinner.
5/14/2011- We slept in and got going fairly late. We sorted gear and slowly skinned up the road to the summer trailhead about a 1.3 miles above the Henson Creek road turn off. We originally planned on camping at treeline but deteriorating weather made us decide to camp at the summer trailhead instead which was at about 11,000'. We set up camp and hung out for the afternoon.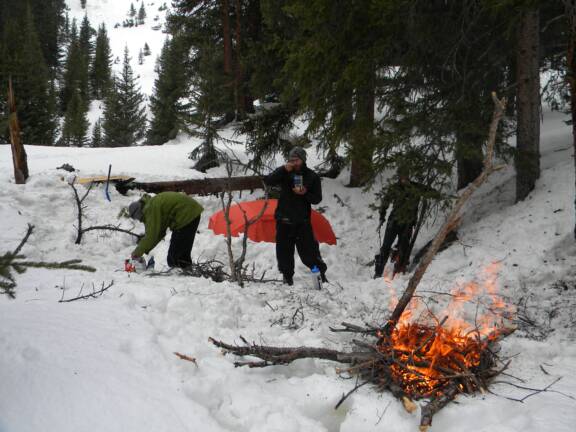 photo- Joel Paula and Jim Holva hanging out at camp just above the summer Matterhorn Creek trailhead. photo by Zach Taylor, 2011.
5/15/2011- We got up at 3:00am and began skinning through the dark. We started getting above treeline just as the days light began streaming into the valley. The Wetterhorn and Matterhorn rose impressively to my left as we skinned over the pass between the Matterhorn and Broken Hill that gives access to the west face of Uncompahgre Peak. We descended a couple hundred vert and contoured across to the base of the west face. There were two couloirs coming down the face. We chose the climber's right couloir, put boards/skis on our backs, and began kick stepping up the west couloir.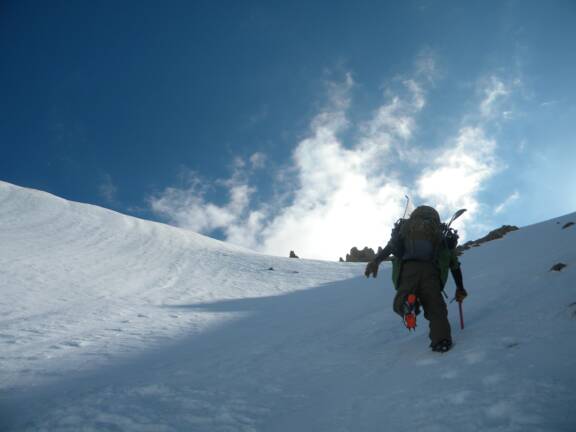 photo- Jim Holva kicking steps up one of the west couloir's of Uncompahgre. photo by Zach Taylor, 2011

Unfortunately, continuous snow petered out about 100' below the top of the couloir. From there we walked on a combination of snow and dry ground for a couple hundred more feet to the summit. We were greeted with great views of the northern San Juan mountain range.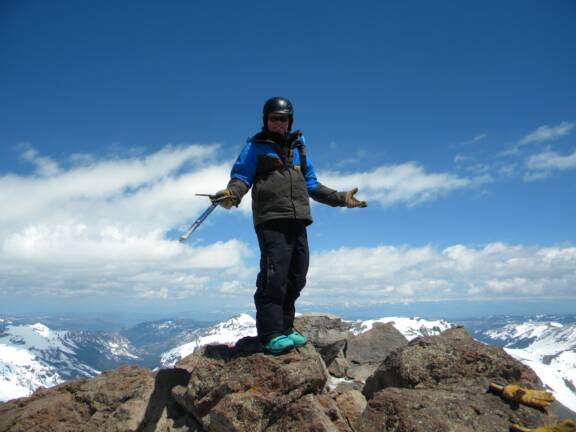 photo- Zach Taylor on the summit of Uncompahgre Peak. photo by Joel Paula, 2011.

Another ski mountaineer, named Narron (might be butchering the spelling here) caught up to us in the couloir and enjoyed the summit with us. His name is Manky on 14ers.com.

I was a bit dissapointed to not be able to quite get the summit descent. We rode off the top for about 150' and then had to hike and downclimb 100+' to get into the top of the couloir so although I feel like I snowboarded the mountain I will have to return if my 14er snowboard quest actually wraps up at some point in the next few years since I do not believe this descent to be up to the community standards as a summit descent.

Oh well, it was a fun day out with a nice snow climb/snowboard descent and great views. It was my second time to the summit of this mountain. Here are some action shots;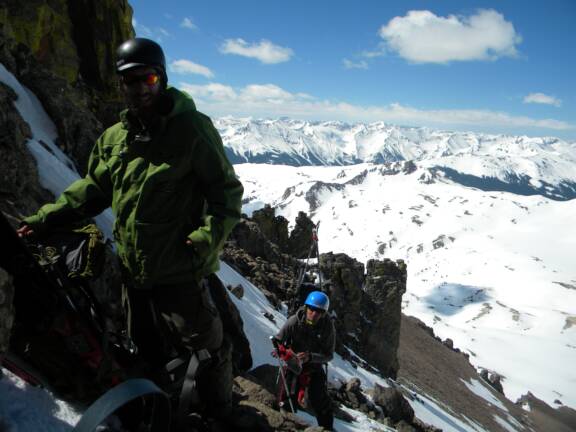 photo- Jim Holva and Joel Paula at the top of the west couloir. photo by Zach Taylor, 2011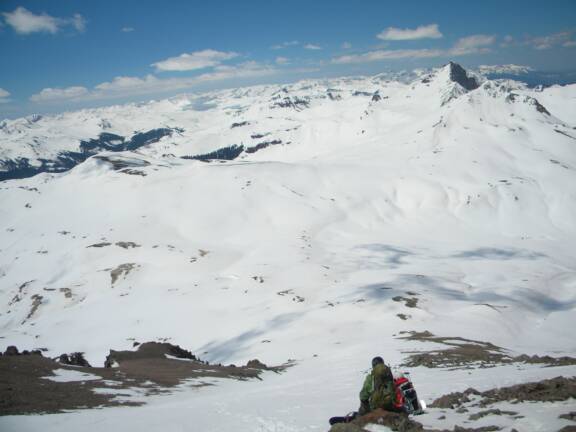 photo- Jim Holva and Marc Manko at the top of the west couloir. photo by Zach Taylor, 2011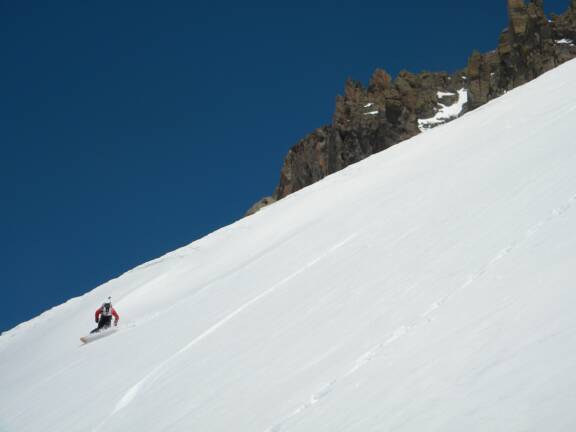 photo- Marc Manko riding the west couloir, 2011. photo by Zach Taylor, 2011.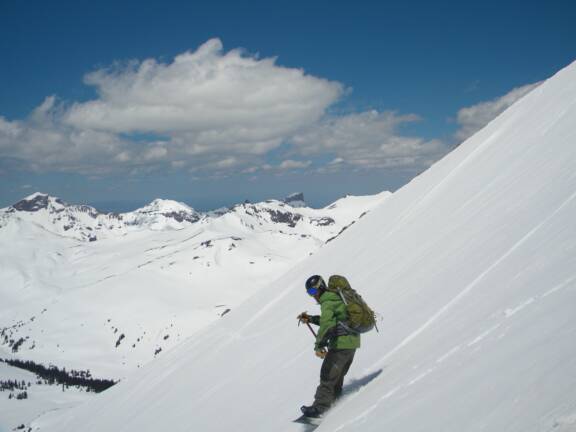 photo- Jim Holva enjoying some sunny turns on Uncompahgre. photo by Zach Taylor, 2011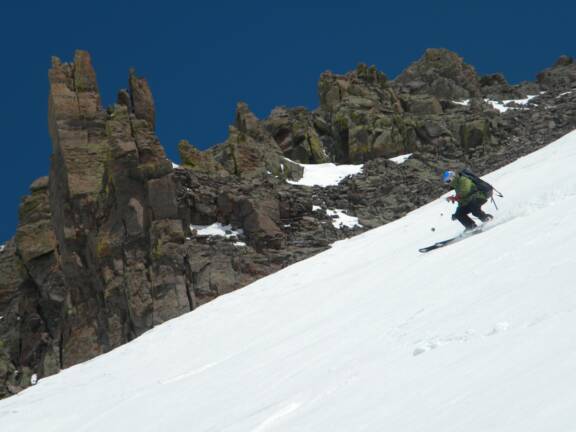 photo- Joel Paula skiing Uncompahgre. photo by Zach Taylor, 2011.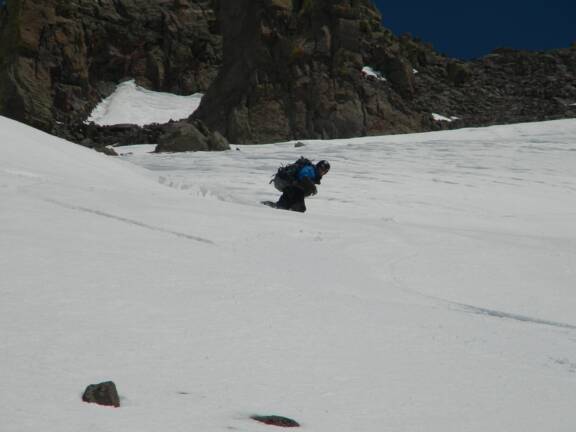 photo- Zach Taylor in the west couloir of Uncompahgre peak. photo by Joel Paula, 2011.

We toured back over the pass and then snowboarded back to camp. Initially Joel and I were planning on riding the east face of the Wetterhorn but the face was trashed a few days ago by another group of skiers. They skied down the east face right after the last storm cycle and sluff slid all the new snow across the entire face. After the melting and refreezing of the already runneled, slid off face that day we decided to hold off for the Wetterhorn.

The Wetterhorn is a classic, steep line and I wanted to get it under good conditions. Unfortunately after the face avalanched, melted and refroze that was not a possibility anmore so we packed up camp and headed home. 6 peaks and snowboard descents in nine days would have to do on this trip.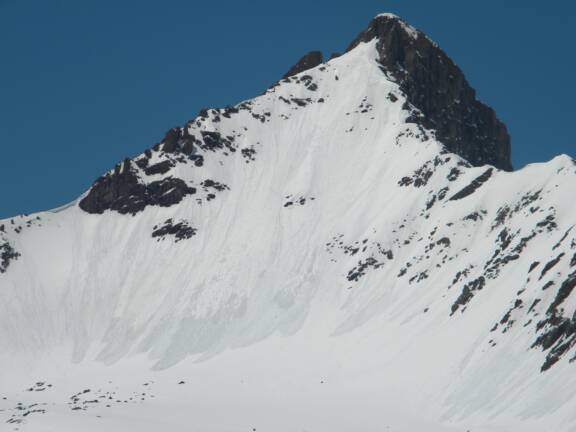 photo- A look at the east face of the Wetterhorn. photo by Zach Taylor, 2011.

We packed up camp and made our way out. After being in the wilderness pretty continuosly since the 4th we were excited to sleep in our own beds and enjoy some big city life, Avon, Colorado style(joking).