5/3/2011
members of group: Mike Bannister, Vanessa Logsdon, Joel Paula, Ricardo Moreno-Contro, and Zach Taylor
ascent route: east ridge
descent route: southeast face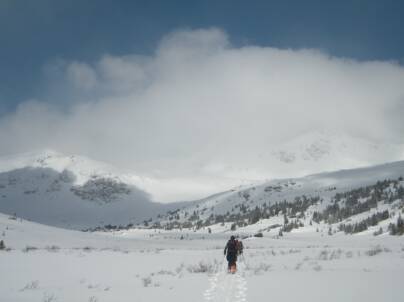 Mike Bannister, Ricardo Moreno, and Vanessa Logsdon skin towards Traver which is somewhat visible in the looker's left skyline. photo by Zach Taylor 2011
I had just returned to Avon from some mountain climbing and backcountry snowboarding in the San Juans and the Sawatch over the previous few days. I had to be at cleanup for the restaurant I work at in Vail on the 3rd so I had another day off on the 2nd with nothing to do but I was limited to what I could do in a day from Avon. From what I could tell the snowpack around the area was still a bit spooky from multiple recent snow cycles so I was also limited by avalanche danger.
Where could I skin up a high peak that would have a nice descent with little avalanche exposure? I pulled out my Gerry Roach 13ers guidebook and began thumbing through the Mosquito range section. I settled on Clinton and Traver. It looked to be reasonable to do both in a day with a possible fun, low angle descent line off the southeast slopes of Traver. I made a couple phone calls and rallied some friends; Pollo, Joel, Vanessa, and Mike. Weather looked to be marginal with partial cloud cover and snow showers predicted for the whole day so we decided on a relatively late start. My alarm went off in Avon at 5:00am. I left my house at 6am and picked up Joel in Avon and Pollo in West Vail. We drove over the pass and met Mike and Vanessa at the Butterhorn Bakery in Frisco a little after 7am.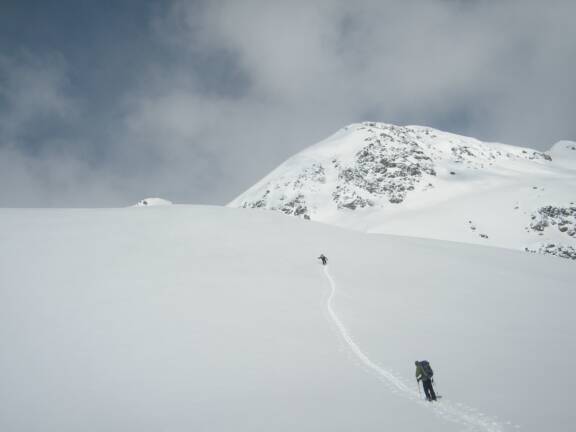 photo: Mike Bannister (left, background) and Joel Paula (right, foreground) skinning through Platte Gulch on their way to Traver peak. photo by Zach Taylor, 2011
    We continued the drive through Breck, over Hoosier pass, and down county rd 4 to the Montgomery Reservoir Trailhead at approximately10,870'.  We began our skin as we passed the Mt. Lincoln ice climbs.  We continued up Platte Gulch to treeline where views of mountains surrounded us.  Lincoln and Democrat's north face on the left, North Star on the right, and Clinton, Traver, and Wheeler in front of us at the head of the drainage.  We continued up as clouds passed in and out sometimes obscuring our view of the summits and spitting snow showers down on us. 

    There was a lot of new snow in the basin so trailbreaking took a bit of work but we knew powder would be the reward.  As we got up higher we decided that weather was marginal enough to warrant just trying to get up one peak quickly and then ride down.  We decided on Traver because of the obvious southeast face that looked like a good ski/ride.  We skinned up the east ridge and made the summit just before noon.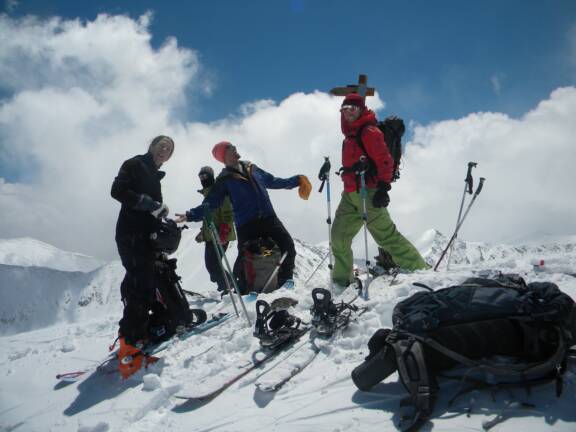 On the summit pictured from left to right; Vanessa Logsdon, Joel Pauls, Mike Bannister, and Ricardo Moreno-Contro (Pollo).  photo by Zach Taylor, 2011.

    We enjoyed some in-and-out views and relatively calm winds (10-20mph) on the summit of Traver as clouds swirled around us.  I looked down at the southeast face and had my ideas of the southeast face confirmed.  There was an obvious low angle gully (estimated 25-30 degrees tops) that descended all the way back down to the valley floor.  It was very windloaded and powder filled.  I smiled.


We dropped in one at a time following the south ride of Traver briefly above steeper terrain before dropping into the gully.  There was a turn or two that pushed above 30 degrees at the entrance before immediately mellowing out.  The snow was blower powder with nothing hard underneath.  I led the group making creamy turns for about 4-500 vert and then stopped and watched everyone else in the group drop in one at a time.  Mike was the last.  Just before he dropped clouds came in and he disappeared from sight.  He reported skiing down without being able to see what was snow and what was cloud.  After a bit of shouting and a radio conversation he made his way down to the  group.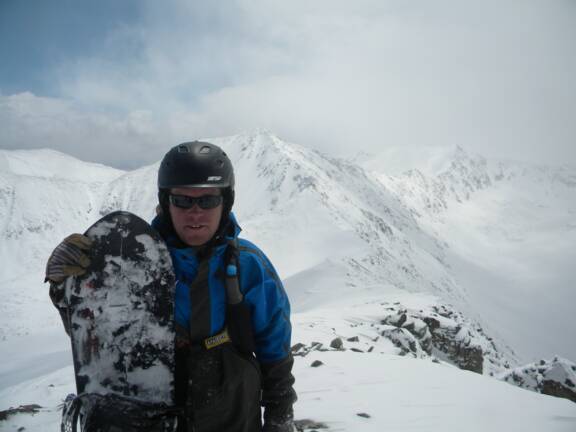 Zach Taylor on the summit of Traver wirth the north face of Democrat shown in the background.  photo by Mike Bannister, 2011.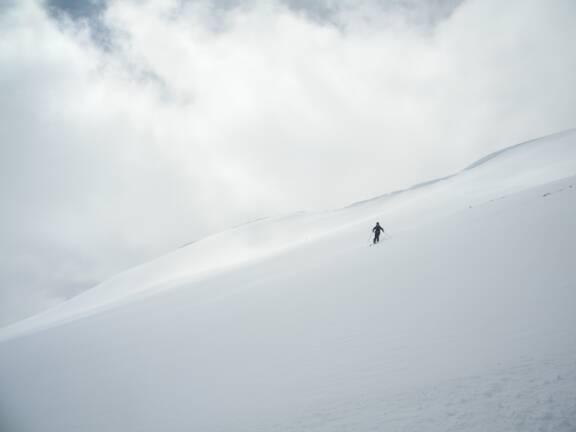 photo- Vanessa Logsdon enjoying some powder on the southeast face of Traver peak.  photo by Zach Taylor, 2011.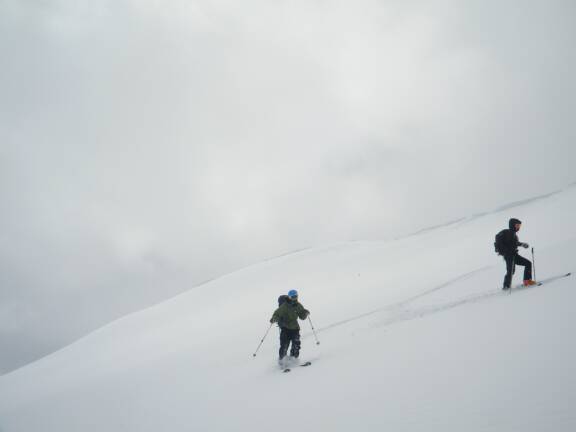 photo- Joel Paula (left) and Vanessa Logsdon (right) enjoying turns on Traver.  photo by Zach Taylor 2011.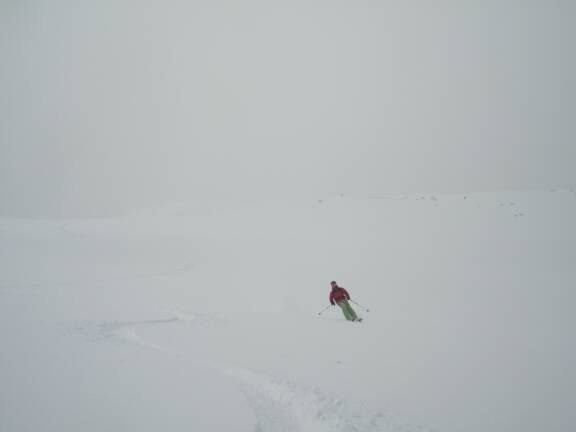 photo- Ricardo Moreno skiing down Traver in the clouds and powder.  phot by Zach Taylor, 2011


By the time Mike got to us we were completely enveloped in cloud with visibility down to about 50'.  We were all a little concerned since none of us had been on this line before and we could not at all see where we were going. We knew the entire descent had looked pretty low angle from the valley on the way up but there was steeper terrain around and getting off route would be easy.

We descended slowly as a group in the whiteout closely monitoring pitch angle, direction, and visibility as we descended.  We used Mike's GPS a bit to make sure that we were still on track.  I am old fashioned with my use of map and compass pretty exclusively but lately I have noticed how useful a GPS can be as a supplementary tool.  This experience definetely reinforced that.

As our group descended towards the valley floor visibility improved a bit and the clouds moved out a bit.  We were able to spread out and enjoy some more great powder turns down to the valley floor.  As soon as we hit the valley floor the angle mellowed to almost completely flat.  I switched over to touring mode, left my skins off, and skated out with the group. 

If you are a snowboarder looking at this line, hopefully you will have a splitboard and some basic ski skills to tour out.  The valley is too flat to ride out.  I found it easiest to "ski" out the valley on my splitboard in tour mode like a pair of skis.  Normal snowboard skating with one foot out would be a lot of work here.  If you are snowshoeing/snowboarding expect to snowshoe out of the valley once you get back to the valley floor.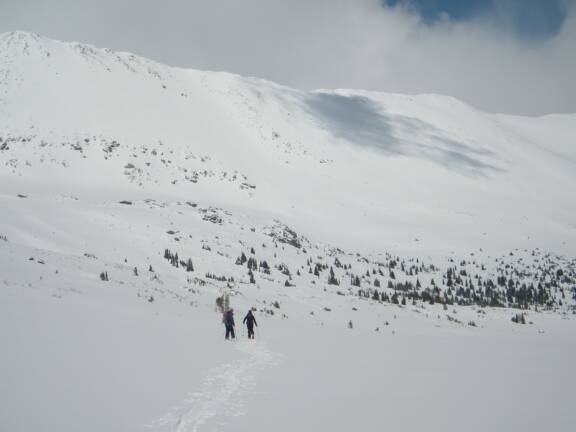 photo- Mike Bannister (left) and Vanessa Logsdon (right) touring out Platte Gulch.  photo by Zach Taylor, 2011


We made quick work of the valley skate and returned to our cars.  We went back to crash Mike and Vanessa's hot tub, drink beer, and eat pizza.  Another nice line.  We rode 3000' of fresh powder off the summit of one of Colorado's centennials, got a nice workout, and enjoyed some great powder turns.

We saw no avalanche activity in the area, heard no collapsing/whumping, and had only very minor cracking around skis as we skinned.  Winds were mild the whole day.  That said there is a significant amount of new snow and fresh looking cornices up there and I would personally like to see a couple more days of sunshine and warm temps before I would trust snow covered angles steeper than the low 30s in pitch in the area.  With astute route finding and avalanche knowledge this route probably presents a reasonable mid winter descent under still questionable snowpack conditions.  There is steeper, complicated avalanche terrain around and you have to ride through the avalanche runouts of a couple paths down in the valley but if you pay attention to your route you can probably avoid all the starting zones and stay on angles <or=30 degrees.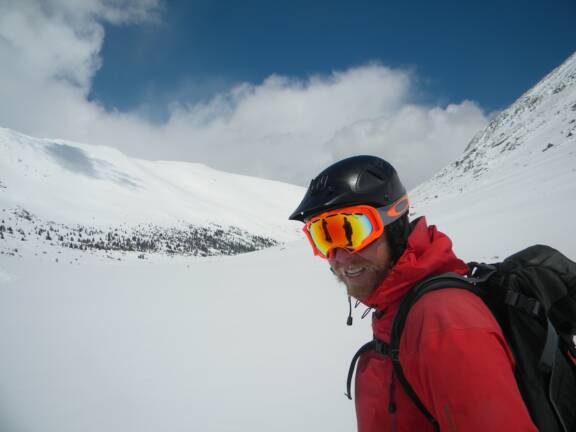 photo- Ricardo Moreno (Pollo) smiling after great pow turns off the southeast face of Traver peak.  photo by Zach Taylor, 2011.