photo-Zach Taylor riding the North avalanche path of Tip Top peak.  photo by Mike Bannister, 2009.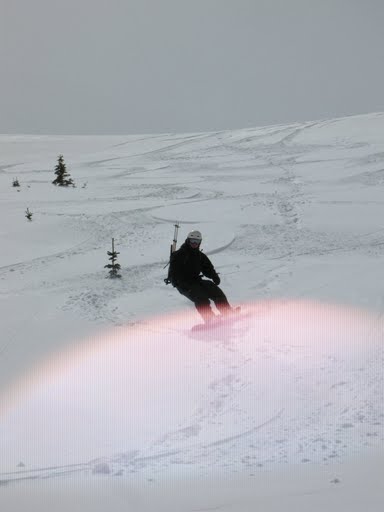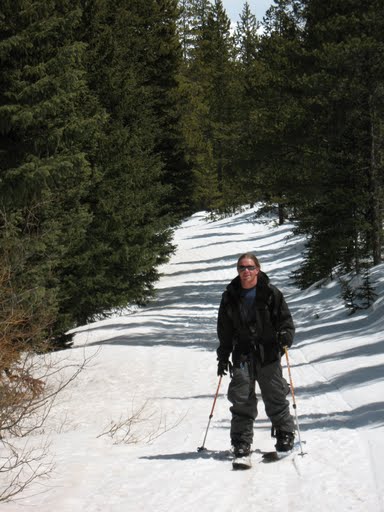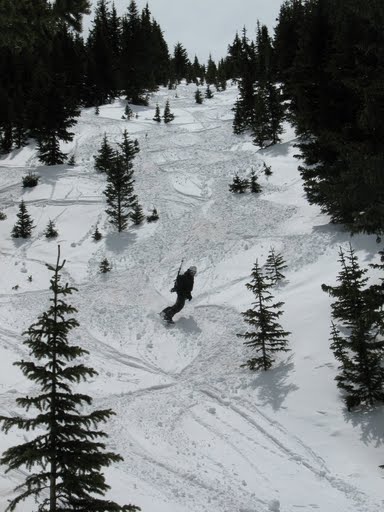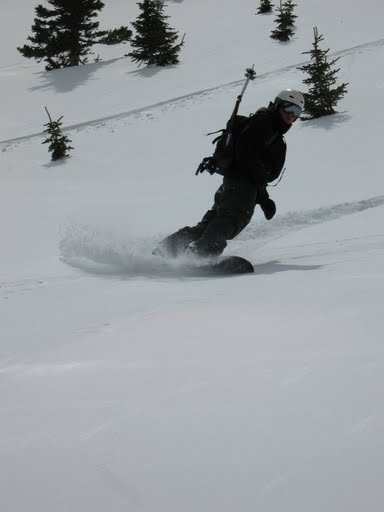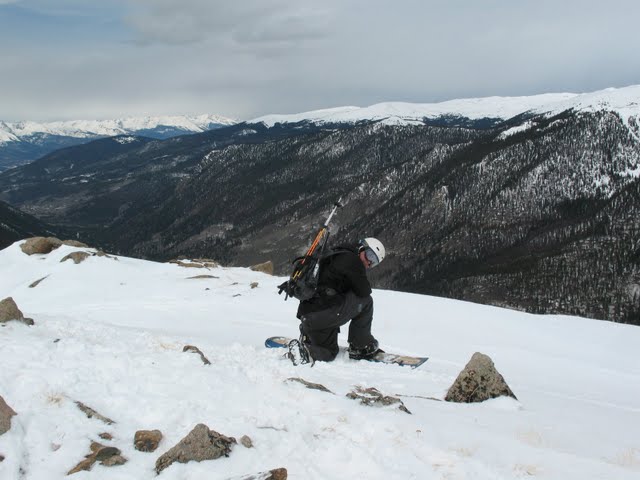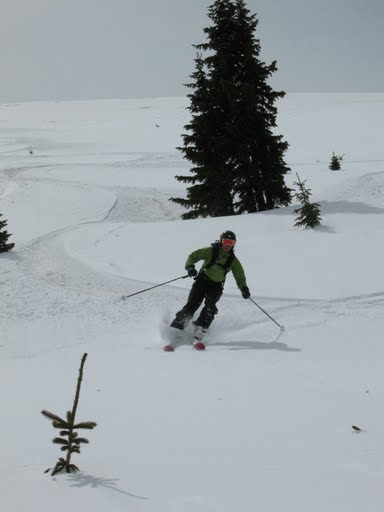 4/14/2009

members of trip-Mike Bannister, Vanessa Logsdon, and Zach Taylor

ascent route- West slopes from Montezuma road-Peru Creek road junction.  

descent route-North facing avalanche path down to Peru Creek road.

trailhead-parking area at Montezuma road/Peru road intersection, Elevation 10,004'

Mike called me up to see if I wanted to skin up Tip Top mountain. I wasn't familiar with it so I took a look at my Summit County topo. It looked like a smaller mountain up Peru Creek. This is right off Montezuma Road behind Keystone. It looked like a nice half day trip. Mike said there was supposed to be a nice North facing line. I was interested.
I met Mike and Vanessa in Summit county and we drove up Montezuma road to the Peru creek road turnoff. Peru Creek road is not plowed in the winter so we parked here. The west facing slopes of Tip Top peak rise directly east of the parking area so we began to skin steeply up the mountain. We broke through tree branches and bushes knocking in a steep, switchbacked trail through thick tree cover up to treeline just beneath the summit. We finished by skinning easily from here up a more defined ridge to the summit.
This was my first excursion into the backcountry off Montezuma road and the summit of Tip Top Peak gave me great views of all the lines in Peru Creek. It also showed great views of Torreys peak.
photo-Zach Taylor strapping in on the summit of Tip Top Peak. photo by Mike Bannister, 2009.
I looked down to the North and saw the obvious North facing avalanche path that was our line. It descended almost directly off the summit and ended at Peru Creek road 2,000' below. We hung out on top for a couple minutes but the summit was cold and cloudy so we strapped in and dropped in one at a time.
The avalanche path had some nice buttery fresh snow up high. As we descended it turned to corn about halfway down. The powder up high seemed well bonded. It was still early enough in the season the North facing aspects above 11,000' in this area had not begun to form sun crusts recently. These are often problematic this time of year because they make nice sliding surfaces for fresh snowfall. The fresh snow seemed well bonded and we did not notice any avalanche activity on north facing aspects in the area.
photo-Vanessa Logsdon skiing the North facing avalanche path off Tip Top Peak. photo by Mike Bannister, 2009.
photo-Zach Taylor descending the path on Tip Top peak. photo by Mike Bannister, 2009.
The very top of the line was just over 35 degrees. The majority of the line was about 30 degrees with a couple steeper roll overs.
We hit the road. It quickly became apparant that the road was not steep enough for me to ride on my snowboard so I switched over to tour mode. I then proceded to do a very gaperish ski out on my splitboard in tour mode. It was pretty fun and challenging as I am not a skier so making wedge turns to slow down on the way out was quite interesting... We got back to the parking lot happy to have done a little exploring in Peru Creek. I would like to do some more exploring on this peak and this drainage this upcoming winter.
photo-Zach Taylor "skiing" out Peru Creek road on his splitboard. photo by Mike Bannister, 2009.