photo-A view of El Pico de Orizaba from Piedra Grande, 13,900'. photo by Craig Burger, 2009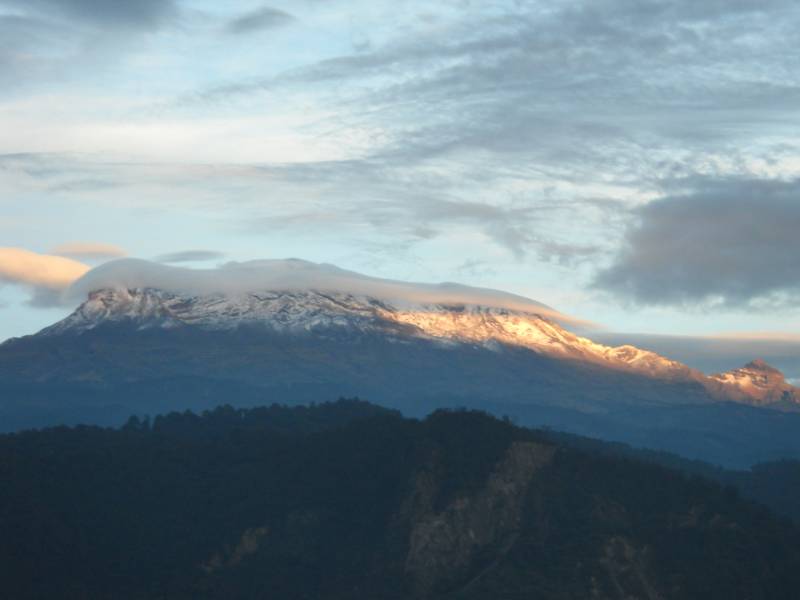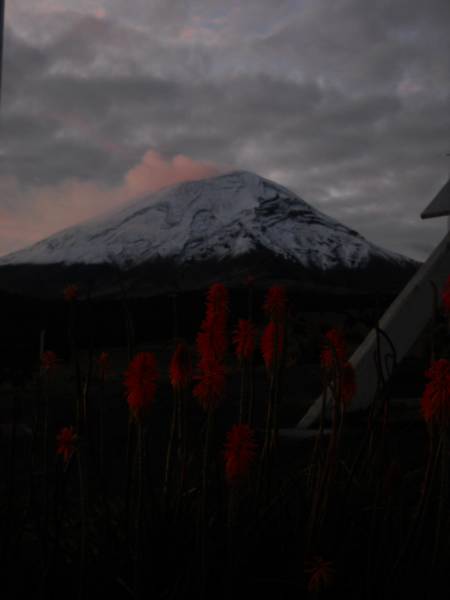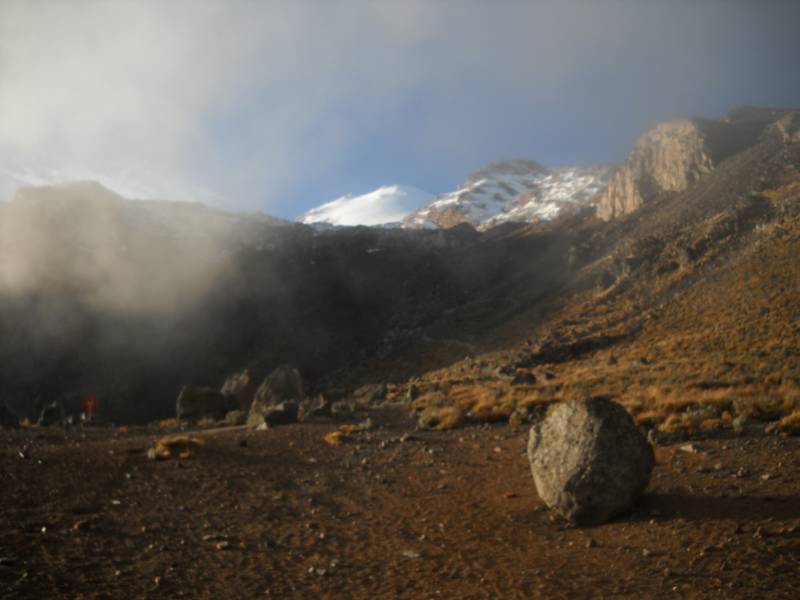 PART 2- El Pico de Orizaba acclimitization 10/26/2009-10/27/2009

Members of Group: Craig Burger, Amanda Emerson, and Zach Taylor

ascent and descent route: hiking between 13,900' and 16,000' on Orizaba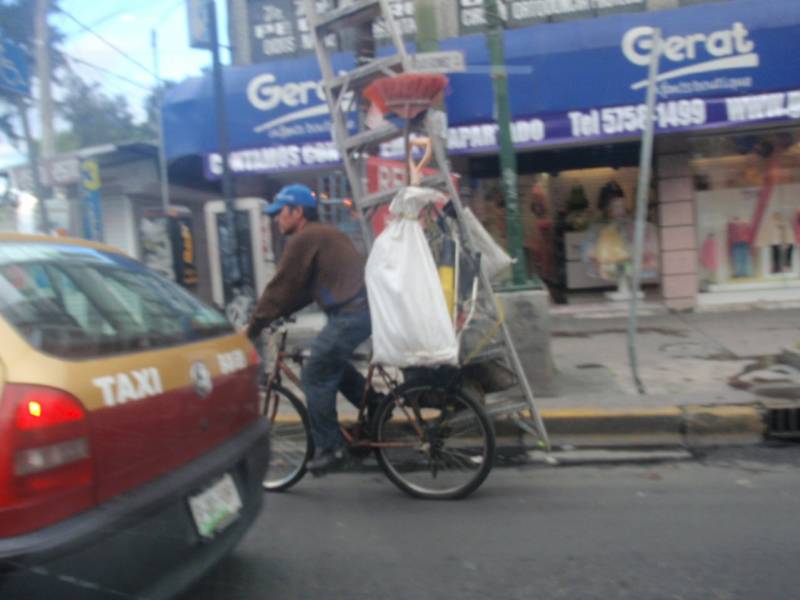 photo- A Mexico City local with his entire window cleaning business attached to his bike. Yes, he does have a ladder strapped to his bike!. photo by Zach Taylor, 2009
Day 3: 10/26/2009- We again woke with the sun, this time on top of the Paseo de Cortez(Cortez Pass). Paseo de Cortez sits at the low point directly between Popocatepetl(17,887') and Iztaccihuatl(17,126'), Mexico's 2nd and 3rd highest mountains. Izta is an extinct volcano. Iztaccihuatl is an Aztec name meaning, "The White Woman". This name comes from the shape of the mountain. If you look at Izta the volcano looks like a woman laying horizontally on the ground with aptly
named mountain parts such as "the head", "the breast", "the belly", "the knees", and "the feet". Its standard route walks the length of "the womans body" starting at "the feet" closest to the Paseo de Cortez. The primary snow route is the glaciar de Ayoloco that ascends "the belly" to fairly close to the summit. This route looked nice and is the route I would like to climb this mountain by in the future.
Popocatepetl is closed to all climbing because it is still an actively erupting volcano. The closest you are allowed to it is the parking lot at the top of the Paseo de Cortez. It was beautiful seeing the peak at sunrise with steam and smoke rising out of the top behind a backdrop of the rising sun. Hopefully someday the volcanos activity will ebb and we will be able to climb it once again.
photo- A view of Popocatepetl from the Paseo de Cortez. The pinkish looking clouds running just above the volcano's left ridgeline are not clouds, they are steam and smoke being emitted from this still active volcano. photo by Craig Burger, 2009
photo- A look at Iztaccihuatl from the Paseo de Cortez.  Notice the mean looking lenticular cloud sitting over the mountain.  photo by Craig Burger, 2009

We hung out in the parking lot for a bit taking in the sunrise and the spectacular views of these great volcanos. The previous day we had driven east from Mexico City up to the top of the Paseo de Cortez. Most people who go to climb Orizaba drive around this area to the south and never see it. We were actually able to take a fairly simple shortcut to Puebla and eventually Orizaba that day by continuing east down a dirt road from the top of the pass. This road took us down to the town of Cholula, just outside Puebla.
This dirt road was rough, but passable for our tiny Ford Fiesta rental car. We drove into Puebla, the last big city before heading to Orizaba. We stopped at a Wal-Mart here and purchased food and supplies for the coming days on Orizaba.
Then we got directions towards Tlachichuca, a tiny Mexican town that sits at the base of El Pico de Orizaba. This was where we would find a four wheel drive taxi to Piedra Grande, our trailhead.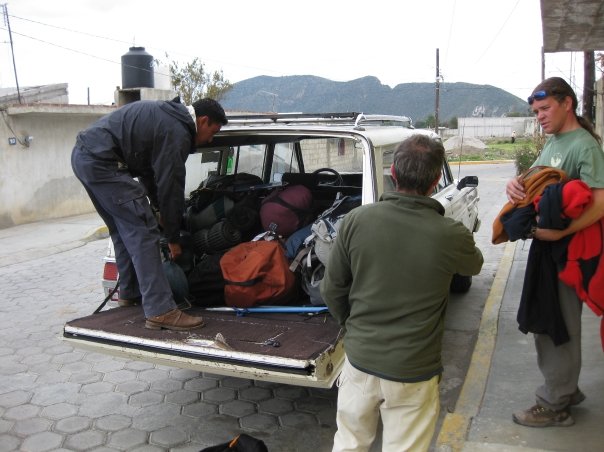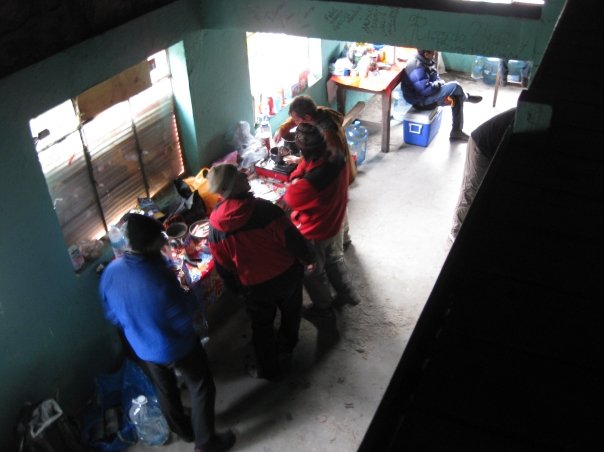 photo-left to right-Paco Coba, Craig Burger, and Zach Taylor loading up the four wheel drive taxi for the ride to Piedra Grande.  photo by Amanda Emerson, 2009

photo- A look into the Piedra Grande hut. From left to right: Vicente_____ a Spanish climber, Robert Morganthaler a Brazilian climber, Zach Taylor and Craig Burger. photo by Amanda Emerson, 2009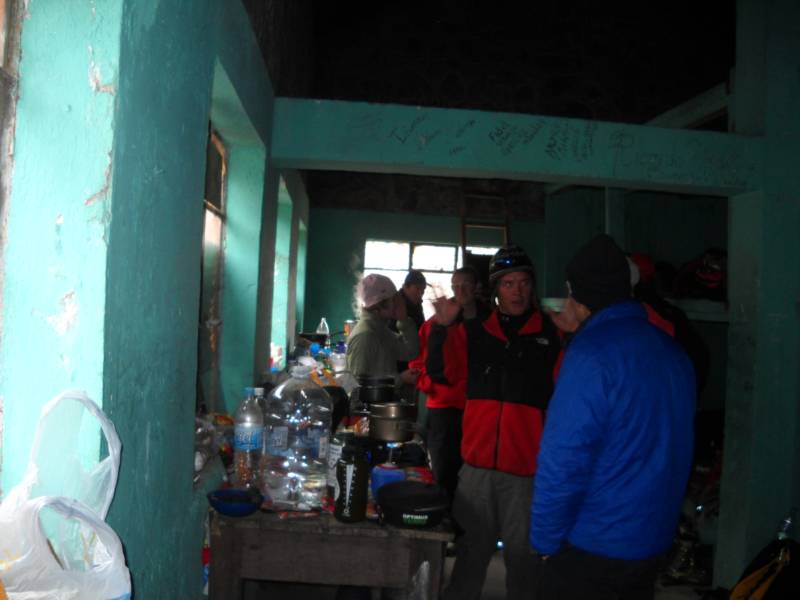 photo- foreground-Zach Taylor(left)talking to Vicente________(right, blue jacket) in the Piedra Grande hut.  background- Amanda Emerson(left) talking to Caroline(USAKeller on 14ers.com, behind Zach). photo by Craig Burger, 2009

  Tlachichuca has long served climbers across the world that come to climb El Pico de Orizaba and it seems much of their economy revolves around this.  We heard that you could get cheap four wheel drive taxis to Piedra Grande, Orizaba's trailhead by walking around the town square.  We got out and got some fresh squeezed orange juice from a stand on the town square. 

  I approached a taxi driver and started asking about four wheel drive rides to Piedra Grande.  He only had a two wheel taxi but after a little talking he called another guy that was hanging out on the square.  He introduced himself as Paco Cabo and said that he had a good vehicle to take us up.  We discussed pricing and agreed to $35 per person in US currency.  This is a decent bit cheaper than the $50 dollar plus rides offered by some of the other bigger outfits in town. 

  We got into our rental car and drove to Paco's house in Tlachichuca where he said we could leave our rental car.  We loaded up Paco's SUV.  He offered to let us use his stove too, since we had not been able to bring fuel for our stoves on the airplane flight and it is quite difficult to find isobutane/propane fuel in Mexico.  We were happy to accept.  Paco was a nice guy and eager to offer help.

  We piled into Paco's vehicle and began driving to the trailhead.  We drove up a dirt road to the town of Hidalgo.  At 11,155', Hidalgo is the highest city in North America.  From here the road becomes a difficult four-wheel drive road as it climbs through forest and eventually above treeline to the Piedra Grande hut at 13,900'.

  The Piedra Grande hut can supposedly fit over 60 climbers.  It felt cramped at times though with 15-20 people in it.  We were there in the off-season too.  You definitely want to bring a tent when you go up there because it is impossible to know if it will be full till you arrive. The Piedra Grande hut offers access to Orizaba's north side.  The standard route here is the Jamapa Glaciar.  It offers the most continous snow on the volcano and would be our route up and back down the mountain in the following days.  The Jamapa Glaciar was first climbed by Henri Galeotti, Jean-Jules Linden, Nicholas Funck, and Augusto B. Ghiesbreght on August 22, 1838.

  You hear many guesses ventured by climbers as to the maximum pitch angle of the glacier. Some say 35 degrees others 55 degrees.  I was annoyed with this widely varied information on something so important so I brought my inclonometer to accurately measure the angle for this trip report and future climbers.  I measured the pitch angle on our succesful summit day several days later in multiple places along the route.  The base of the glacier at 16,600' is about 25 degrees.  As you climb up and get about halfway it steepens to about 32 degrees.  The last and maximum pitch angle I measured from a couple hundred feet beneath the crater rim was 36 degrees.  The angle maybe steepened to 40 degrees at the most just above this.  So it is steep enough to have serious fall potential if you are not solid with an ice axe self arrest but it is nothing crazy.  Basic snow climbing skills are all you need here.  Keep in mind the most common accident on this mountain is uncontrolled slides into the rocks at the base of the glacier though.

  You also find widely varied information on crevasses on this route.  While I do believe that some routes on the mountain have serious crevasse hazard, they where not an issue on the Jamapa Glacier.  I saw one crevasse the entire time.  It was about 4 inches wide, just wide enough that I could slip one foot in if I turned my foot sideways.  Ropes to protect from crevasse hazard here are completely unnecessary in my opinion.  The majority of people who climb this mountain would agree.  I would rope up to climb Rainier or Denali, I would not for Orizaba.  Although it is probably not a bad idea to carry a rope, harness, pickets, etc... for resue situations on Orizaba.  Axe, crampons, and helmet are the basic neccesities for the Jamapa glacier.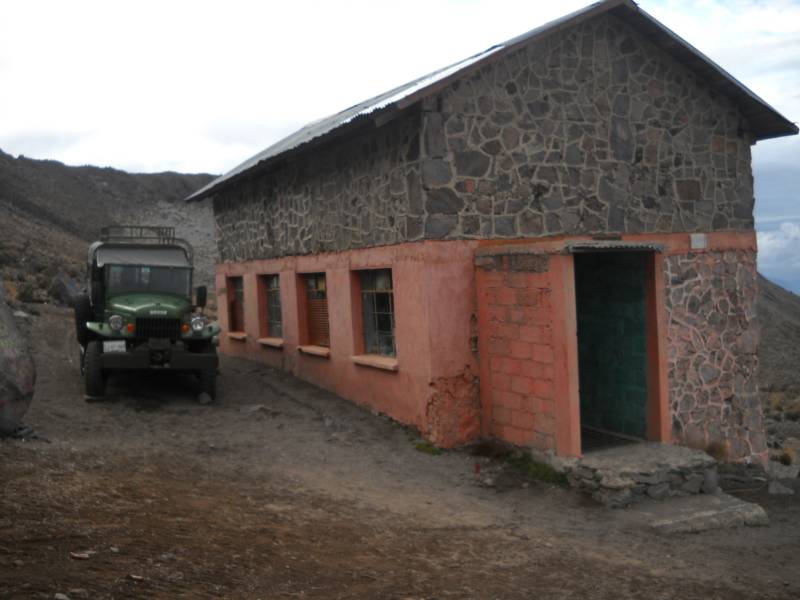 photo- A view of the Piedra Grande hut from 13,900'.  Senor Reyes jeep is seen to the left.  photo by Craig Burger, 2009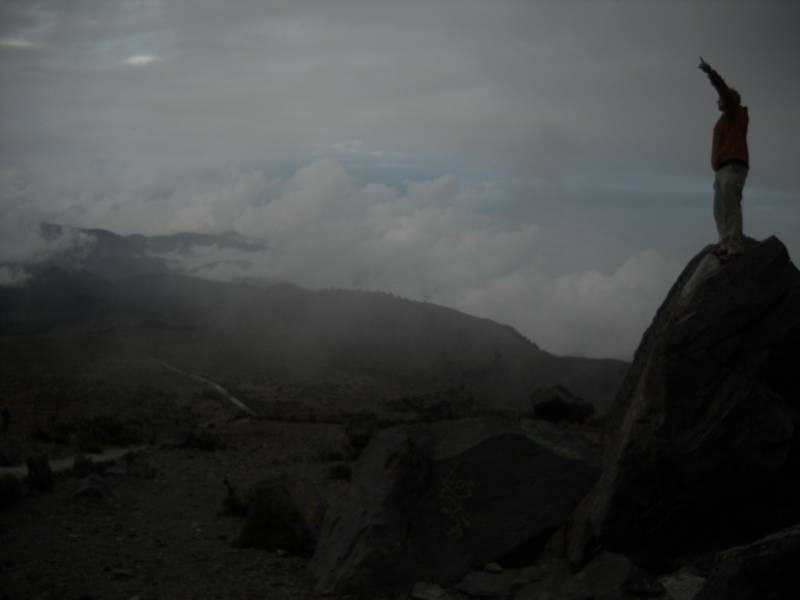 When we arrived at the hut we were greeted by another group of Colorado climbers.  It was Caroline(USAKeller on 14ers.com), Lance(comin2getcha on 14ers.com), Caroline's dad, and a family friend.  We all made introductions as we had seen each other's posts on
www.14ers.com
 but had never formerly met.  They would be attempting Orizaba the next morning.  Lance and Caroline were planning on skiing the volcano.  We also met climbers from Spain(Vicente), Brazil(Robert Morganthaler), Poland, and Mexico that were up there to climb the next day. 
  Amanda, Craig, and I cooked some tacos and swapped stories with the other climbers.  After a while, Craig and Amanda went outside and did a little bouldering on the rocks around the hut.  We would do an acclimatization hike up to 15,500' or 16,000' the next day to stash our snowboard and skis.  We all went to bed early that night to rest well for the next day. 

  This was where I first noticed some altitude symptoms.  I felt dizzy briefly when we first arrived at the hut and had some trouble sleeping that night due to shortness of breath.  I had been up over 14,000' many times in Colorado but always briefly on mountain summits.  It was quite different sleeping at this altitude the first night.

photo-Craig Burger enjoying some bouldering at 14,000' just above Piedra Grande. photo by Amanda Emerson, 2009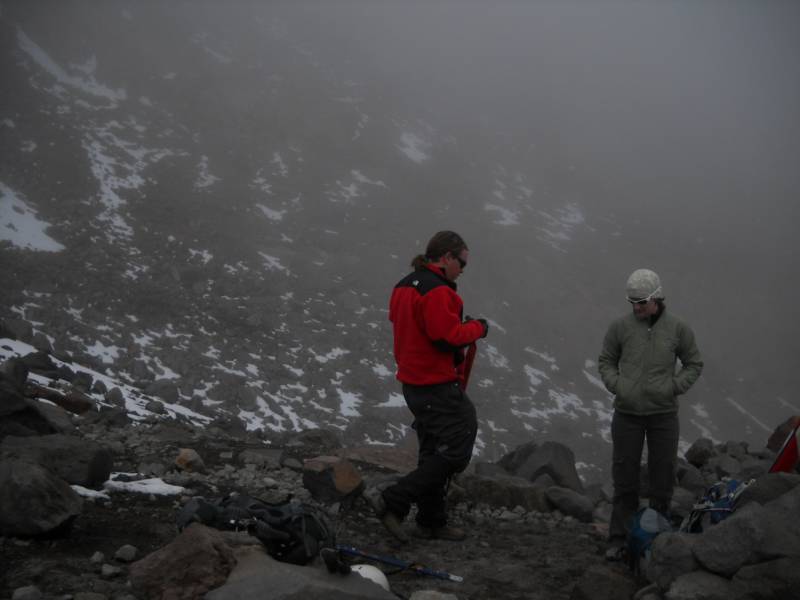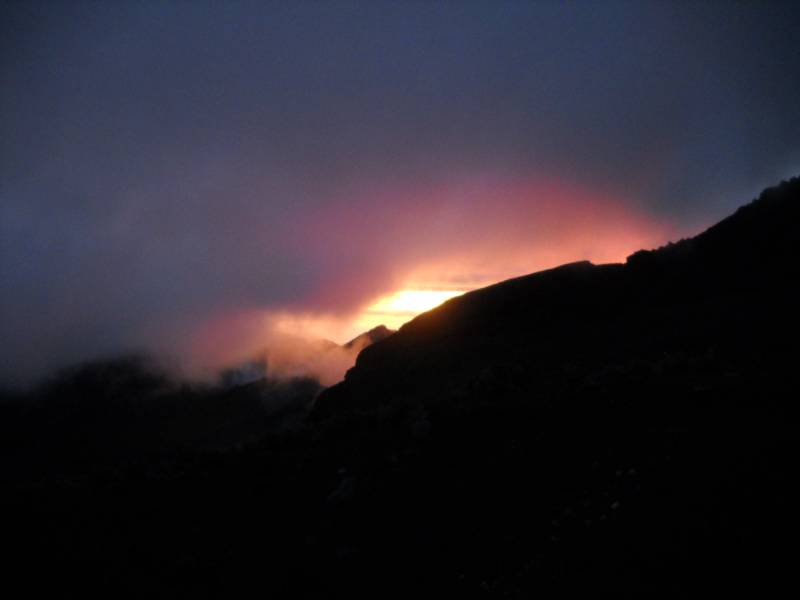 photo- Sunrise from Piedra Grande on the morning of 10/27/2009. photo by Craig Burger, 2009

Day 4: 10/27/2009- I eventually fell asleep in the late night or early morning and we woke up about sunrise again.  I felt better and more acclimitized.  We went around the business of making oatmeal for breakfast and packing things up for our acclimitization hike to 16,000'.

  Craig explained to me the standards of high altitude acclimitization.  Never sleep more than 3,000' higher each night and never climb more than 3,000' higher than you climbed the day before. 

  Since we had summited Toluca the day before and slept at 12,000' the evening prior, we were right on track sleeping at 13,900' last night.  According to that standard we could have attempted the summit that day but we wanted to play it safe and take our time to acclimate.  If not properly acclimated at this altitude you will feel lethargic and have headaches at the least.  We wanted to feel good at 18,405'.  There is also a more serious risk of High Altitude Cerebral or Pulmonary Edema if you push things to quickly up there.

  We were planning on just hiking up to Campamiento Alto(high camp) at 16,000' where we would stash all our snowboard/ski and mountaineering gear for a summit attempt the next day. 

  We started hiking in mist at about 9:30am.  I let Craig set the initial pace as he would have a better idea of how quickly to move at this altitude.  I did not want to get sick/AMS from hiking too quickly.  He led us at a slow consistent pace up the hill.  We climbed about 1000' an hour on the lower part of the hike and slowed to about 800' an hour when we got to Campamiento Alto at 16,000'.  Everyone moved well here, we took one break on the way up to eat a bit, but that was our only stop.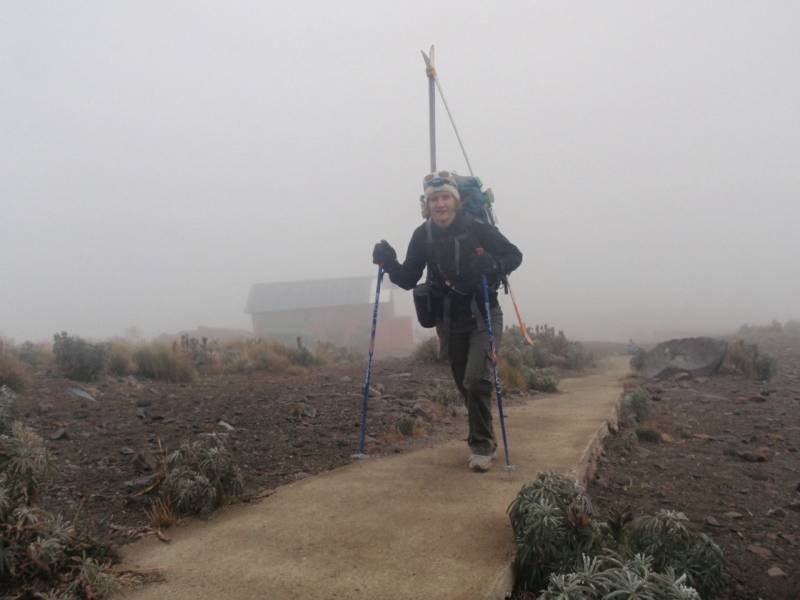 photo- Amanda Emerson begining the hike up to Campamiento Alto on 10/27. photo by Zach Taylor, 2009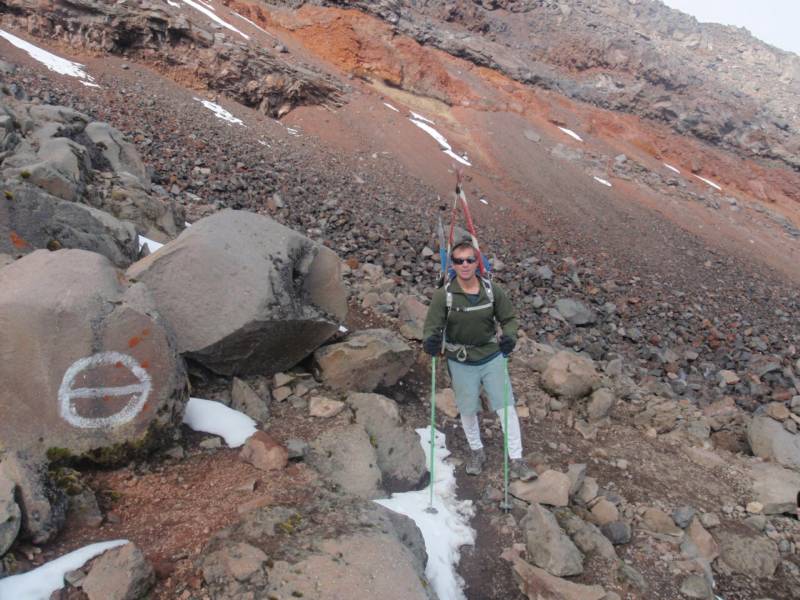 photo- Craig Burger hiking on the lower slopes of El Pico de Orizaba around 15,000'. photo by Zach Taylor, 2009

photo-Zach Taylor and Amanda Emerson hanging at at Campamiento Alto. photo by Craig Burger, 2009

  The ascent on the lower mountain from Piedra Grande(13,900') to Campamiento Alto(16,000') presents no technical challenges.  It is just a steep, scree hike.  Rocks with a white circle and line drawn through it mark the easiest way to 16,000'.  There is a myriad of intersecting trails, some more solid than others.  They all seemed to pretty much lead to Campamiento Alto though.

  We took some photos, stashed our gear under some rocks, and hiked back down.  We returned to Piedra Grande at 1:00pm  We hung out till the 14ers.com group returned from their successful climb on Orizaba later in the afternoon.  Both Caroline and Lance skied it and everyone I believe summited but one who still made it to the crater rim.  We greeted them with congratulations as they returned wearily to the hut and began packing up.  They all left and we turned in early for our first summit attempt on Orizaba the next day.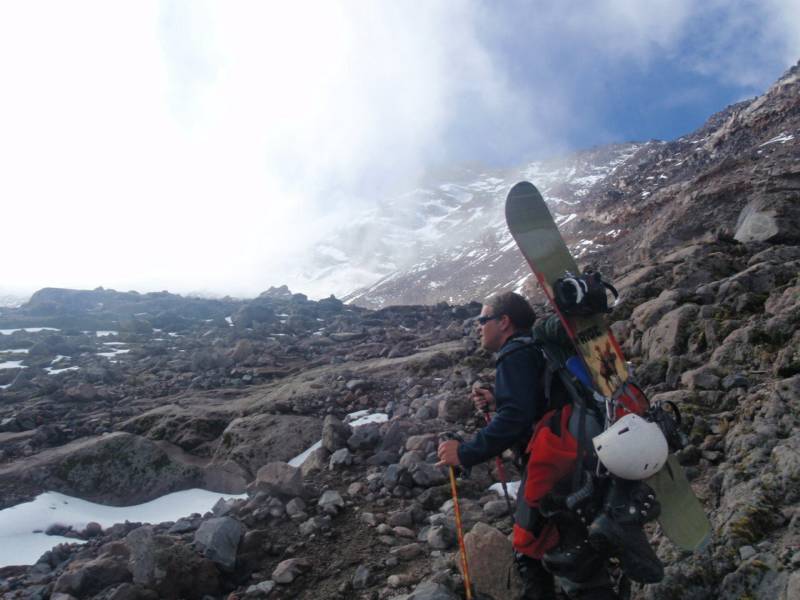 photo- Zach Taylor hiking on the lower slopes of El Pico de Orizaba. photo by Craig Burger, 2009