10/21/2009-10/22/2009
-members of trip: Marc Manko, Goeffrey Engel, Dave Kline, Vanessa Logsdon, Mike Bannister, Zach Taylor, and Jim Holva.
-ascent/descent route: northeast slopes/Africa bowl.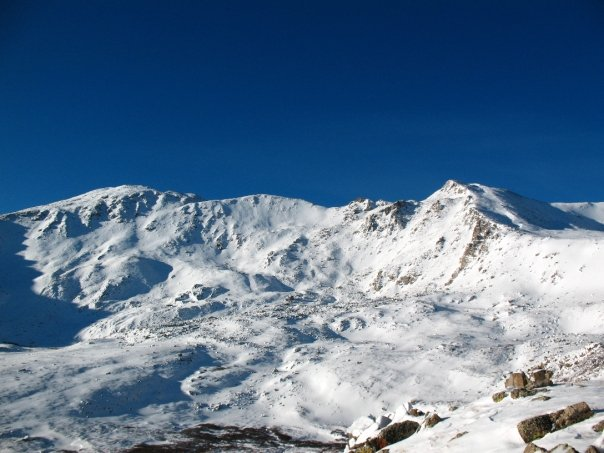 photo- A view of Mount Massive. The primary summit is on viewer's left and the north summit to viewers right. photo by Mike Bannister, 2009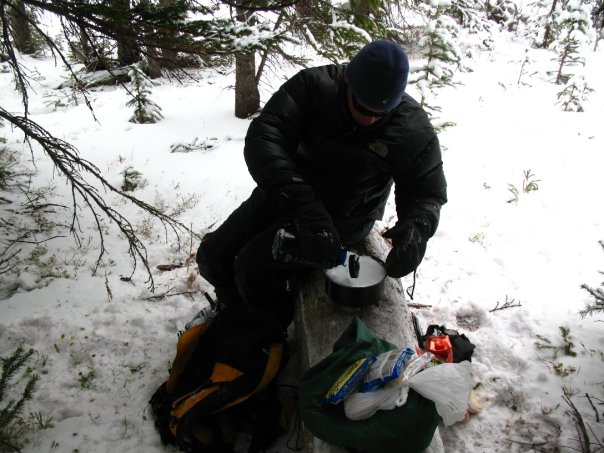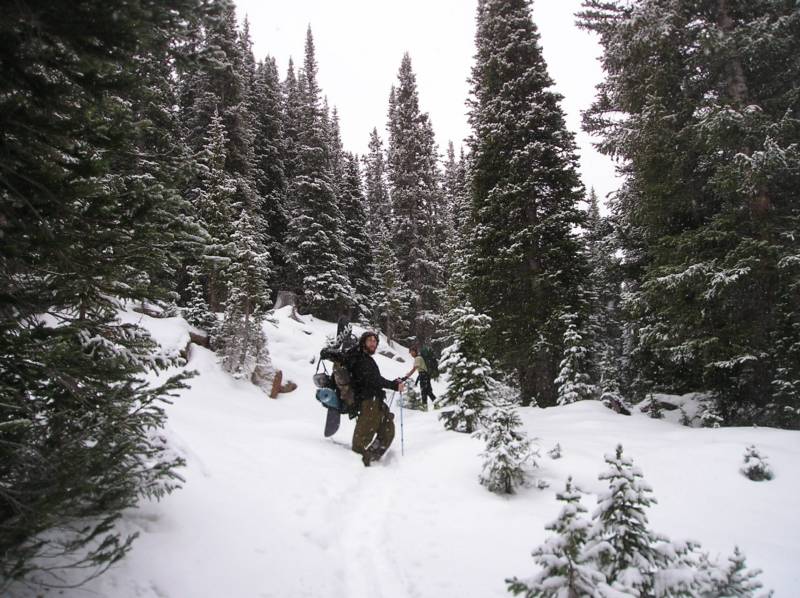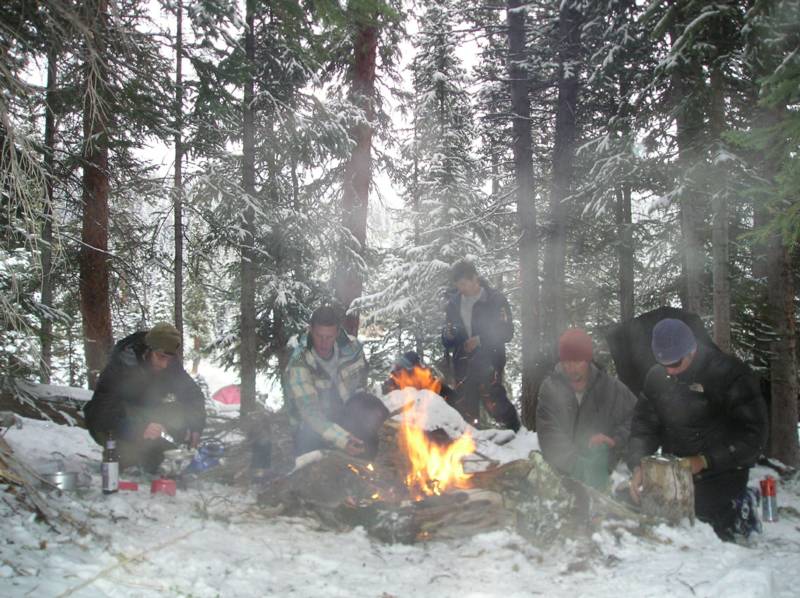 I was on the board of the CU-Alpine Club all through college at CU-Boulder and president for one of those years. This is an annual trip I used to lead in early October every year and is still an annual trip I have continued since moving up to Avon. There is permanent snow in Africa bowl year round so you know that even if the mountains haven't recieved much snow you will still be able to ride something. This ascent is a long one: 14.2 miles and 5,950' of elevation gain.
This year I had seven people total coming. It would be a big one. We all drove in from different places(Avon, Dillon, Boulder) and met at the Safeway in Leadville early on the morning of October 21st. We got last minute groceries at Safeway and drove out of town to the Native Lake trailhead on the northeast side of Mount Massive.
photo- Jim hiking to Native Lake on the 21st. photo by Zach Taylor, 2009
We got to the trailhead and there was more snow here than I had ever seen this time of the year before at this trailhead. I had not brought my splitboard because I did not not envision being able to skin much of it. I was surprised to see that you could skin from the trailhead.
Mike, Vanessa, and Dave put on skins and the rest of us dropped in to posthole up and over the Native Lake saddle. We skinned/hiked 1.3 miles south up to the saddle at 11,860'. Normally you can see Africa bowl and Massive from here but today they were obscured in clouds and snow. It was snowing pretty well on us too.
As we started descending it quickly became clear that this aspect had not retained much snow and the skiers threw their skis back on their packs for the descent. We arrived at Native Lake in the early afternoon. We all pitched our tents and headed out for a hiking mission. We wanted to break in a trail through the snow to the slope that led up to the base of Africa bowl so that we would not have trouble finding it in the dark the next morning.
photo- David Kline cooking up dinner at Native Lake. photo by Mike Bannister, 2009
photo- from left to right: Jim Holva, Marc Manko, Goeffrey Engel, Mike Bannister, and David Kline enjoying the fire at camp. photo by Zach Taylor, 2009
Despite the poor visibility this proved to be fairly simple and we returned to camp for the evening. We did a bit of beacon practice and built a jump to session for a while. Afterwords we all cooked dinner and headed to bed with the sun.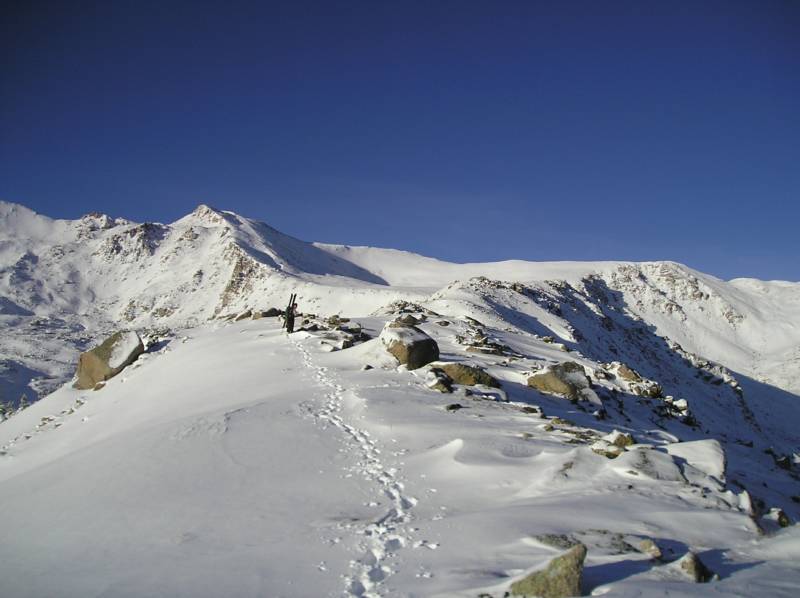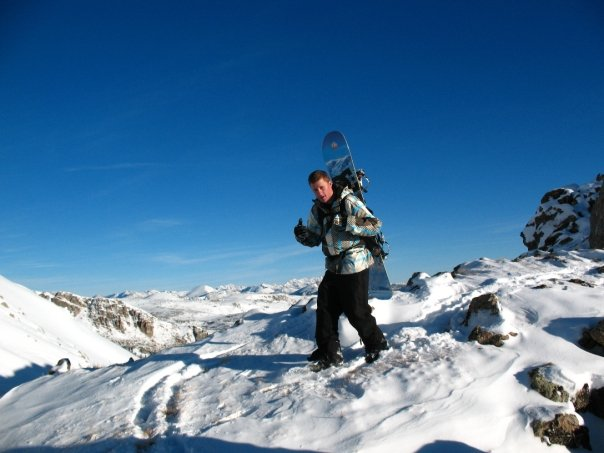 photo- Mike Bannister hiking on Massive at treeline. photo by Zach Taylor, 2009
Our alarms went off at 4:30am and we started brewing hot water for drinks and oatmeal. The previous days storm had moved out and we were greeted by cold, starry skies. An hour later everyone was ready and we began hiking south on our previous days trail. We got to the hillside leading up to Africa bowl at sunrise and began breaking through snow, climbing up this steep hillside. We arrived at treeline under blazing sun and blue skies. Goef had hiked ahead of us most of the time breaking trail for the group. Thanks Geof!
We continued on above treeline along the northeast ridge. We could see Africa bowl rising directly above us.
Dave had been feeling tired and decided that he wanted to head down. He looked at a north facing chute that descended off the ridge to the north. I thought it looked like it could slide but he wanted to go down it. Geof had tired by then as well. They decided to descend the chute one at a time. The rest of us looked on from the ridgeline.
photo- Marc Manko on the northeast ridge of Mount Massive. photo by Mike Bannister, 2009
photo- Mike Bannister on the northeast ridge of Mount Massive. The summit of North Massive is to the left behind him and Africa bowl is just above Mike and above him to the right as well. photo by Zach Taylor, 2009
Dave dropped in first. He made a couple turns and stopped just short of the convexity near the top of the chute. At this time everything beneath the convexity slid out. Fortunately Dave was above it and did not get taken down. The avalanche was small but extremely rocky. It was not a place to go for a ride. Dave cautiously skied the rest of the chute. Geof dropped in next and met back up with Dave at the bottom of the chute. They continued down to camp and the rest of us continued hiking.
As we got up to where the ridge widens and Africa bowl rises up Mark and Jim decided they needed to head down. Jim had to work that night and all the postholing was taking alot of time. Mark was his ride so they hiked back down together.
It was just Mike, Vanessa, and myself now. As we looked up the bowl was covered in a white blanket of snow. The steeper looker's left side of the bowl looked pregnant and windloaded. We discussed skiing this line and decided that it would be to avalanche prone so we continued up the looker's right side of the bowl. The pitch was maybe 25 degrees at the greatest here.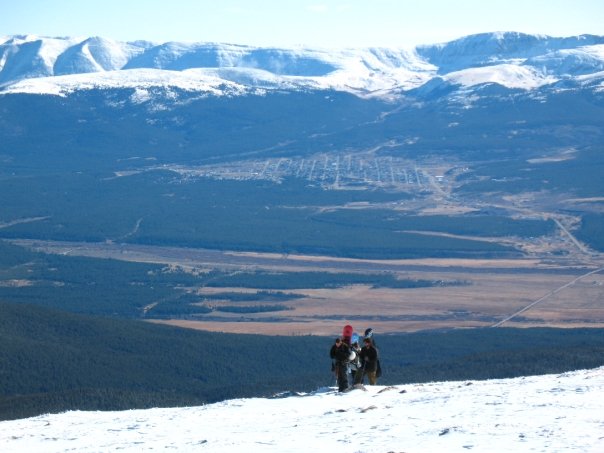 photo- Zach Taylor, Jim(behind), and Marc Manko(behind) hiking up the northeast ridge. photo by Mike Bannister, 2009
Mike and Vanenessa continued up the bowl with no problems as I lagged behind a bit postholing with almost every step. I wished very much that I had brought my splitboard. Through determination and powder fever I managed to drag myself up the bowl, one posthole at a time. I met back up with Mike and Vanessa at the ridgeline above Africa bowl. We decided to go ahead and ski down. We were still about a ten minute ridge walk to the summit of North Massive but were tired and could not ski anything along the ridge as it was still to rocky. We dropped in one at a time. I took firsts down the powder filled bowl. Great turns! I stopped at the bottom of the bowl and watched as Vanessa and then Mike descended the bowl. Enjoy the action shots: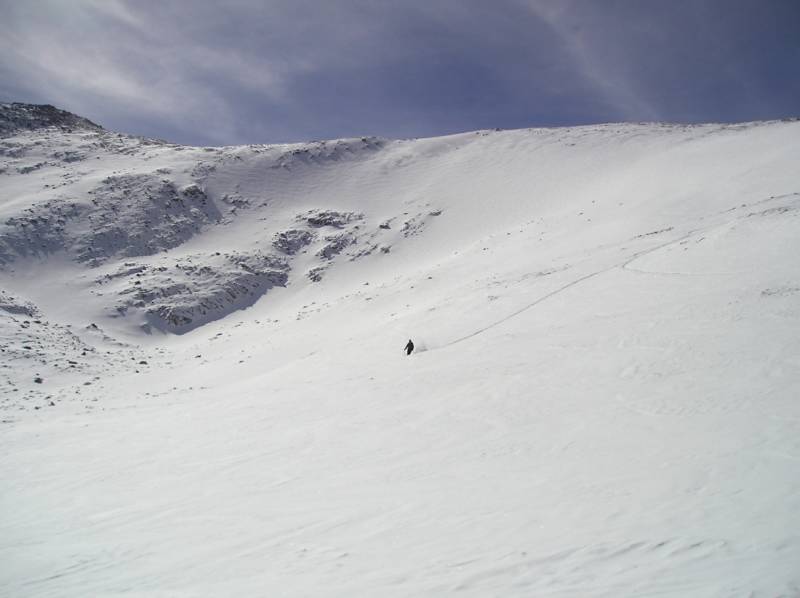 photo- Mike Bannister enjoying powder in Africa bowl. photo by Zach Taylor, 2009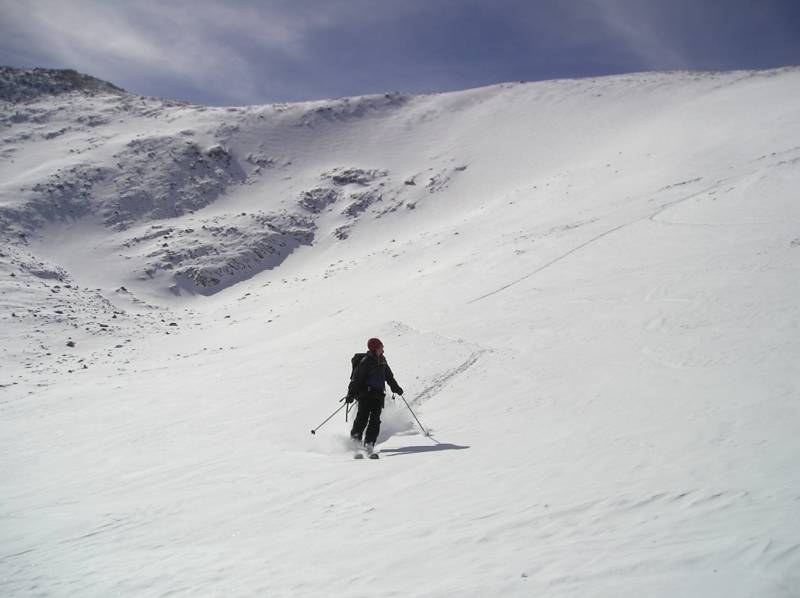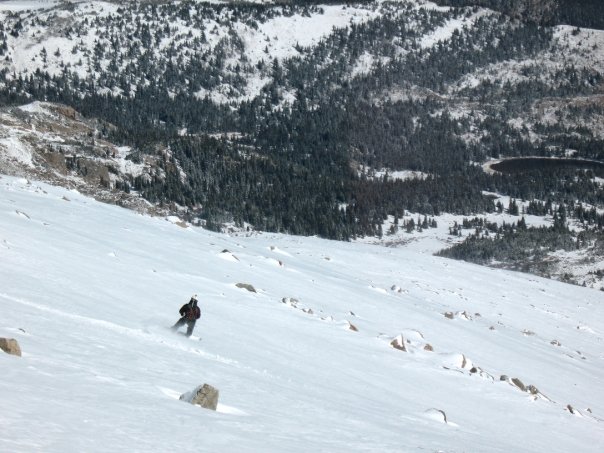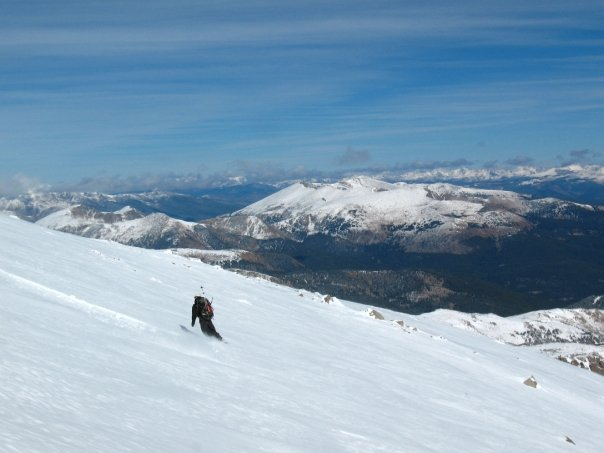 photo-Zach Taylor snowboarding Africa bowl. photo by Mike Bannister, 2009
photo-Mike Bannister skiing out of Africa Bowl. photo by Zach Taylor, 2009
photo- Zach Taylor riding down Mount Massive. photo by Mike Bannister, 2009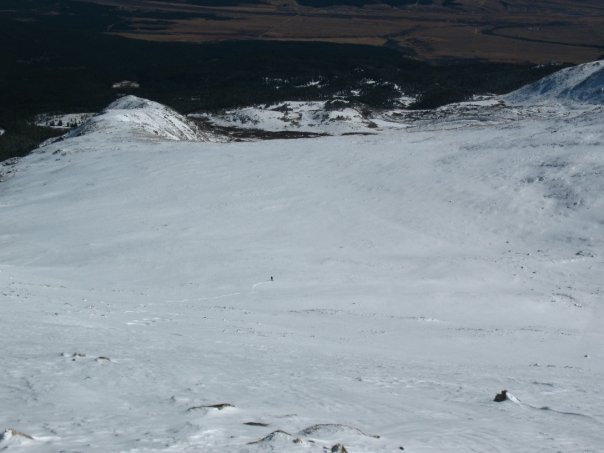 photo- A look down into Africa Bowl from North Massive's summit ridge. Zach Taylor is the tiny dot at the bottom of the bowl. photo by Mike Bannister, 2009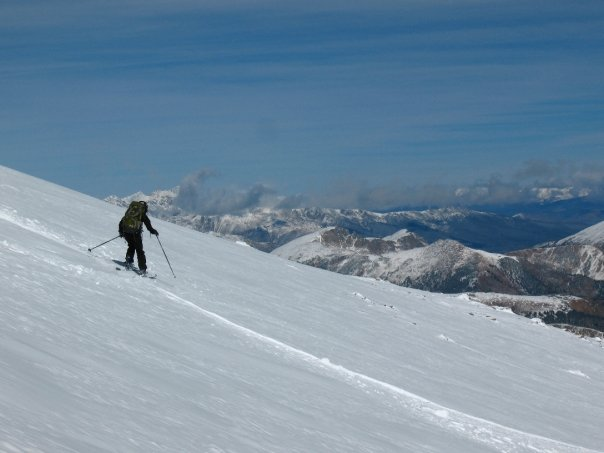 photo- Vanessa Logsdon skiing Africa bowl. photo by Mike Bannister, 2009
We rode back down as the ridge narrowed and returned to where the other four had descended the north facing chute. Looking down, there was very little hangfire anywhere and nothing else to slide. We dropped in one at a time. Mike skied down first, followed by Vanessa, and I took up the rear.
The crux of the chute was probably pushing 45 degrees. This is just my estimate, I did not put an inclonometer to it. I found myself making several jump turns to make it over the steepest sections.
Climber's notes: If you want to continue to the north Massive summit you can just hike along the ridge for 5-10 minutes and you reach this high point. I have done this several times in past trips to the area.
Also when there has not been as much snow and avalanche danger is minimal you can climb directly up the steepest part of this bowl(about 40-43 degrees) on the permanant snowfield. This brings you almost directly to North Massive's summit.
This is a more direct, aesthetic line. You do need an axe and crampons for this route. Also consider the avalanche danger here. I would only climb in this area under a freeze thaw cycle in the spring or mature summer/early fall snow. In this case the snow was suspect so we traveled the low angle slopes off the looker's right side of the bowl. This route is safer but adds a bit of distance to your ascent.
From north Massive's summit you can scramble across a third class ridge to the summit of Mount Massive. I have never gotton around to doing this section of ridge. This is described in more detail in Gerry Roach's 14ers guidebooks. You will not find it in Dawsons.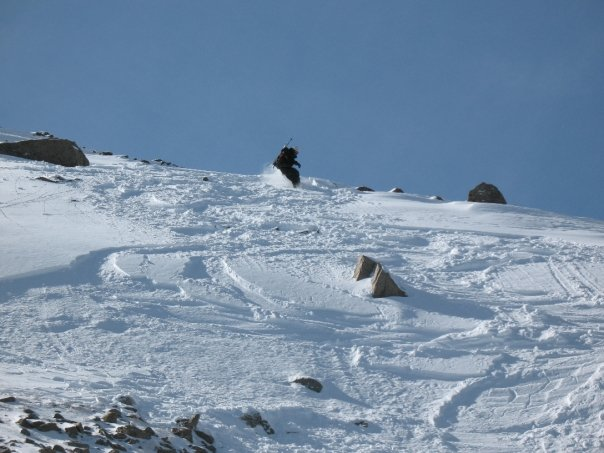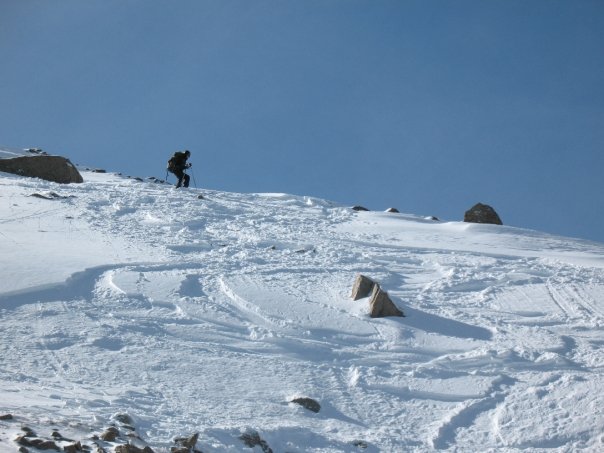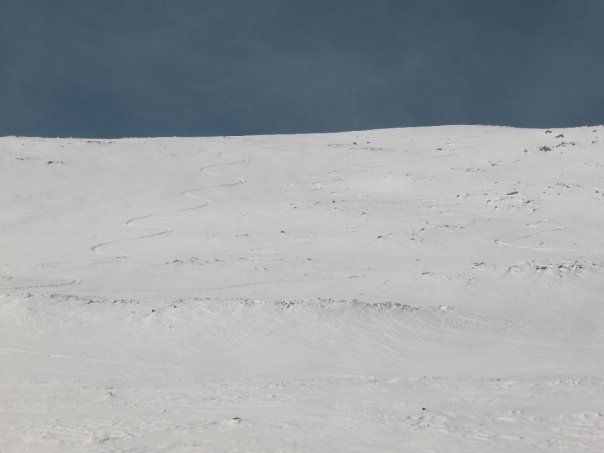 photo- A look at our tracks down Africa bowl. photo by Mike Bannister, 2009
photo- Vanessa Logsdon skiing the chute beneath Africa Bowl. photo by Mike Bannister, 2009.
photo- Zach Taylor riding the chute. photo by Mike Bannister, 2009
All throughout this chute I was smacking rocks with my board. It was very bony here. We hit some more rocks as we descended into the trees. Pretty quickly after we got back below treeline we had to puts boards back on our back and bushwack back to camp. I was quite surprised at how much we were able to ride this October. It was nice, albeit the lower section got quite rocky. I came out of it with several core shots to my board and a delamned edge. We descended about 3000' total.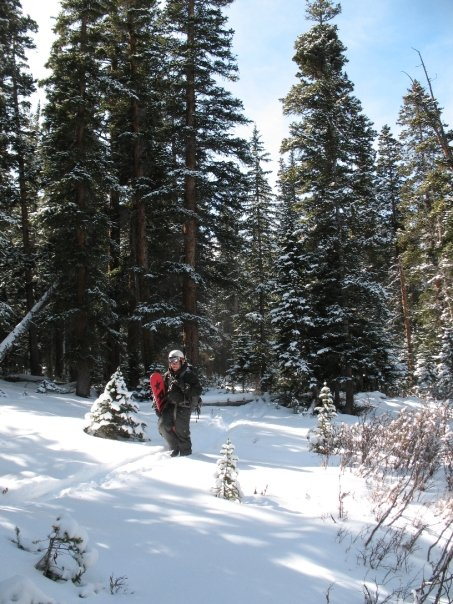 When we returned to camp everyone else was gone. We packed up and began the long hike back over the shoulder of Massive.
At the top of the pass we looked down and saw enough snow to ride. We rode down a bit. I stopped about halfway down and began hiking the last part of the trail as I did not want to damage my board any more than I already had. Mike and Vanessa chose to ski all the way back down to the car.
photo- Zach Taylor hiking back to camp. photo by Mike Bannister, 2009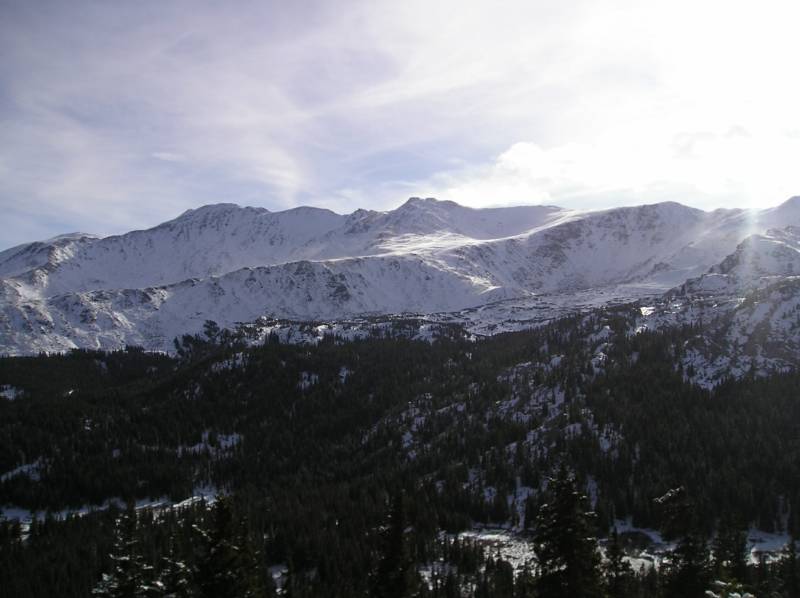 photo- A view of Mount Massive and Africa bowl from Native Lake pass. photo by Zach Taylor, 2009