I had been looking at climbing on Mexico's high volcanos, particularly El Pico de Orizaba for a few years. I had bought a guidebook and looked over many peaks and routes hoping to be able to find a way to get there sometime in the not to distant future. I had saved enough money from the previous winter and summer's seasons to be able to go to Mexico in the fall of 2009. I just needed to find people to go with. I talked to a few friends and was unable to find anyone who could afford to take the time off work. I put a post up on 14ers.com looking for people interested in going down to Mexico's volcanos.
A guy named Craig Burger(14er screenname: cheeseburgler)whom I did not know previously wrote me back via the website that he was interested. I jumped at the opportunity and we made some tentative plans. He said that his girlfriend Amanda wanted to come too. The group would be Craig Burger, Amanda Emerson, and myself. We would call ourselves Expedition Nacho!(Craigs idea). Viva Expedition Nacho! We made plans and flight reservations to leave the states from October 24th-November 1st. After that Craig and Amanda would return to the states and I would fly to Puerta Vallarta to hang out and relax with my girlfriend Summer until I returned to the states on November 7th.
This Mexico trip report will be done in four chronological parts, highlighting the four main parts of our trip: Nevado de Toluca summit, El Pico de Orizaba acclimitization, El Pico de Orizaba attempt, and El Pico de Orizaba summit/snowboard descent. Here is part 1:


photo- A view of Nevado de Toluca from the entrance to Parque de los Venadores. photo by Craig Burger, 2009.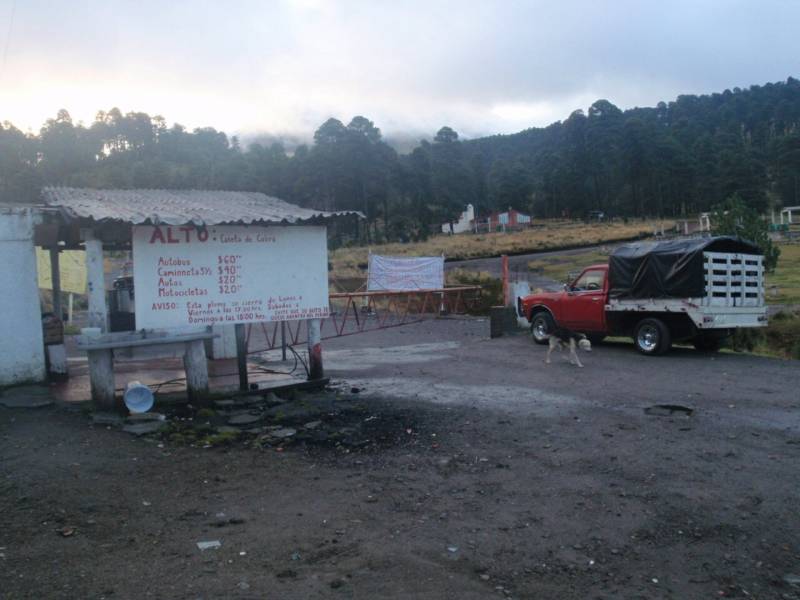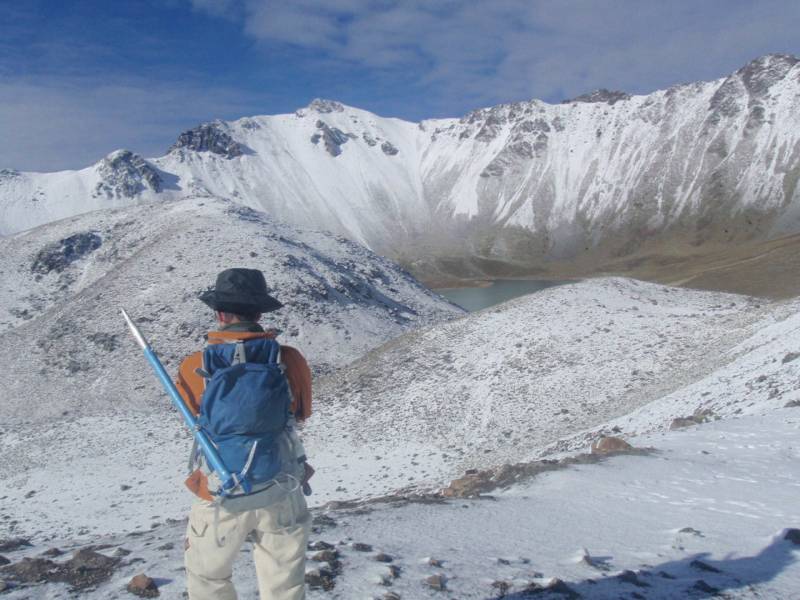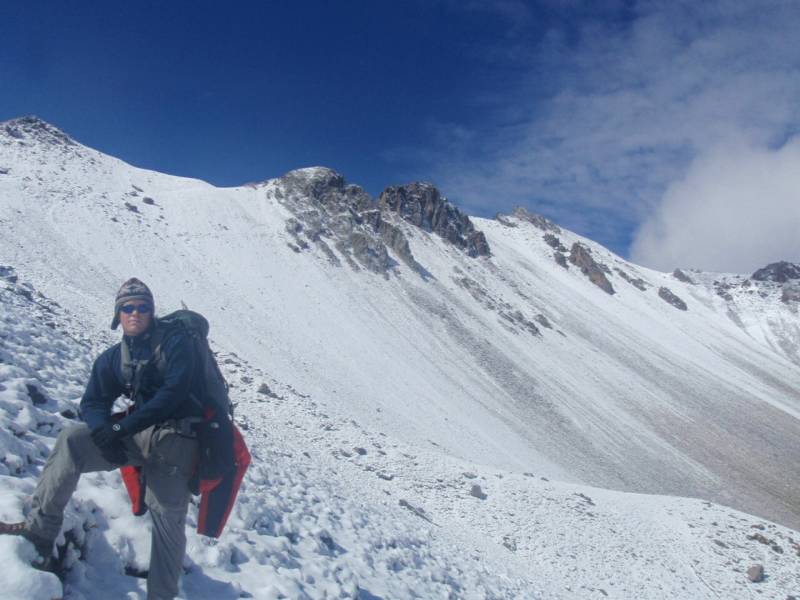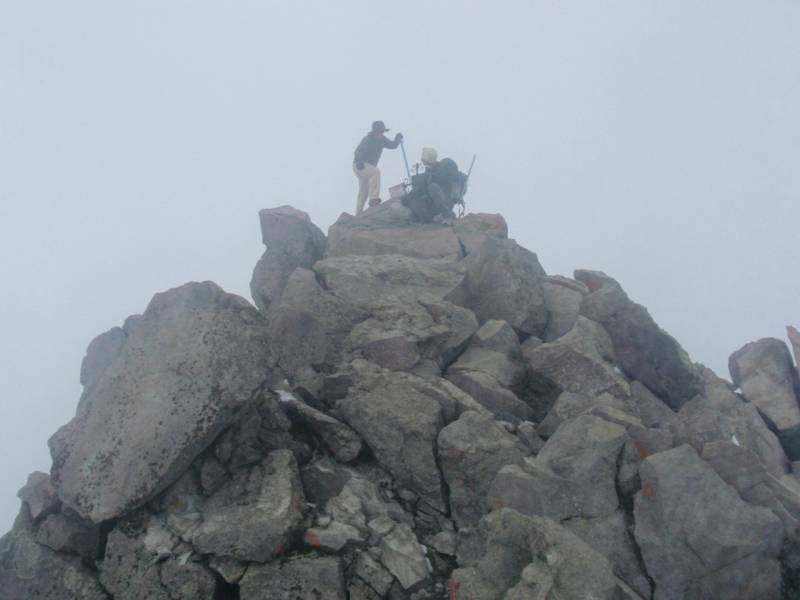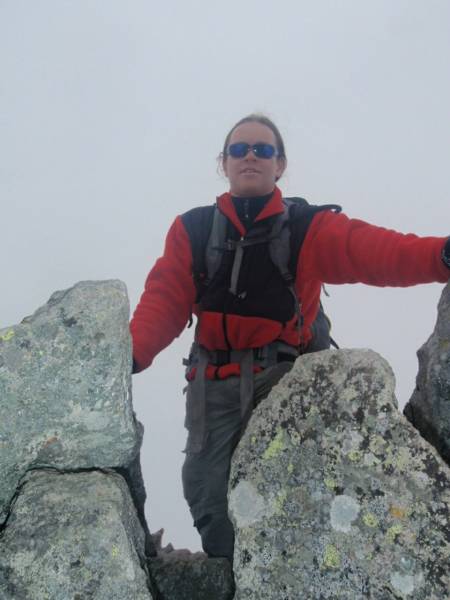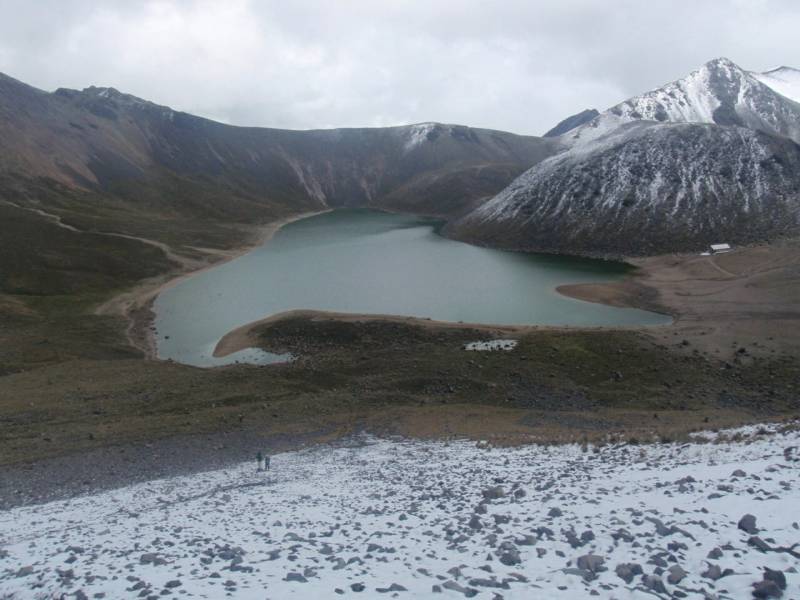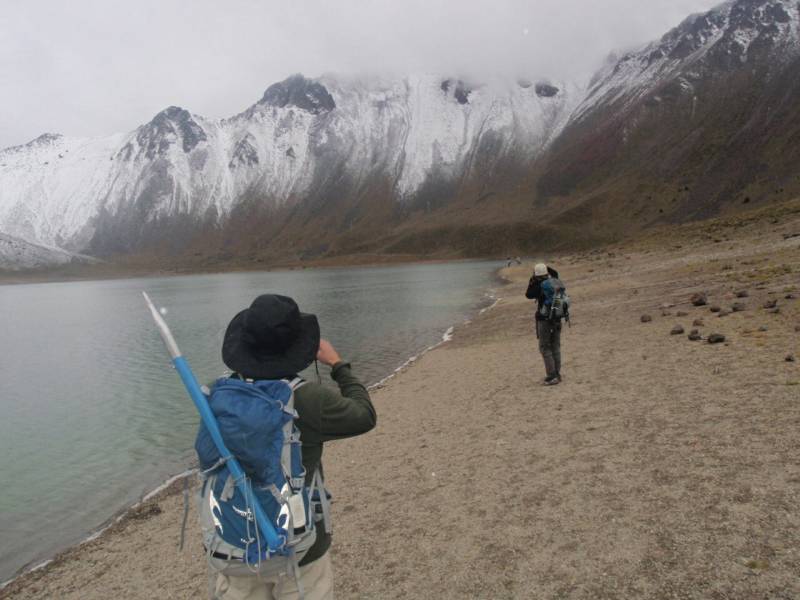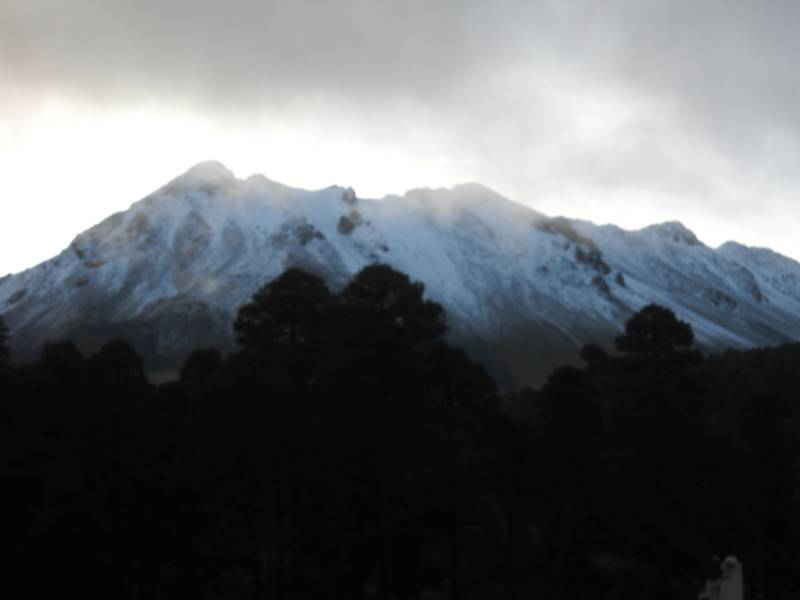 PART 1- Nevado de Toluca summit: October 24th/25th
Members of group: Craig Burger, Amanda Emerson, and Zach Taylor
ascent and descent route: crater to crater rim to Pico de Fraile(Friar's Peak), highest point of Nevado de Toluca volcano.
photo: The entrance gate to Parque do los Venadores. photo by Zach Taylor, 2009.
photo- Zach Taylor(left, red) and Craig Burger(right, orange) on the crater rim of Nevado de Toluca. photo by Amanda Emerson, 2009

Day 1: 10/24/2009
I drove down to Denver the day prior to my flight to Mexico City to see Summer and be closer to the airport before my flight. We got up early and drove to REI to make a couple last minute purchases and meet Craig and Amanda. We all drove to the Stapleton Center so that Craig and Amanda could leave their car there and piled into mine. Summer drove my very full Blazer to the airport where we were dropped off by the Mexicana gate.
Our flight was at 2:45pm and we still had a little time so we had margaritas and looked at maps and guidebooks for our upcoming week. We would attempt 15,354' extinct volcano, Nevado de Toluca the next day. Nevado de Toluca is Mexico's fourth highest mountain. It is also known by its Aztec name, Xinantecatl, which means, "The Naked Man" in English. It would be a good acclimitization climb and a worthy peak by itself. Amanda and I had never been higher than 14,433' Mount Elbert in Colorado. We boarded our no layover flight and arrived in Mexico City with no customs issues. We rented a little Ford Fiesta and headed out of Mexico City as quickly as possible. We made it to Toluca with no problems but got lost as soon as we got out of the city. Very few roads are signed well in Mexico and driving is extremely confusing. If you plan a trip here allow plenty of time for being lost and finding your way.
  Eventually after driving around for quite a while lost, we asked for directions to Parque de los Venadores and Nevado de Toluca in broken Spanish at a gas station.  A family of three Mexicans that were headed that way had us follow them to the entrance and we eventually found our way to the park entrance late that night.  We were hoping to be able to drive into the crater at 13,000' to sleep for our first nights acclimitization but the park gate was closed and we camped at about 12,000' there.  I tried to figure out how to lock our cars doors without success but I did manage to set of the car's alarm multiple times that night waking up the gatekeeper.  He did not come out of his tent that night but angrily charged us 75 pesos per tent for camping there the next day when we entered the park.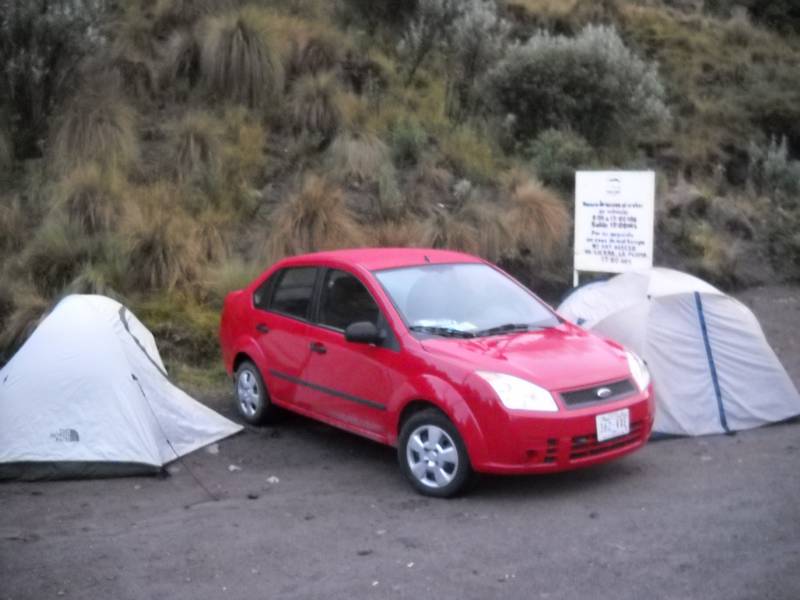 photo- Our "camp" in the entracne gate parking lot at Parque do los Venadores.  photo by Craig Burger, 2009

photo- Craig Burger at the low point of the crater rim on the west side,  looking out accross the crater of Nevado de Toluca up to its highest point, Pico de Fraile. photo by Zach Taylor, 2009

Day 2  10/25/2009

  We woke up with the sunrise to beautiful views of Nevado de Toluca.  The gate was opened for us at 8:00 am, the parks opening time.  First though we were charged 75 pesos per tent by our angry gatekeeper for camping there the previous night. 

  We drove up the road to treeline as we neared 13,000'.  The road was covered in a 1" thick ice layer that covered the entire road from there to the entrace station, just beneath the crater rim of the volcano on the west side.  The road actually contours around another hillside from here and drives into the actual crater of the volcano at 13,780'.  The gate accessing this was closed that day, I would imagine because of the ice on the road.  We parked here at about 13,500'. 

  There is a climbers lodge here that was cool to check out.  We took a wide trail that climbed east from here to the lowpoint of the crater rim on the west side of the volcano.  I would guess the elevation here to be about 14,100' as we were about 300' above the crater which I know to be 13,780' according to my guidebook.

 photo-Zach Taylor in the crater of Nevado de Toluca. Pico de Aguila is pictured in the background. photo by Craig Burger, 2009

  We could see the two high points of the volcano from here: Pico de Aguila(Eagle's Peak)  15,157' which climbed up directly to our right(south) along the crater's rim and Pico de Fraile 15,354' accross the crater rim from us.  Pico de Fraile was the highest point and our destination.  Looking down into the crater we could see two large lakes named Laguna del Sol and Laguna de la Luna.  We descended down into the crater to one of the lakes to pump some water.  People apparantly scuba dive in one of these lakes frigid waters and fish trout out of the other.  We didn't see anyone doing either while we were there. 

  We were able to cross the crater eastward quickly and srambled up to the crater rim on the eastside of the volcano.  From here the volcano's difficulties begin.  There are sections of third/4th class rock scrambling from here to the summit.  All this rock was covered in 4-6" of recent snowfall to make things a bit more complicated.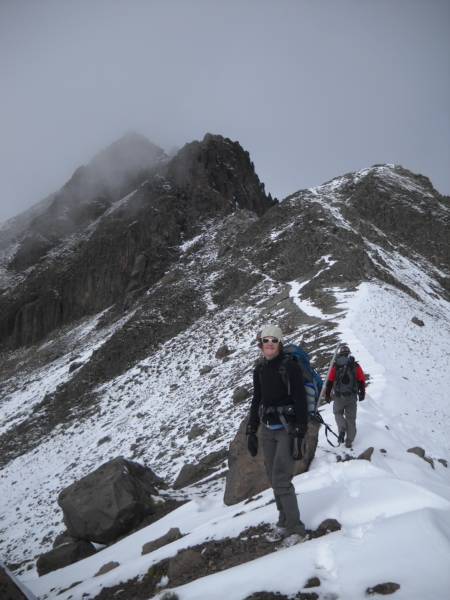 photo-Amanda Emerson(foreground) and Zach Taylor(background) making their way south along the initial sections of the eastern crater rim towards the Pico de Fraile on Nevado de Toluca. photo by Craig Burger, 2009

  We climbed south along the ridge towards the top.  Amanda and Craig are both very confident climbers and moved smoothly along the rim.  It has been several years since I rock climbed regularly and I lagged behind a bit, taking time to check all my handholds.  I am generally much more comfortable climbing on snow and this proved to be the technical challenge of the trip for me.  The rock was wet and slippery in places as well as having loose sections.  We did not carry a rope here and it was not quite technical enough to probably need one for most parties.  There were however climbing sections with hundreds of feet of exposure so you have to take care through this section.

  There was also a little bit of rockfall and I wished that we had brought our helmets here with us.  I would carry a helmet on future outings here.  Shown below are some action photos of us climbing along the crater rim.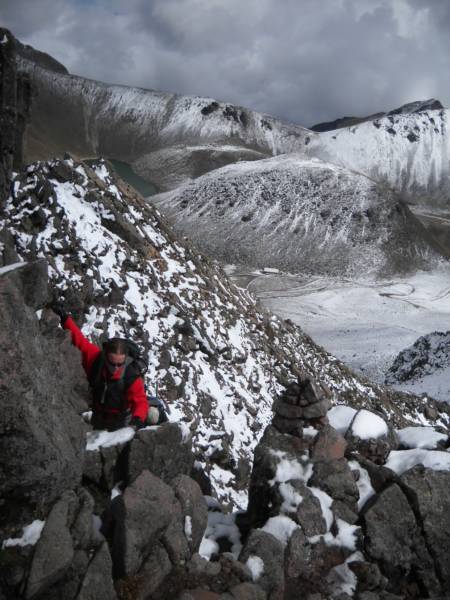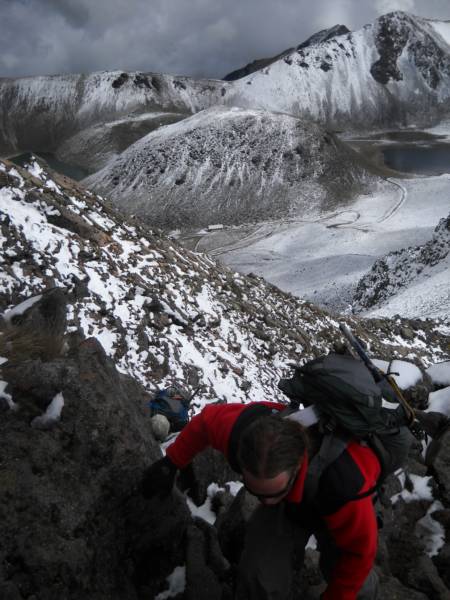 photo- Zach Taylor climbing along the crater rim of Toluca. photo by Craig Burger, 2009

photo-Zach Taylor(foreground, red jacket) and Amanda Emerson(background, blue jacket) climb up a spire along Toluca's rim. photo by Craig Burger, 2009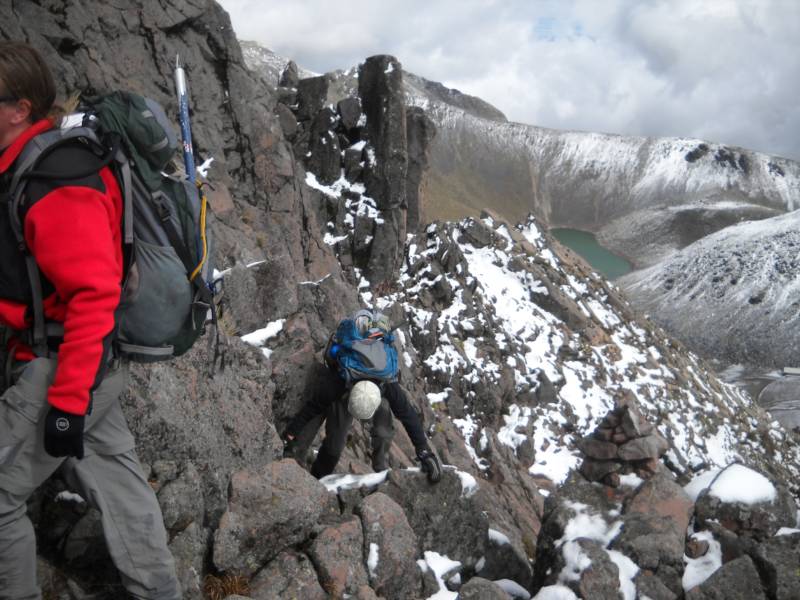 photo- Amanda Emerson makes an awkward move along a ledge on Nevado de Toluca.  Zach Taylor pictured on left. photo by Craig Burger, 2009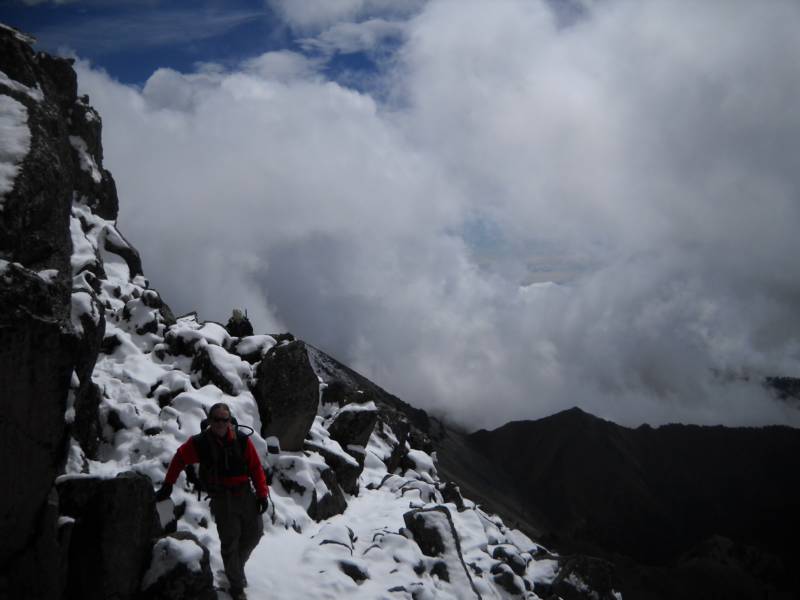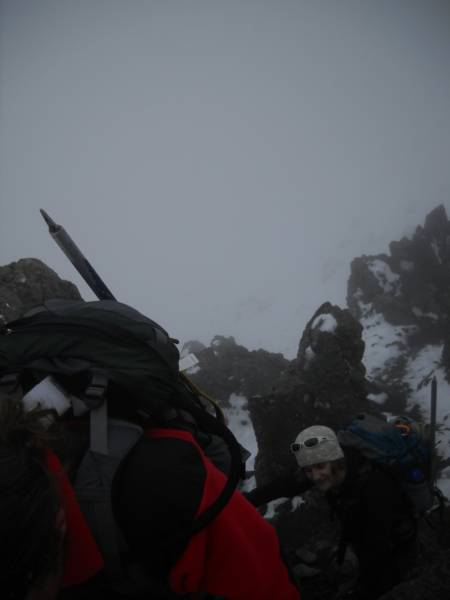 photo- Zach Taylor on the rim of Nevado de Toluca. photo by Craig Burger, 2009

photo-Zach Taylor(left) and Amanda Emerson(right) nearing the summit. photo by Craig Burger, 2009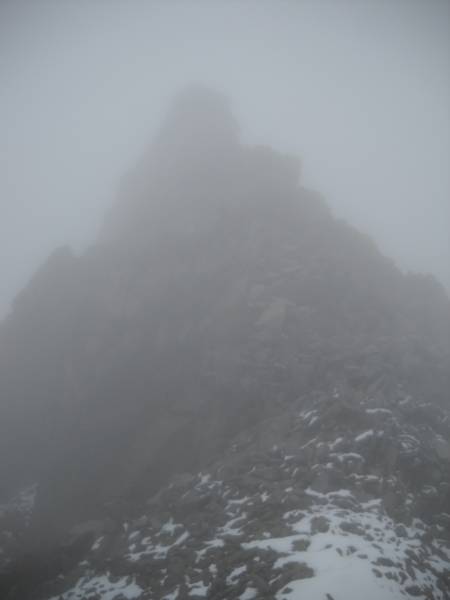 As we climbed towards the summit the clouds were surrounding us most of the time.  We could not see a whole lot.  It was misting rain and snow.  You could occasionally hear someone yelling in the distant but the visibility was low and we could barely see each other.  Climbing through the clouds is always interesting.  

  Finally the summit tower came into view and we made the last few moves to the summit.  One of the last moves involves traversing around a bulge in a vertical wall.  This was just beneath the summit and probably the most technical move of the climb. 

  We summited in dense clouds at 12:45pm.  We were not able to see much but everyone was stoked to have summited  It was Craig's first time on this volcano and Amanda and I were excited about our first mountain summit above the 14,433' mark.  We all felt strong at this altitude and were excited to carry our snowboard/skies to Orizaba's summit later in the week.

photo- A look at the final tower in the clouds that leads to the Pico de Fraile summit of Nevado de Toluca. photo by Craig Burger, 2009

photo- Zach Taylor on the top of Pico de Fraile, Nevado de Toluca's highest summit.  photo by Craig Burger, 2009

photo-Craig Burger(left) and Amanda Emerson(right) enjoying Pico de Fraile's summit. photo by Zach Taylor, 2009

  After hanging out on the summit for a few minutes and taking photos we began the awkward downclimb of the summit tower.  After descending this we dropped back into the crater via a steep scree field that descended directly back into the bottom of the crater.  This would be a lousy ascent line because of how loose and steep it was but it was a nice descent line as it allowed us to avoid some of the climbing difficulties we had ascended on the way up.  Scree skiing at its finest!

photo-A look down in the crater after descending most of the way of the steep scree field beneath the Pico de Fraile tower. photo by Zach Taylor, 2009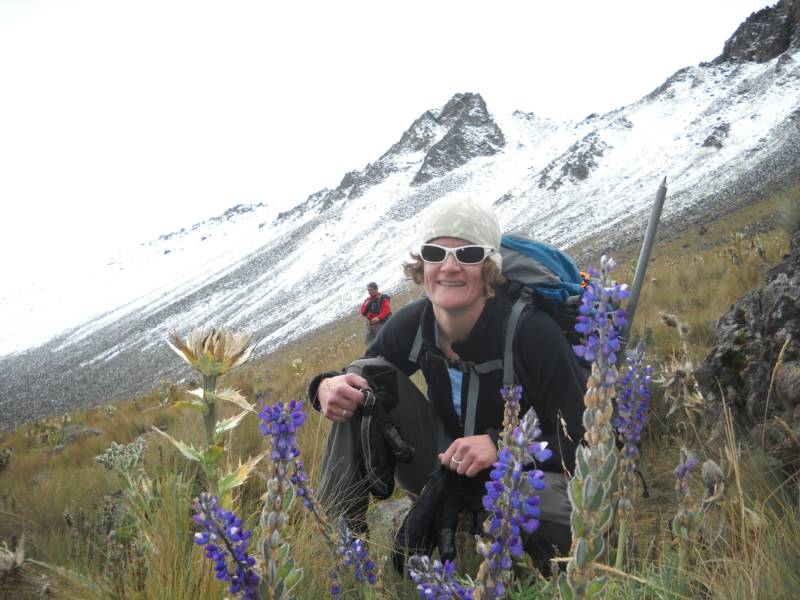 photo-Amanda Emerson(foreground) and Zach Taylor(background) hanging out in the crater rim of Nevado de Toluca after our summit. photo by Craig Burger, 2009

  We walked back around the lake to the west and ascended back to the low point of the crater rim's west side.  We hiked back down to our car and made our way back to the town of Toluca for dinner.

  We got some dinner at a Mexican buffet restaurant off the town square in Toluca.  It was great food. We discussed our strategy for the next couple days.  Originally we had planned to due another acclimitization climb on 17,126' Iztaccihuatl before heading over to Orizaba.  We decided since we felt strong on Nevado de Toluca and with the limited time that we had, we wanted to go to Orizaba next.  We wanted to make sure that we had plenty of time to climb Orizaba.  We decided that we would attempt Izta afterwords if time allowed. 

  The Paseo de Cortes near Iztaccihuatl and Popocatepetl was nearby and would allow us to sleep up high another night so we drove back around Mexico city(only getting lost briefly) and drove to the top of the pass to camp for the night.  There were several park workers hanging out in the visitor center and we paid them 67.50 pesos for us to camp there for the night.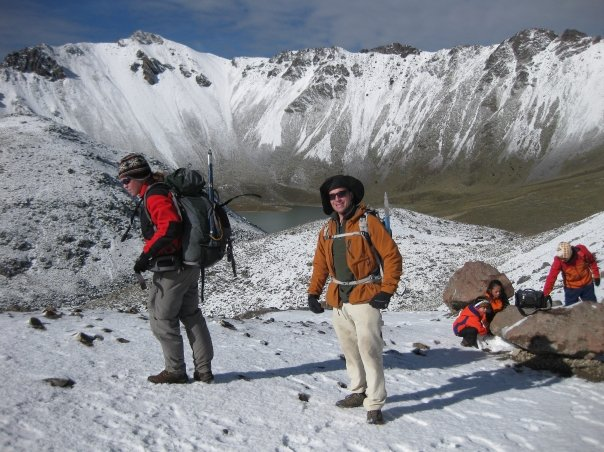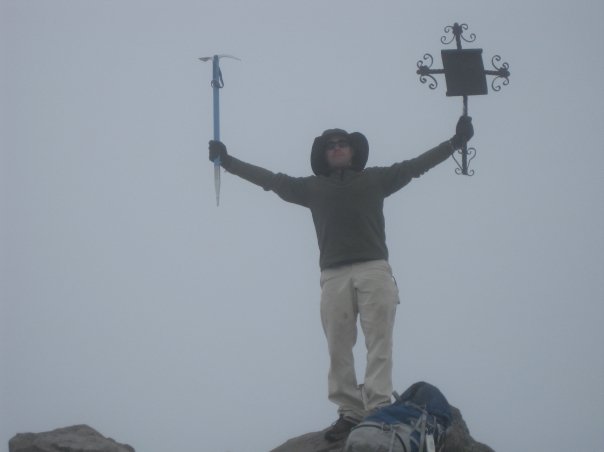 photo- Craig Burger on the summit of Pico de Fraile, Nevado de Toluca. photo by Amanda Emerson, 2009