1/9/2013
Members of group-Mike Bannister, Vanessa Logsdon, and Zach Taylor.
Ascent route- northwest gully
Descent route- northwest gully
Trailhead- Scott Gulch
6.4 miles round trip, 3,242' elevation gain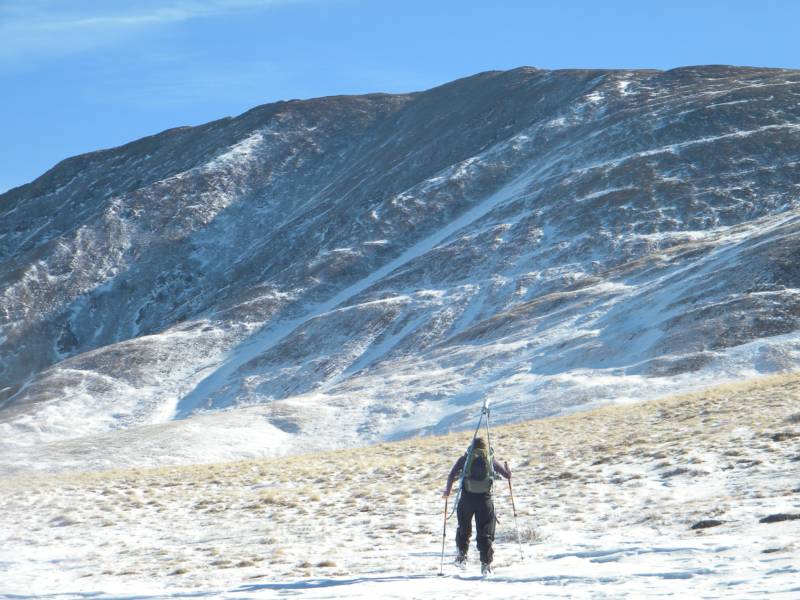 photo-Vanessa Logsdon skinning towards Mt. Silverheels. photo by Zach Taylor, 2013.
Mt. Silverheels sits just southeast of the summit of Hoosier pass, near Breckenridge, Co. Years ago my friend Mike had mentioned wanting to ski Silverheels. I had never heard of it before. We both forgot about it though and never got around to summiting or skiing/riding the mountain.
Then I finished climbing the 14ers a couple summers ago. After that, I started paying a little more attention to peaks between 13,800' and 13,999' as I had begun to make some new lists and was again reminded of Mt. Silverheels.
I joined Mike and four other friends for a Rando Race at A-Basin ski area. I had never done a rando race and thought it might be a good time. It is important to never take any kind of competition too seriously so I pulled out my women's size ten pink onsey, blue fanny pack, and blue earmuffs for the race. My friend Sam joined me in dressing up. He wore spandex, an old sweatshirt, and a cowboy hat.
After the race I talked to Mike a bit about doing a peak the next day. Snow conditions suck in Colorado right now but it looked like we had a warm sunny day the next day. I was itching to get back outside and thought Mike might be interested in climbing Silverheels, the peak we had talked about climbing years earlier. He was up for it and Vanessa was also down. We left the race and made plans for the next day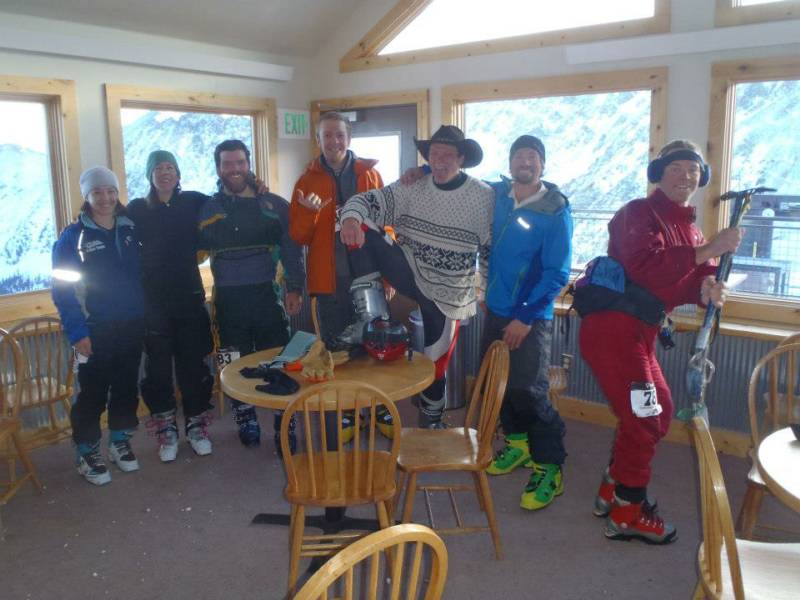 photo- from left to right; girl who's name I do not know, Vanessa Logsdon, Joey Parent, Ricardo Moreno-Contro, Sam Jordan, Mike Bannister, and Zach Taylor at A-basin after the Rise and Shine Rando race.. photo by Zach Taylor, 2013.
We got a real lazy skinning start time of 10am. The mileage and distance were not all that much and wet avalanches/thunderstorms would not be a concern so we thought 1:30 or 2:00pm might make a nice summit time. We started from Scott Gulch trailhead which sits on the east side of Hoosier pass road, just south of the pass, and skinned up to treeline, and the head of the drainage.
The snowpack seemed to have completely faceted below treeline. It varied in depth from 3-12". The snow pack and the scenery seemed more characteristic of an average Colorado November than January. Oh well, it was a beautiful day and good company so we enjoyed ourselves even as we commented on the season and dismal, current snow year while skinning over and through willows, ground, and rock.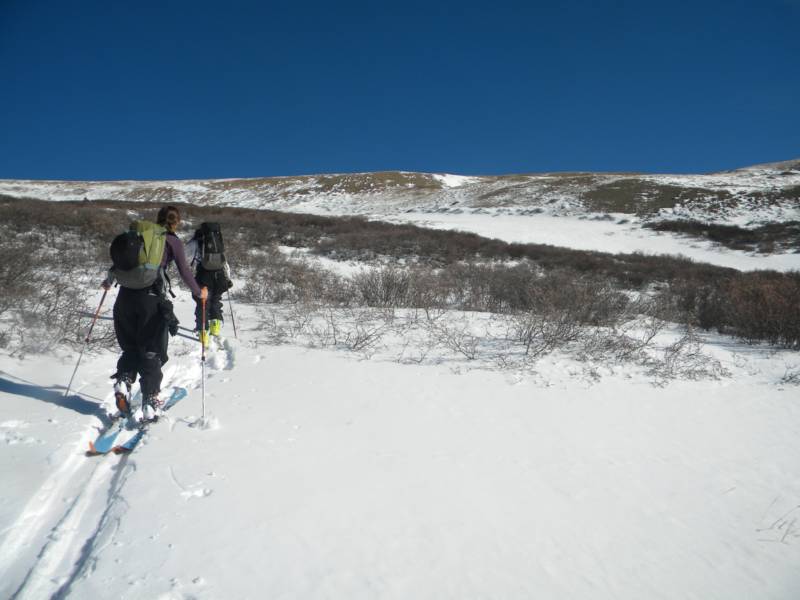 photo-Vanessa Logsdon and Mike Bannister skinning through Scott Gulch. photo by Zach Taylor, 2013.
photo- Mt. Bross is looking real bony for January this year. photo by Zach Taylor, 2013.
From the ridge we skied east and descended a few hundred vertical feet into the east to west running basin than sits below the north face of Silverheels.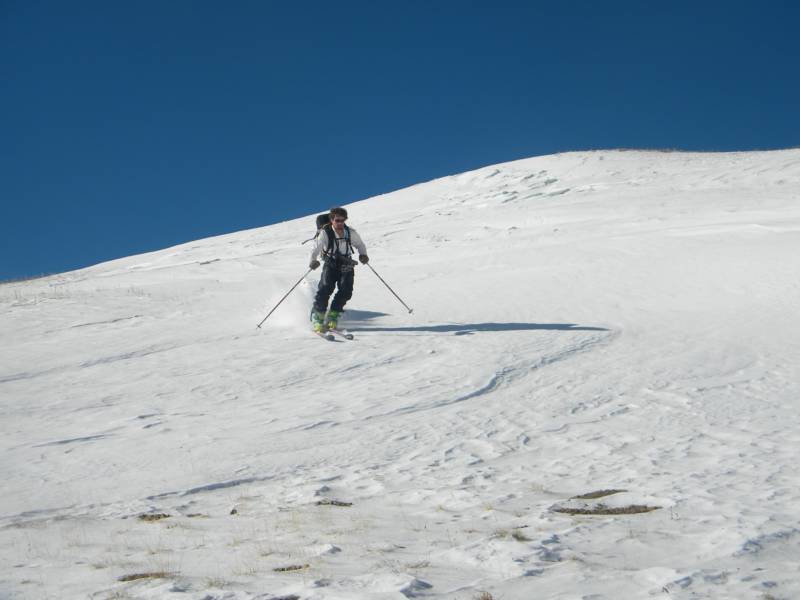 photo- Mike Bannister skiing down towards the northwest gully of Silverheels. photo by Zach Taylor, 2013.
Looking up at the north face, we were able to pick out a couple strips of snow that looked marginally skiable from somewhere near the summit ridge. We picked one and began skinning up it.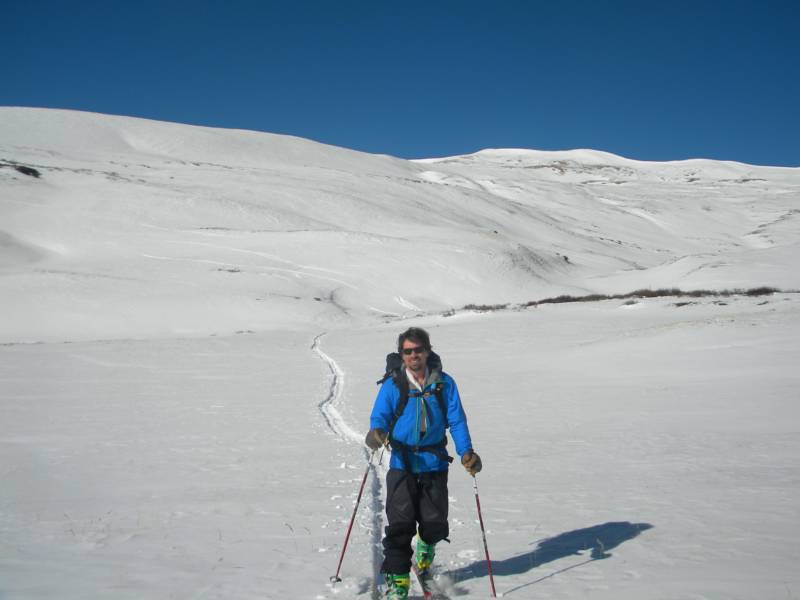 photo- Mike Bannister skinning towards Mt. Silverheels. photo by Zach Taylor, 2013.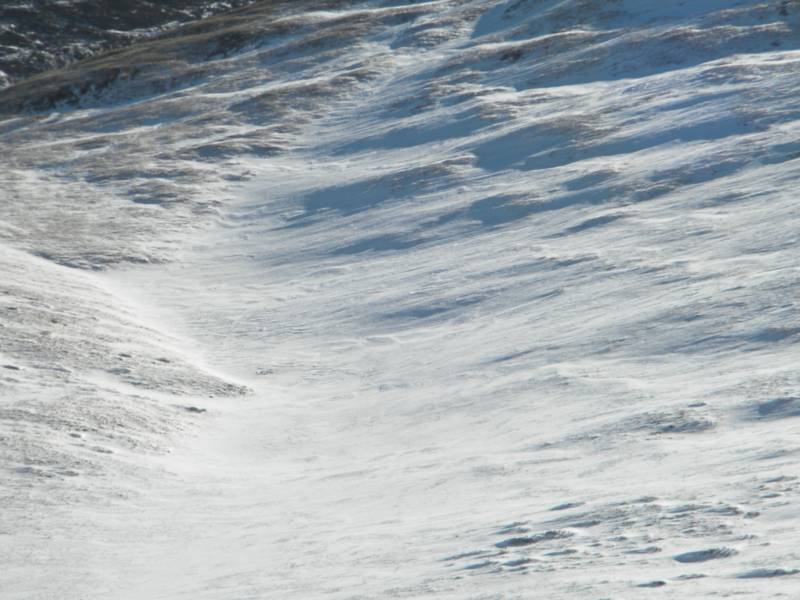 photo-Our route up Silverheels. photo by Zach Taylor, 2013.
The snow in the gully was composed primarily of wind-hammered hard slabs. We made pretty good time up the gully and topped out on the ridge after a bit of skinning.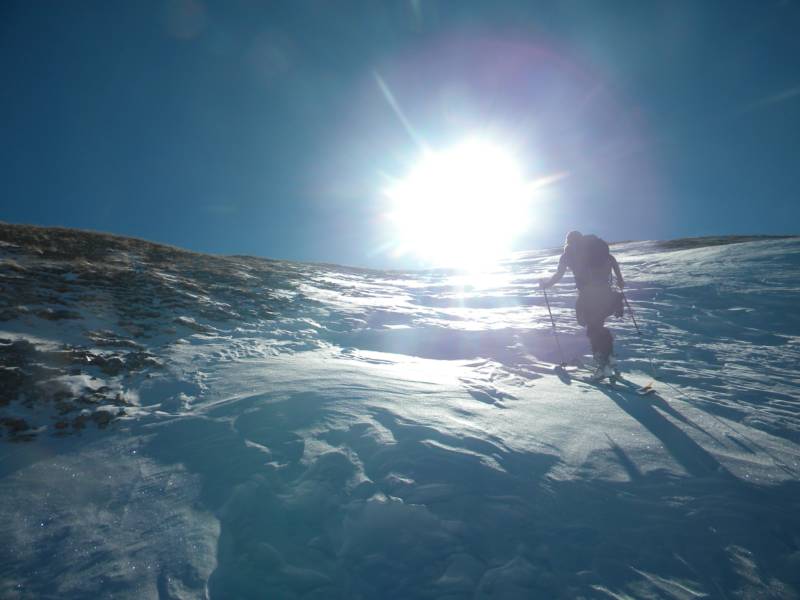 photo- Vanessa Logdon skinning up the northwest gully of Silverheels. photo by Zach Taylor, 2013.
The views opened up pretty dramatically when we stepped onto the ridgeline. We were greeted with views that stretched over South Park, and the Tenmile, Mosquito, Sawatch, Gore, and Front ranges. As the views opened up, the snow disappeared and we slung our planks on our backpacks and walked up the gentle ridgeline.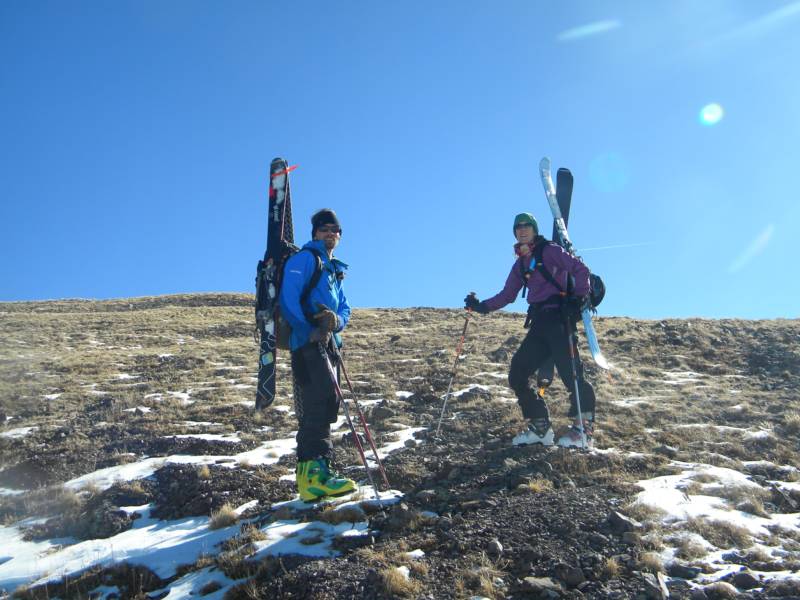 photo- Mike Bannister and Vanessa Logsdon walking up the west ridge of Mt. Silverheels. photo by Zach Taylor, 2013.
After a few minutes of hiking, we noticed a group of Bighorn Sheep walking downhill off the summit and toward us. We were all a little surprised to see them here, none of us had ever seen bighorn sheep at anywhere near this elevation before. I had previously thought that they pretty much lived below treeline. It was a cool sight though. They hung out near us for quite a while.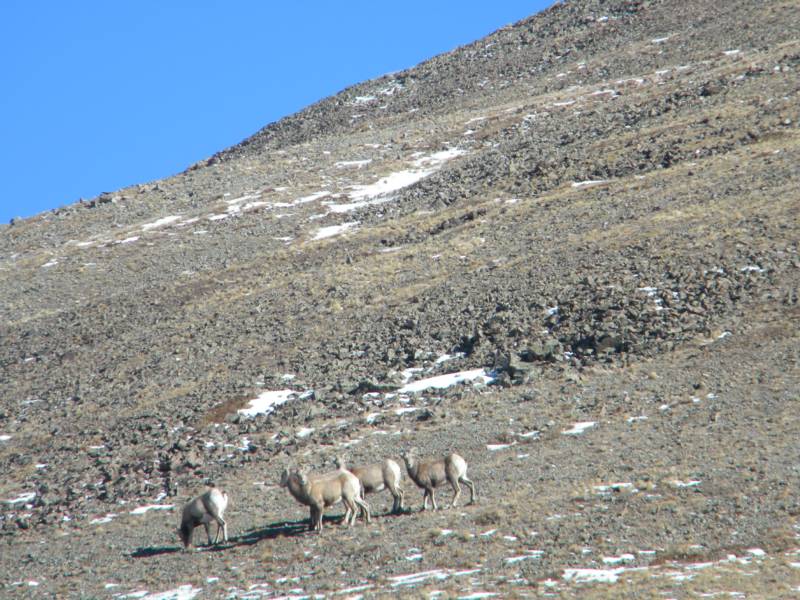 photo-Bighorn sheep hanging out neer the summit of Silverheels. photo by Zach Taylor, 2013.
As I was hiking up the ridge, it hit me! I have an Old Chub in my backpack. This little guy had been hidden under my medical kit all day and on my last climb a couple days prior in Teton National Park. I got in my backpack and checked to be sure. Yay! I had beer in my pack. I did the math in my head and this little beer had traveled, without my knowledge, over 10,000 vertical feet uphill with me! I put the beer back in my pack for the summit and we continued up the ridge. The ridge was bare of snow and made for a pretty easy talus/scree hike to the summit.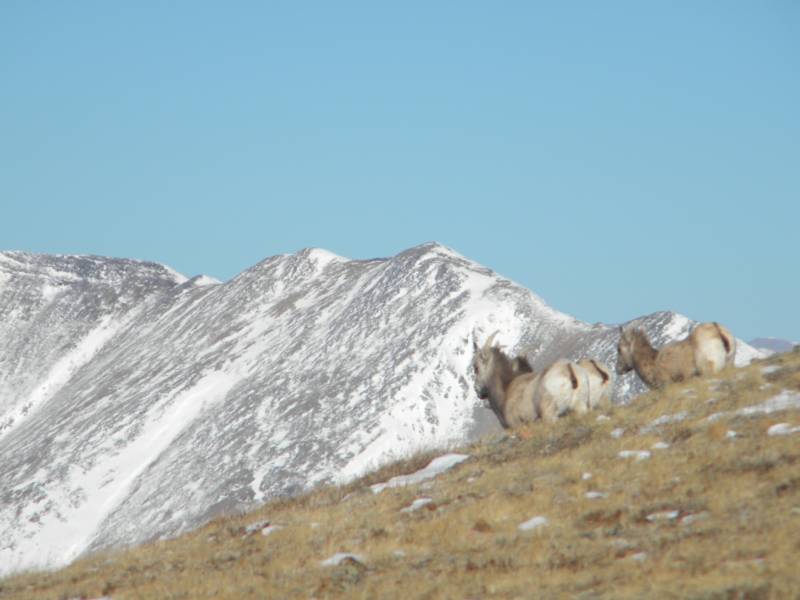 photo- Bighorn sheep in the alpine with Bald Mountain pictured behind. photo by Zach Taylor, 2013.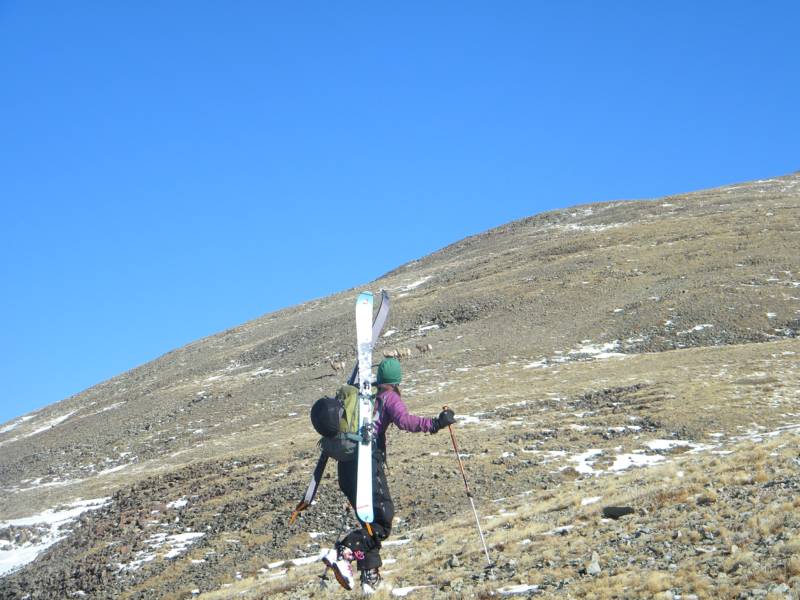 photo- Vanessa Logsdon hiking towards the summit of Silverheels. photo by Zach Taylor, 2013.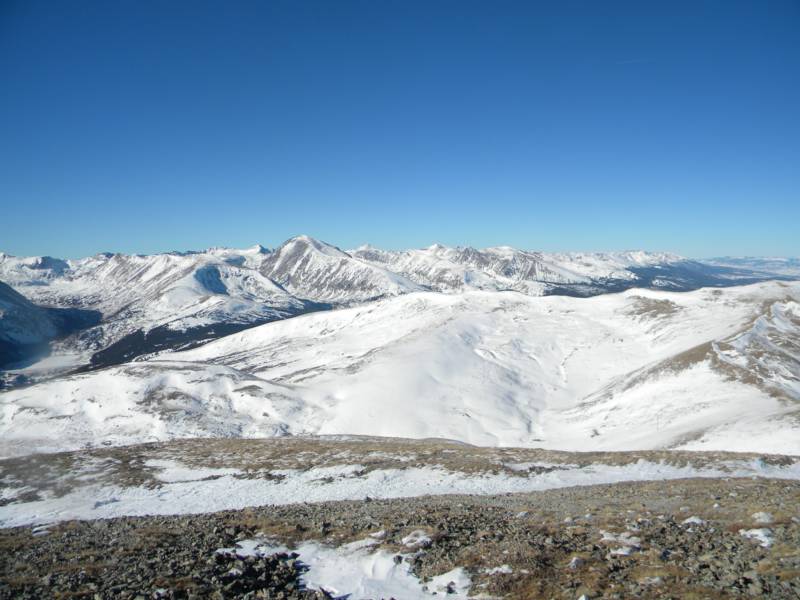 photo- Looking out at the Tenmile range. photo by Zach Taylor, 2013.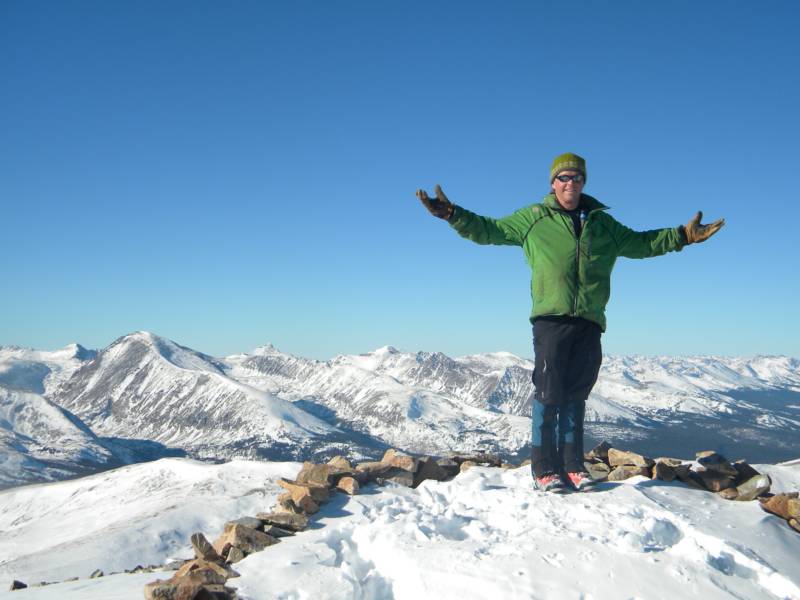 photo- Zach Taylor on the summit of Mt. Silverheels. photo by Mike Bannister, 2013.
The weather was great on the summit and we hung out in the sun for a bit taking in the views and passing around my Old Chub. After a bit, it was time to head down and we walked back down the ridge to our snow gully descent. Our friends, the bighorn sheep, were hanging out near our drop in.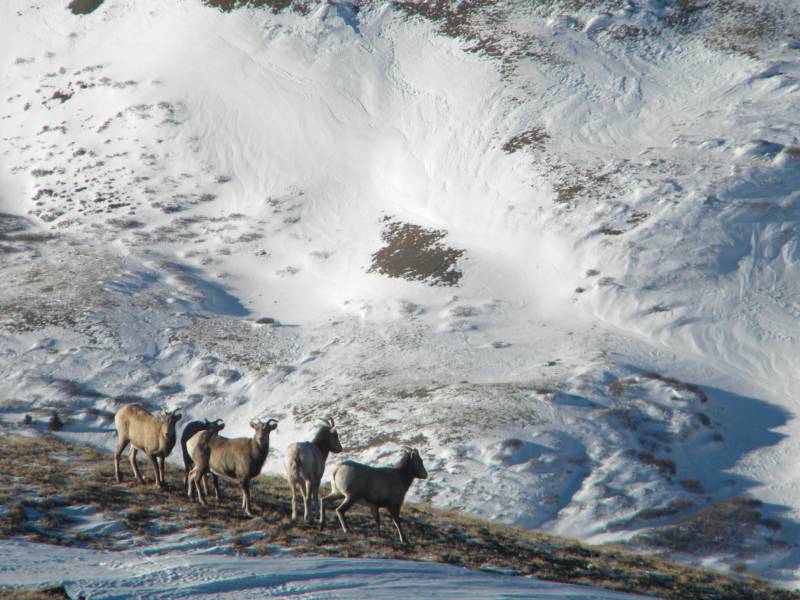 photo- Bighorn sheep on Mt. Silverheels. photo by Zach Taylor, 2013.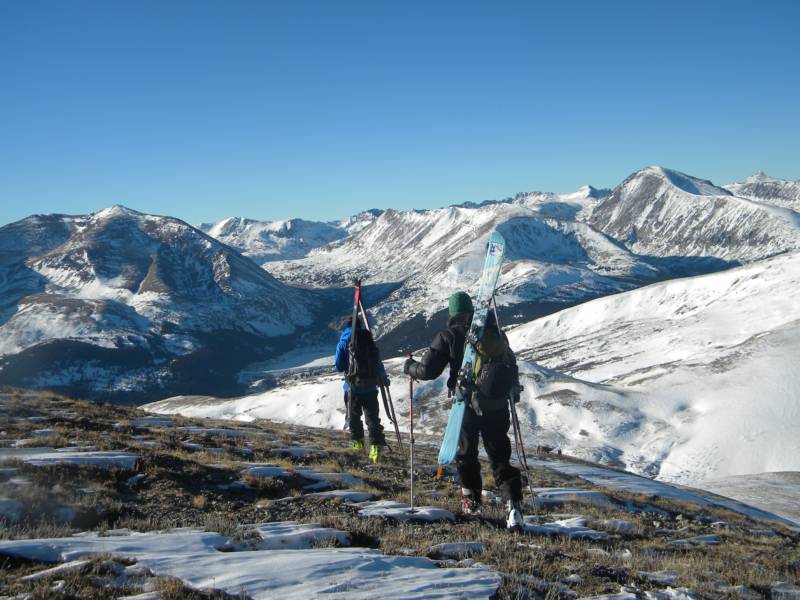 photo-Mike Bannister and Vanessa Logsdon hiking to the northwest gully. photo by Zach Taylor, 2013.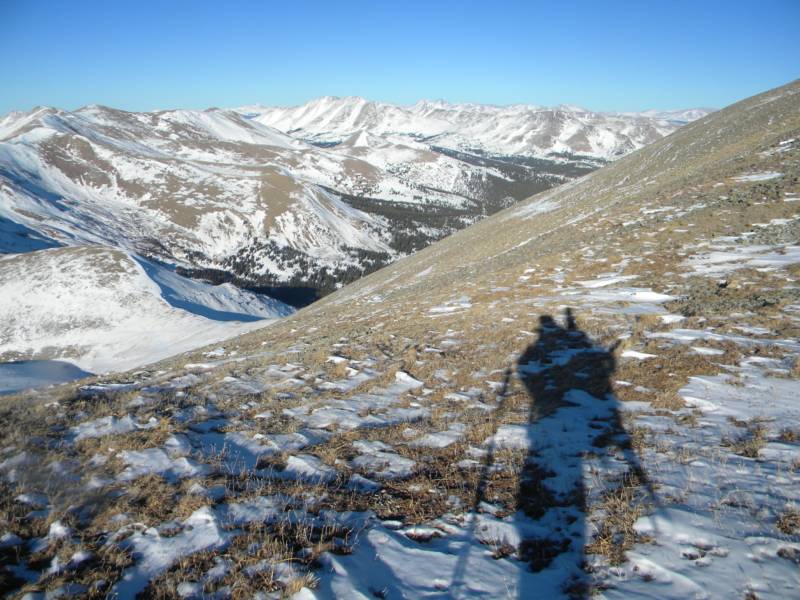 photo-Sun and shadow. photo by Zach Taylor, 2013.
When we got back on top of the gully we peered down to look at our line. The steepest pitch of the gully taking fall line was only about 25 degrees but the steep skier's left side of the gully above the fall line was prime avalanche terrain. The hazard was rated moderate by the CAIC and we had not seen any signs of instabilty or natural avalanches on the way up so we decided to ski the gully and stay below the steep sections.
Normally, it is not a good idea to ski below avalanche terrain like this during the winter but the unique current conditions made this the most sensible course of action if we wanted to ski. Nothing was going to run naturally, and as long as we were not skiing through initiation zones we figured we could ski below some avalanche terrain in the gully and be pretty safe.
Vanessa went first and skied down into the gully, I followed her, and Mike took up the rear. We leapfrogged each other from safe zone to safe zone. The snow was very challenging to ski as it unpredictably oscillated between knife density windslab and funky windcrust.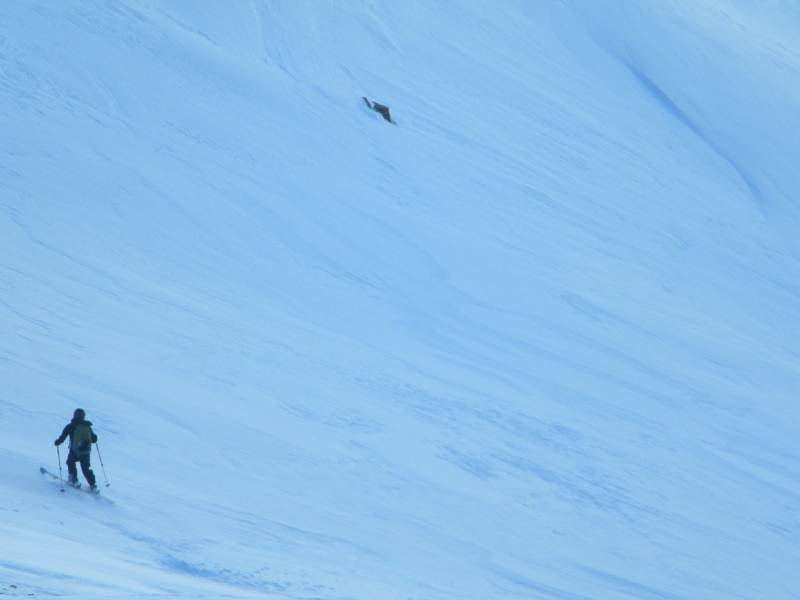 photo- Vanessa Logsdon skiing the northwest gully of Mt. Silverheels.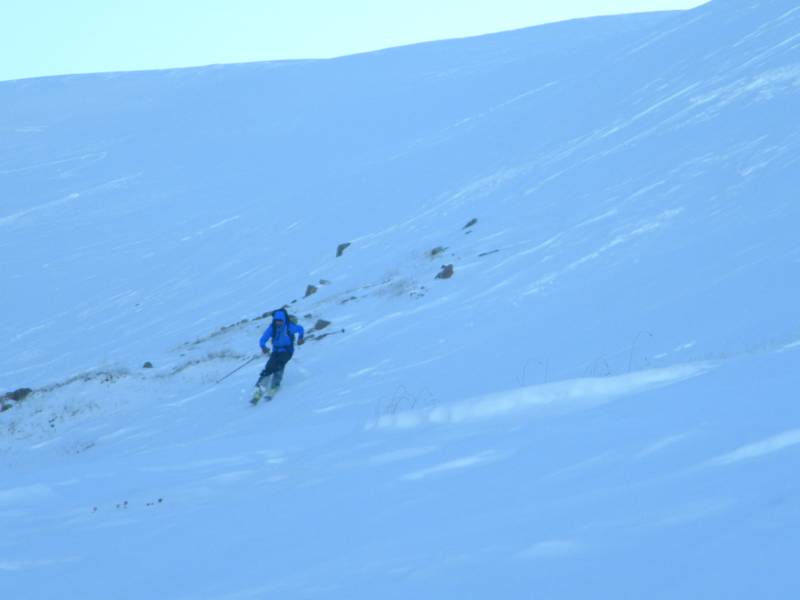 photo-Mike Bannister skiing the snorthwest gully of Mt. Silverheels. photo by Zach Taylor, 2013.
We were still out in the mountains on a Colorado high peak so there were no complaints. We did get a few laughs in as some good falls ensued. We skied out the bottom of the gully pretty happy. We threw skins back on and wandered back up to the head of Scott Gulch.
The top of the gulch was pretty bony and we did a skins on, downhill traverse over ground, rock, and snow to where there was somewhat continuous snow. From there we ripped skins and rode/skied back down through the drainage to our car.
The going was a bit tedious as things were bony, the snow was completely faceted to the ground, and lots of sharp logs, etc...poked up out of the snow....but hey, it was still a lot quicker than walking.
Mt. Silverheels is a pretty mellow mountain so far as Colorado mountains go. We had a great day out enjoying the sunshine and the views. Even though snow conditions were not stellar, I was still happy to have the splitboard along for much of the uphill and downhill. Hopefully we are going to start getting some snow soon. I am beginning to think of ridge traverses and summer type activities because of the lack of snow...