6/18/2009
ascent and descent route: south face
member of party: Zach Taylor, solo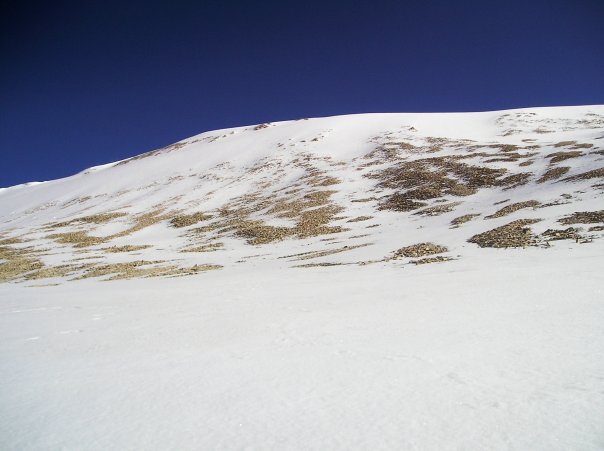 photo- A view of the south face of Mt. Sherman. photo by Zach Taylor, 2009.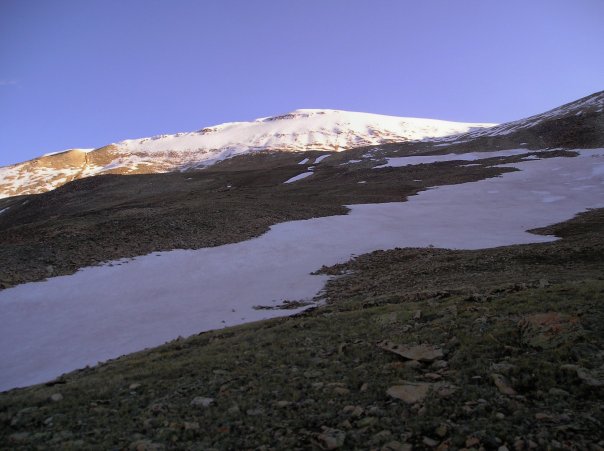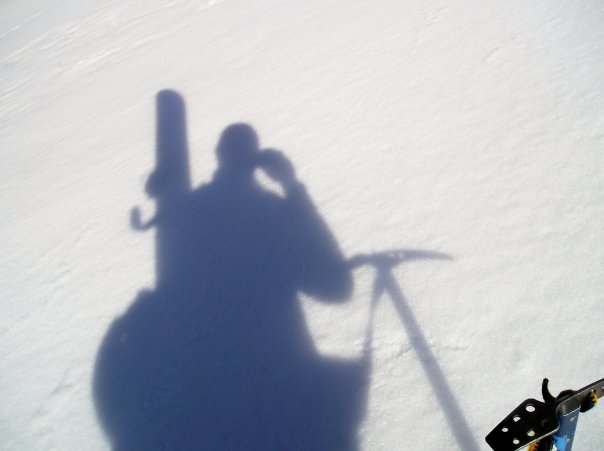 I had attempted to climb Mt. Sherman several days prior but had ended up summiting Mt. Sheridan instead due to bad weather.  I knew I was running out of snow for the season so I quickly headed back up to Sherman on the night of the 17th.  I camped off the Fourmile road at a small campsite and got up early on the 18th to head up Sherman. 

  I drove up to the trailhead and started hiking out.  The standard summer route heads up to the saddle between Sherman and Sheridan but Sherman's south face looked quite inviting directly above me. 

  I strapped on my axe and crampons and began my climb up the south face.  I measured the pitch angle several times.  It was a consistent 40 degrees.  As I got higher on the face I started getting hammered with some pretty good winds.  I had to dig my axe deeply into the snow as a self belay several times and just sit there waiting for the wind to die down a bit.  I continued up the face in this fashion.  I topped out directly on the summit.  It was quite windy and cold up there.  I met a guy and his dog that had come up from the Leadville side and briefly spoke to him on the summit. 

  We parted ways and I dropped in and rode frozen snow down the south face and almost all the way back to my car.  I had finished all the 14ers in the Mosquito range.  This was a first step towards riding all of them in Colorado.

photo- A shadow photo of Zach Taylor on Mt. Sherman. photo by Zach Taylor, 2009.
photo- Another view of Sherman's south side. photo by Zach Taylor, 2009.