5/17/2010
ascent route: Delaney gulch-south slopes-west ridge(summer standard route)
descent route:Silver Creek bowl to southeast couloirs(avalanche gulch
members of group: Ben Jordan, Joel Paula, Zach Taylor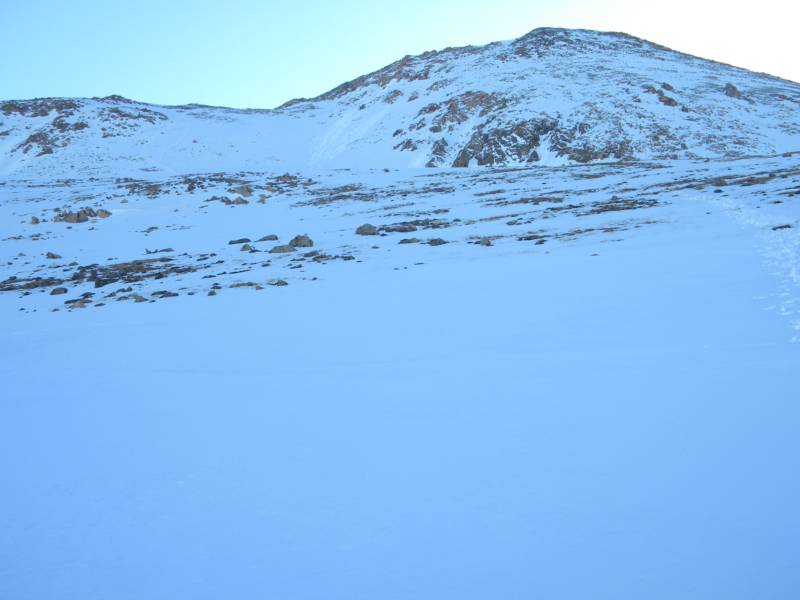 photo-A look at Mt. Yale from Deleaney Gulch
Joel and I had attempted to climb Yale several weeks prior only to be turned around by wet slab danger. It had been a cloudy warm night and when we started skining at 4:00am we were postholing on our planks nearly to the ground. I was leaving for Guatemala in a couple days and wanted to get in another snowbaord descent before leaving. The opportunity to climb and ride Yale came up again and we made our way to the trailhead on 5/16/2010. We camped out at the trailhead that night and got up early for our climb.
The snow had melted off significantly since I was up here prior and we hiked in the first mile or two before we hit snowline. We began skining at about 11,000'. We hiked up the summer trail to snowline and then followed pretty closely to that the entire time with some variation for snow cover. It had been a clear, cool night and we had recieved a decent freeze above treeline.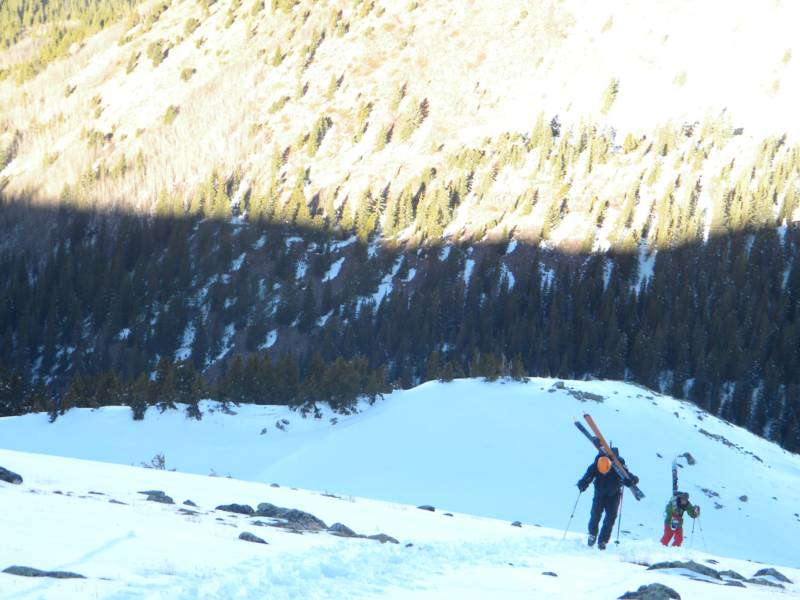 We had parked a car at Avalanche Gulch the night prior. Then we drove to the Delaney Gulch trailhead for our ascent. We were planning on traversing Yale from west(the standard summer hike) to the east(down into Avalanche Gulch).
We skinned/hiked up the south slopes and reached the west ridge at about 13,600'. Here we turned right(east) and began to hike up the west ridge towards Yale's summit. From treeline to the ridge we had continuous snow. The ridge was too rocky however for skinning so we hiked from here to the summit.
photo-Ben Jordan(left) and Joel Paul(right) booting up a steep slope on the south face of Mt. Yale above Delaney Gulch. photo by Zach Taylor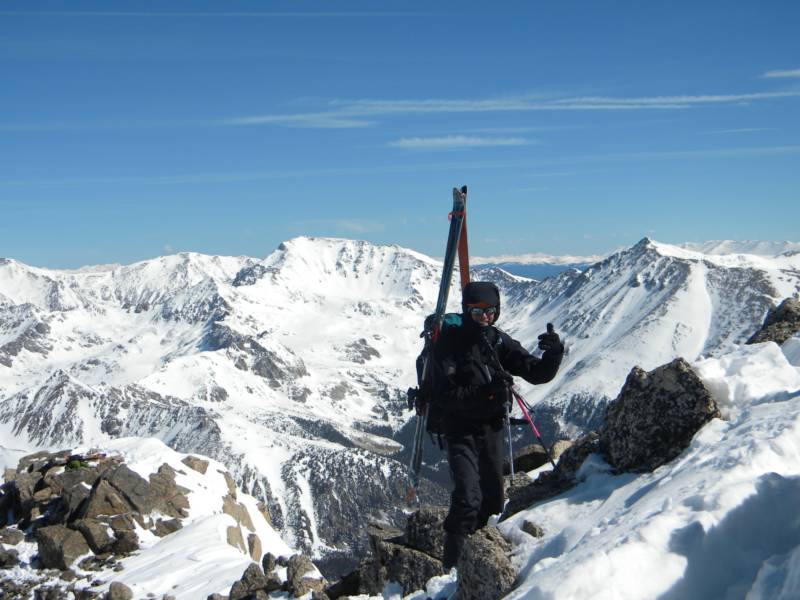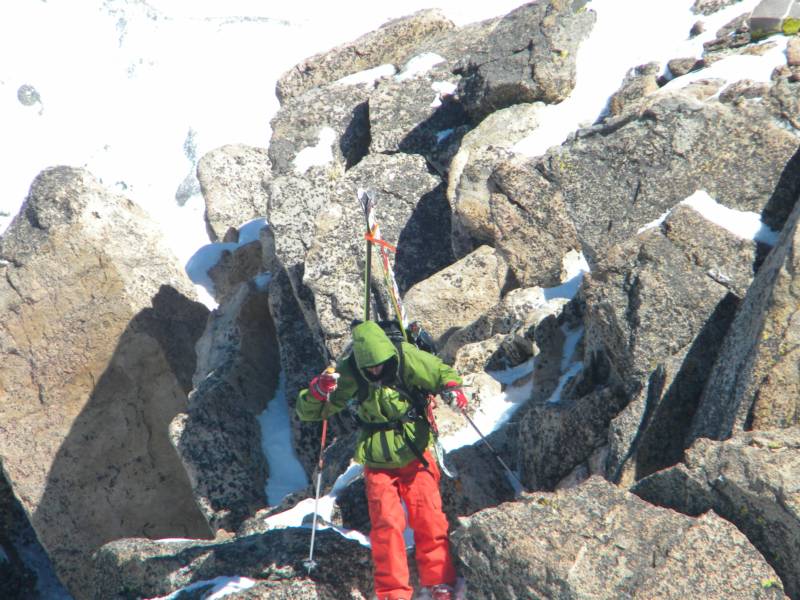 photo-Ben Jordan on Yale's west ridge near the summit. photo by Zach Taylor, 2010
Joel Paula on the west ridge of Mt. Yale. photo by Zach Taylor, 2010
We summited about 9:00am. It had turned into a beautiful, warm, and sunny day. The snow was beginning to thaw. We took a few minutes to enjoy the view before turning our attentions to the descent into Avalanche Gulch where none of us had been before. From the summit it was too rocky to drop from the summit into avalanche gulch(southeast face). Instead, the way to get a summit descent here is to drop to the northeast into Silver Creek bowl for about 400'. From here you cut to skier's right back to the east ridge. You cross over at about 13,700' and then drop into one of several couloirs that drop from the ridge here to the southeast. These are the southeast couloirs above Avalanche Gulch. This is the line we took.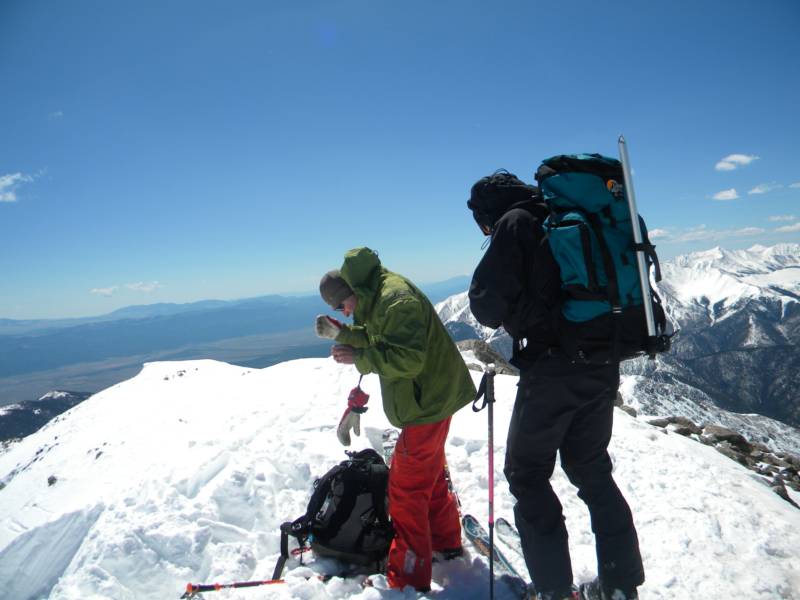 photo-Joel Paula(left) and Ben Jordan(right) getting ready for the descent into Avalanche gulch. photo by Zach Taylor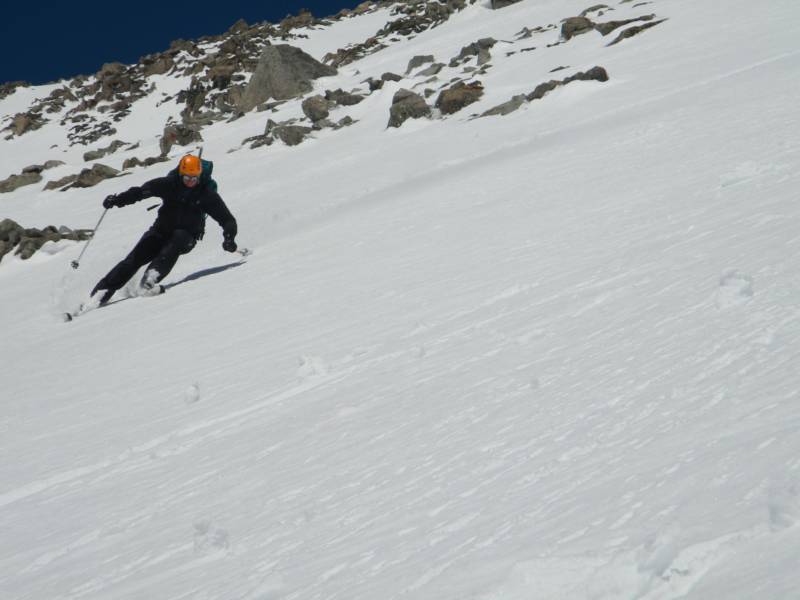 photo-Ben Jordan laying an edge into the soft spring snow in the southeast couloir of Mt. Yale. photo by Zach Taylor
We descended off the summit of Yale into the Silver Creek bowl. We had some nice, soft cornlike snow here. We descended down the skier's right side of the bowl looking for somewhere to cross the ridge and descend into Avalanche Gulch. After about 400 vertical feet we found a passage that put us on top of the southeast face of Yale. There are several couloirs that break up this face. We dropped in one at a time enjoying some nice turns under a sunny sky.
As we descended to about 12,000' the snow became very sticky and slushy. We kicked off some roller balls towards the bottom.
I was glad to get back to treeline when we did. I think we were still within a safe time frame to be on the slope but it was heating up quickly and I would expect there to have been some wet slab avalanche danger developing within a half hour-hour of our return to treeline.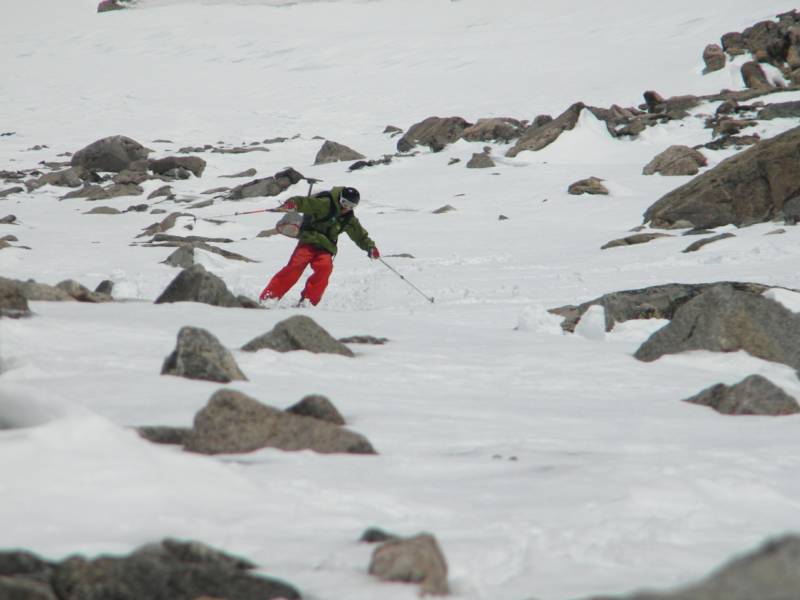 photo- Joel Paula sking through some rocks beneath the southeast face of Yale. photo by Zach Taylor, 2010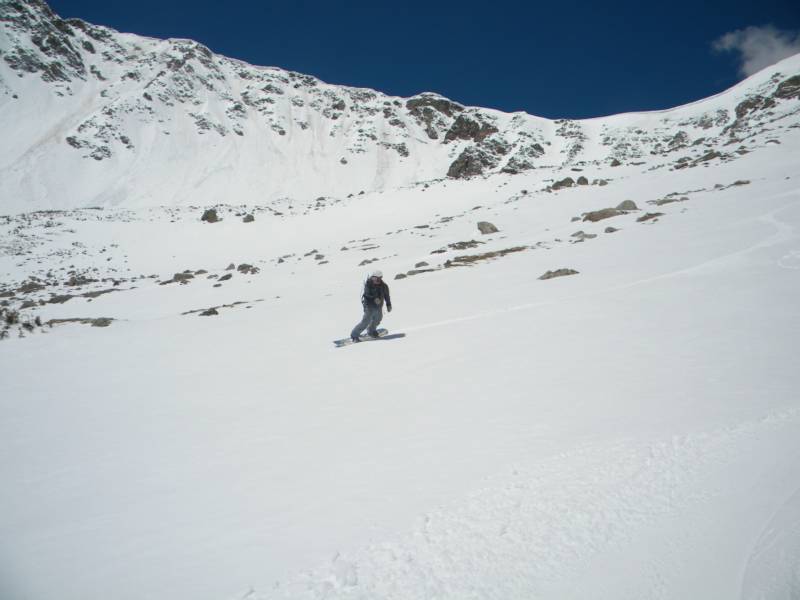 photo-Zach Taylor riding through the upper part of Avalanche Gulch. photo by Ben Jordan, 2010
After getting to treeline that snow became too discontinous and broken up by deadfall to be able to ride any more. We put our boards/skis on our backs and began to posthole through rotten snow and descend towards the southeast and the trail that runs up through Avalanche Gulch. There are alot of downed trees and some steep terrain. Postholing through the snow here was dangerous. It would be very easy to break through snow into a downed tree and break a leg in this area. We took care and made our way slowly back to solid ground. We spent an hour or two before finding the trail close to where the snow petered out. From here we quickly hiked out the last couple miles on a solid dirt trail.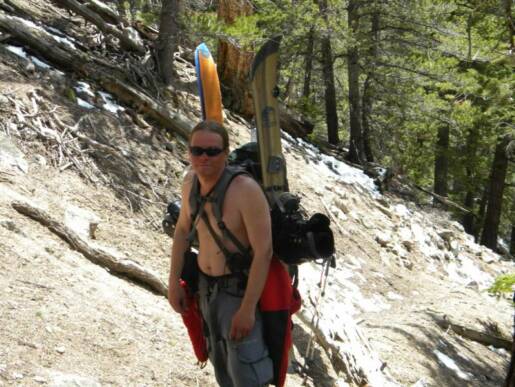 photo-Zach Taylor hiking out the Avalanche Gulch trail. photo by Ben Jordan,2010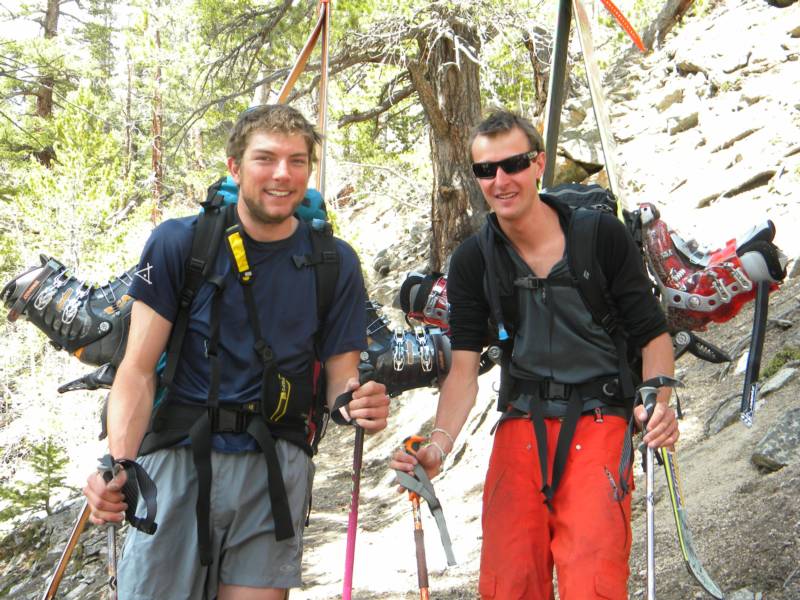 This was a nice, scenic traverse of Mt. Yale that allowed us to see three sides of this mountain. I would recomend it. Keep in mind that both the Silver Creek bowl and the southeast face above Avalanche Gulch are solar aspects that receive early sunlight and develop avalanche danger very quickly on sunny days in the spring. Get started early! Also if you come from the standard hike up side you will be traveling on south and west facing aspects until you reach the summit. This may hide the east facing snow conditions of your descent from you until you are actually descending.
The riding was all about 40 degrees or less. "Advanced" level sking according to Dawson's book. The steepest pitch angles are similar to the northwest couloir on Torreys or the Cristo couloir on Quandary. The Yale lines are less continous than either of the Quandary/Torrey's lines mentioned above.
photo-Ben Jordan(left) and Joel Paula(right) hiking out Avalanche Gulch. photo by Zach Taylor, 2010