photo- A view of the Russian Couloir and the south face of Mt. Lincoln from the summit of Mt. Bross.  The Russian couloir drops almost direxctly off the summit and descends a little to lookers left in the shadow of this picture.  photo by Zach Taylor, 2009.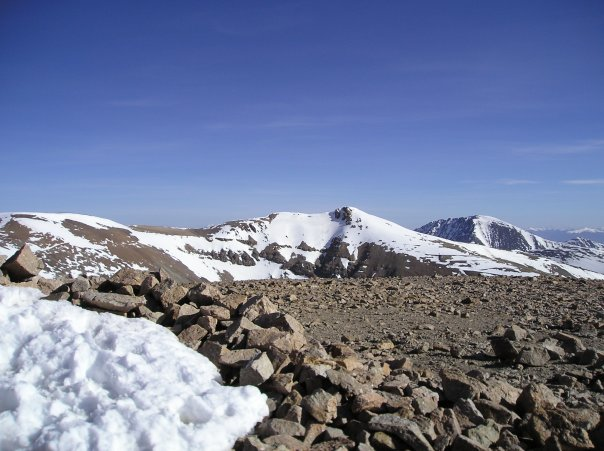 4/25/2009

ascent route- east slopes from Subdivisions road in Alma

descent route-Russian Couloir, south face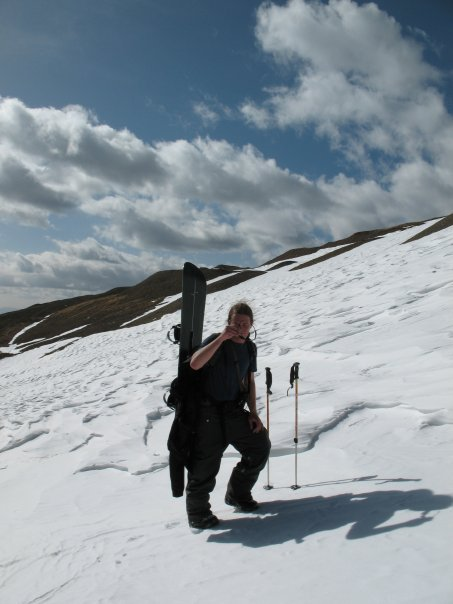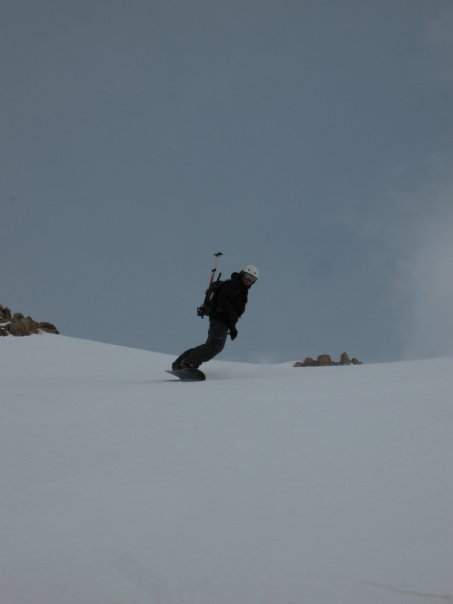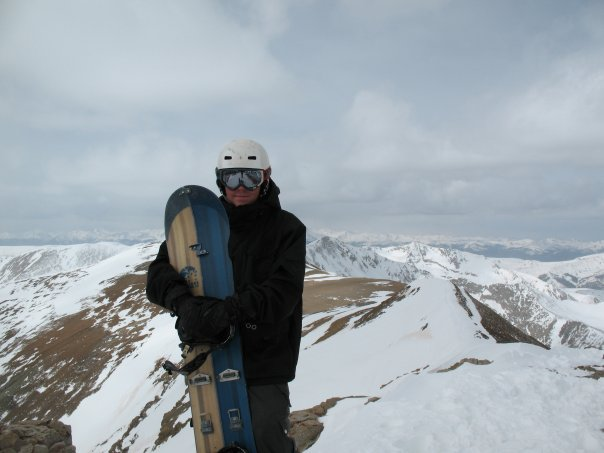 Colorado had been in a freeze thaw cycle for a while and Mike and I decided to have a go at the Russian Couloir on this 14er in the Mosquito range.  We decided to take the lazy man's route this time up the east ridge and drop into the couloir instead of climbing the couloir.  We parked on subdivision road above Alma and skinned out.  In past trips I have been harrassed by locals who don't like you parking by their houses.  However there is public parking by this trailhead and I don't believe they have any basis for their trespassing claims.  Anyway, no one bothered us on this trip.  We skinned up the jeep road to a bit above treeline.  Then we left the Jeep trail and hiked directly up the east ridge to the summit. 

  We dropped in one at a time.  The couloir had not really thawed that day as it was unseasonably cold at the time.  We decended the rock hard snow to about halfway where we discovered that part of the couloir was melted out.  We ended up having to downclimb about 100' of 40 degree unpleasant scree before hitting snow again.  Then we descended the rest of the couloir and traversed riders left back to the road.  The snow on the lower part of the line corned up and improved on this lower section. The line was really fun besides the melt out in the middle.  As soon as you exit the couloir you must traverse left back to the east ridge.  The runout of the couloir does descend directly down to someone's house and is all private property.  It seems like this couloir melts out very early relative to most of Colorado's high lines.  Late March or early April under stable snow conditions would probably be a better time for the Russian Couloir in most years.

photo-Zach Taylor hiking up the east slopes of Mount Lincoln. photo by Mike Bannister, 2009.
photo-Zach Taylor descending off the summit of Mount Lincoln, about to drop into the Russian Couloir.  photo by Mike Bannister, 2009.

photo-Zach Taylor on the summit of Mount Lincoln.  photo by Mike Bannister, 2009.