4/8/2011

ascent route: east slopes of Loveland Mountain

descent route: northeast slopes of Mt. Buckskin

members of group: Ricardo Moreno Contro and Zach Taylor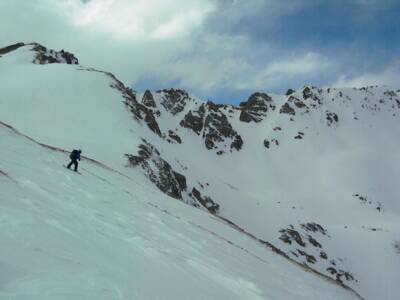 photo- Zach Taylor riding the northeast slopes of Mt. Buckskin.  photo by Ricardo Moreno Contro, 2011

    Initially Pollo and I were planning on heading the direction of Crestone Peak on the 8th but with the CAIC forecasting 60 mph winds in the Sangres we decided to stick closer to home where winds were supposed to be slightly more mellow.

    As I close in on climbing the last few of Colorado's 14ers, I have begun to pay more attention to my centennial list (all of Colorado's peaks above 13,800').  Keep in mind, lists are not something I am obsessive about, I want to climb any mountain that looks fun and ride any line that looks cool but I do enjoy the sense of accomplishment that comes with completing mountain lists and the motivation to get out there that they sometimes supply.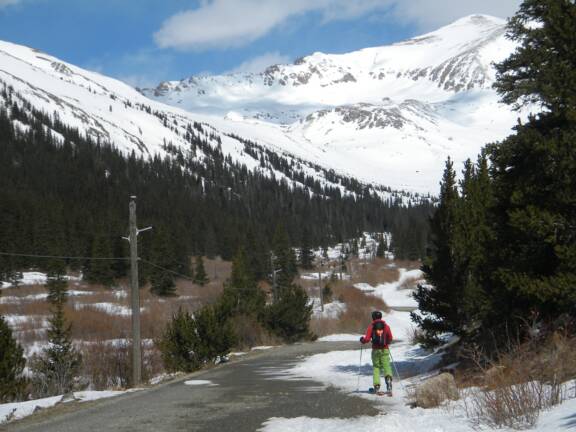 photo-Ricardo Moreno Contro skinning up the road to Kite Lake. photo by Zach Taylor, 2011
Mt. Buckskin is a centennial that sits just south of Mt. Democrat and west of Kite lake road. It looked like an easily accessible peak with some good snow on it. Due to previous trips in the Mosquito this season I knew that the snowpack was trending more towards spring here than most of the Vail-Summit area. Pollo and I drove to Alma on the night of the 7th. We drove part way up Kite Lake road and found a place to camp below snowline. We were both worn out from previous days of work and play and ended up sleeping through our alarms. We got up at about 9:30am. Whoops. I was surprised to see that the snow patches around camp, well below the trailhead, were still completely frozen. We decided, what the hay? Why not head up and see if we can still salvage the day. We drove up to the winter closure and began skinning the Kite Lake road.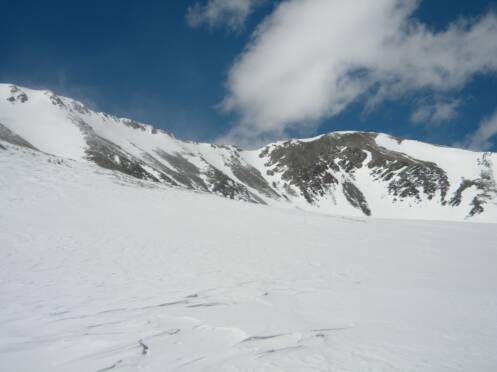 photo- A look at Loveland Mountain.  photo by Zach Taylor, 2011

    After a mile or two we could see a continuous line of skinnable snow going from the road up to the ridgeline just below 13,692' Loveland Mountain. 


We decided to take it to gain the ridge and then traverse the ridge to Buckskin's summit.  We began the steep skin up the snow gully.  As we climbed higher in elevation we began to get hit with pretty strong winds that gusted in the 25-35 mph wind range.
    It seems like most of the time I have been up this spring I have been pounded with wind so this was nothing new.  We made our way up the gully and topped out after a couple stops to let the gusts subside.  The ridge was pretty bare of snow so we strapped our planks on our packs at the top of the gully and walked up and over Loveland's summit then across to Buckskin.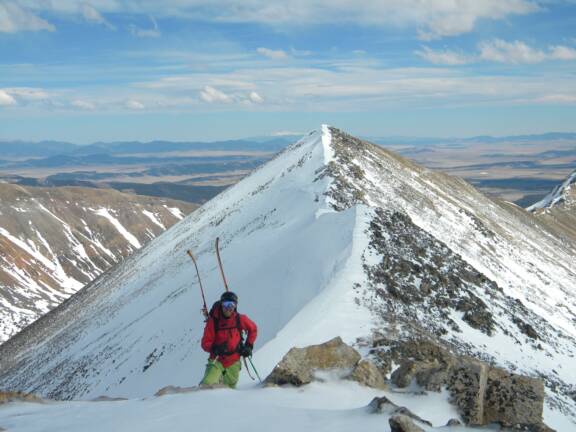 photo-  Ricardo Moreno Contro almost on the summit of Mt. Buckskin with Loveland Mountain pictured behind.  photo by Zach Taylor, 2011.

    We summited Buckskin about 2:15 after almost four hours of hiking.  I must say between the winds and our slow pace we took our leisurely time on the way up.  This was definitely a lazy day by mountain climbing standards.  After summiting Loveland, the winds subsided a bit too for our ridge walk across to Buckskin.  We hung out on the summit for a bit enjoying the views;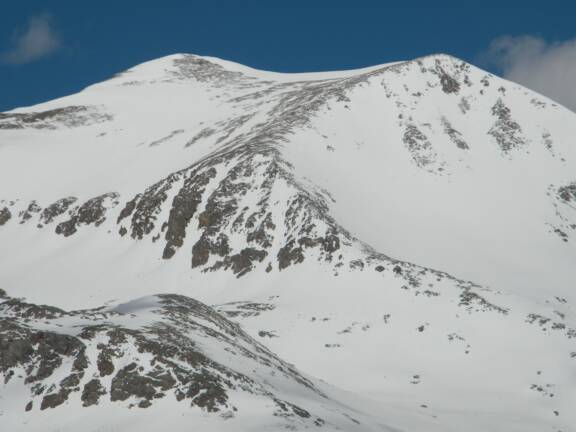 A look at the south chutes of Mt. Democrat.  photo by Zach Taylor, 2011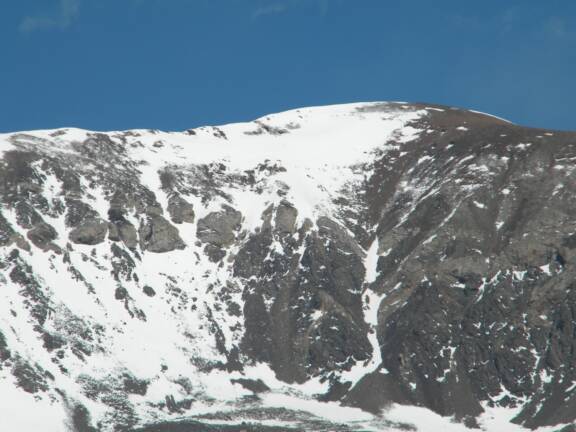 A look at Mt. Cameron.  photo by Zach Taylor, 2011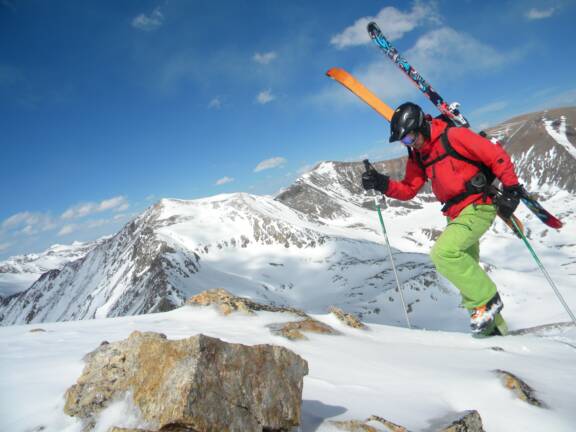 photo- Ricardo Moreno Contro stepping onto Mt. Buckskin's summit with Democrat, Cameron, and Bross pictured from left to right.  photo by Zach Taylor, 2011

photo- A look at the sky from Buckskin's summit.  photo by Ricardo Moreno Contro, 2011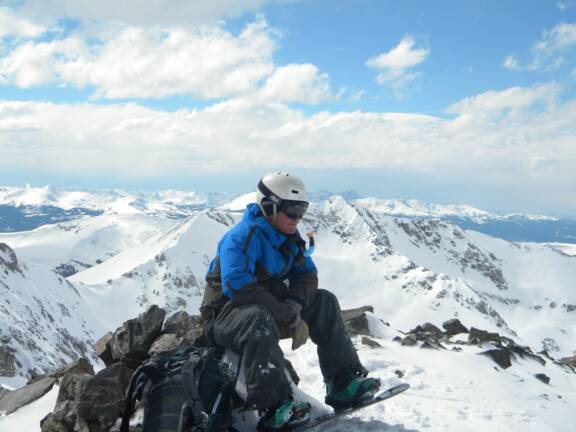 photo-Zach Taylor enjoying the views from Buckskin's summit, photo by Ricardo Moreno Contro, 2011

I sat down on the summit rocks and strapped on my board stoked for a summit descent of one of Colorado's 100 highest.  We dropped the northeast face on at a time.  There were a couple turns tight turns off the summit in the 35 degree range on wind hardened snow before the pitch angle mellowed to about 30 as we descended down a wide open slope for the rest of the ride down into the valley.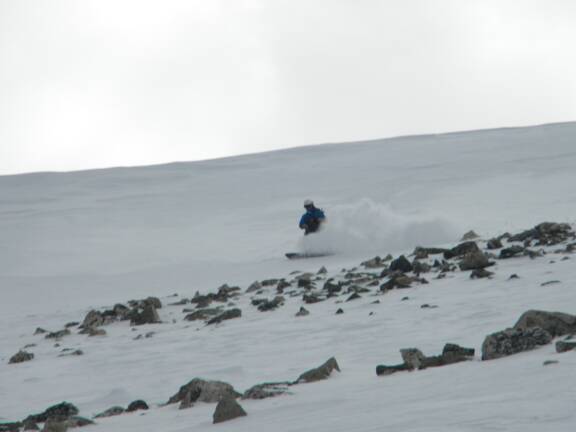 photo- Zach Taylor ripping turns down the northeast face of Mt. Buckskin.  photo by Ricardo Moreno Contro, 2011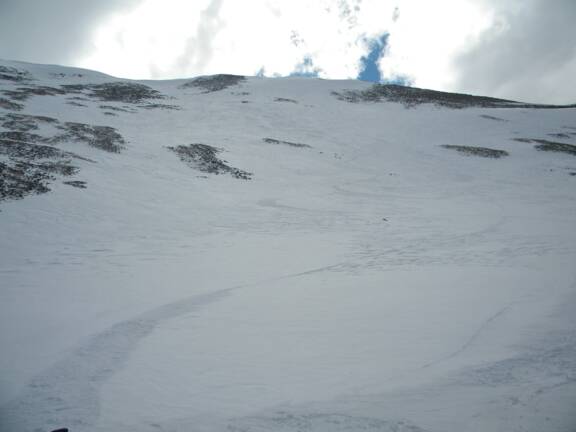 photo- A look at our tracks and the northeast face of Buckskin. photo by Zach Taylor, 2011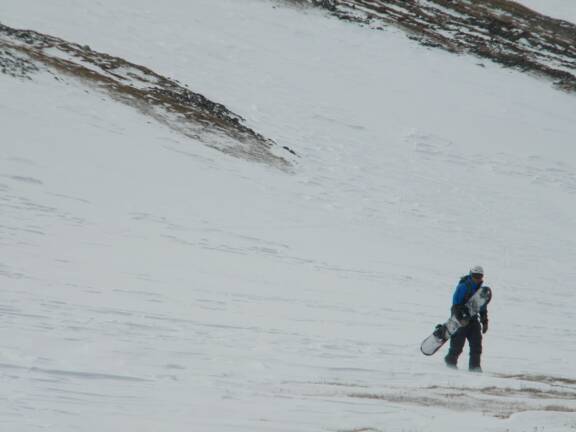 photo- Zach Taylor walking for a minute beneath the northeast face of Mt. Buckskin, 2011

    We descended down to Kite Lake road and skied/snowboarded out to my Blazer at the trailhead.  Good times...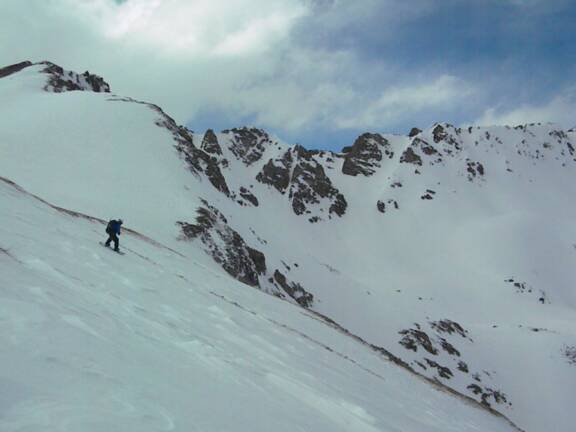 photo- Zach Taylor descending the northeast face of Mt. Buckskin.  photo by Ricardo Moreno Contro, 2011