6/17/2011

ascent route: north face between Missouri and Pt 13,930'

descent route:  C chute on north face of Missouri right below summit.

members of group: Joel Paula, Mike Hood, and Zach Taylor



14,067' Missouri Mountain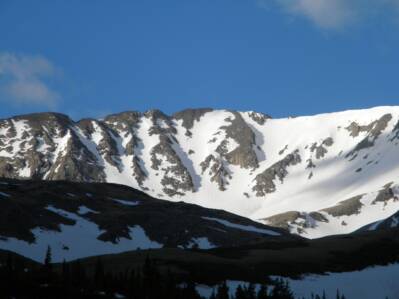 photo- A look at the north face of Missouri Mountain from Missouri Gulch.  photo by Zach Taylor, 2011.

    I had just worked for a week after getting back from my PNW snowboard mountaineering trip.  It is not any easier to get back to the grind after a long time away traveling and riding peaks so by the end of the week I was antsy to get back outside on some mountains. 

    The snow seems to be holding late this year and almost everything north facing is still in, especially in the northern Sawatch.  I had tried to climb Missouri a couple years ago but ended up ascending Pt13,930' by accident.  Lou Dawson mislabeled a picture in his guide book of Pt 13,930' as Missouri Mountain and at the time I did not look close enough at maps or his route descriptions to recognize the error until after getting back.  Missouri is also the last peak in the Sawatch that I had not climbed yet.  Needless to say, Missouri was on my late season hit list after I got back in town.

    Joel had hiked Missouri in the summer but had yet to ski it and Mike had never been up the drainage before so both of them were stoked to head up there on thursday (6/16/2011) for a potential summit the following day.  Joel had to work thursday night so Mike and I left in the afternoon with plans to meet Joel at the trailhead in the morning.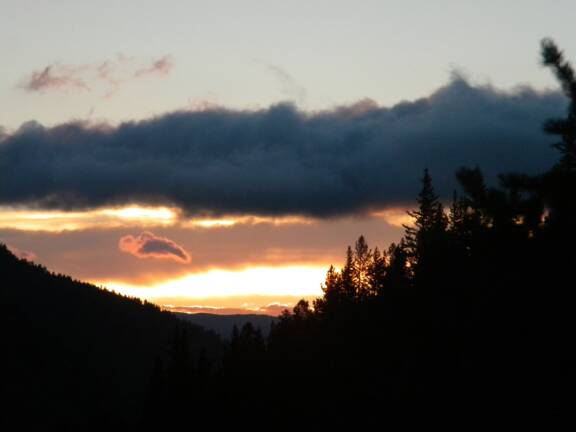 photo- Sunrise over Missouri Gulch. photo by Zach Taylor, 2011.
Mike and I camped at a campground about a mile below the Missouri Gulch trailhead on thursday evening. We cooked some brats and went to bed early. We woke up a 3:30am to rain coming down on our tents. Damn, things were not looking good at all. We knew Joel was probably sleeping in his car a mile up the road at the trailhead so we decided to atleast get up and head to the TH to meet up with Joel and see what the weather was doing.
We drove up the road and saw Joel's subaru at the trailhead. We knocked on his window in the rain and woke him up. We talked for a while about options and initially decided to go to bed again and then head up to Independance pass instead since weather looked bad. We started driving back down the road to camp and I noticed the coulds were clearing a bit. Well you do not get up mountains by not hiking in and weather seemed to be improving so we turned around, drove back up to Missouri Gulch, and decided to start hiking uphill. I am glad we did. Clouds stayed in and out all day but did not sock in till we were back down off the mountain.
We made our way up to treeline. I was hoping to be able to skin from around the old cabin ruins but snow was melted off enough that we ended up walking almost to the base of Missouri's north face. For those of you wondering about Belford conditions, the northwest gulch is still in enough for skiing but is melting fast. Missouri's north face should be good for a couple more weeks I would think.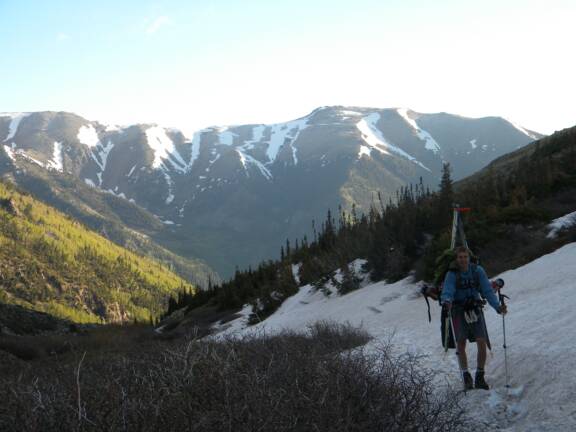 photo- Joel Paula hiking towards Missouri Mountain.  photo by Zach Taylor, 2011.

    The snow was water saturated, postholey, and wet in many places and we were concerned about wet slab issues due to recent rain and a crappy overnight freeze.  Because of this we chose to ascend a shoulderey kind of snow field that came up to the saddle between Missouri and Pt 13,930' to avoid some possible avalanche issues on the north face of Missouri.  We figured if worst came to worst we could summit and ride down this way if the north face looked sketchy and avoid most avalanche issues in the area.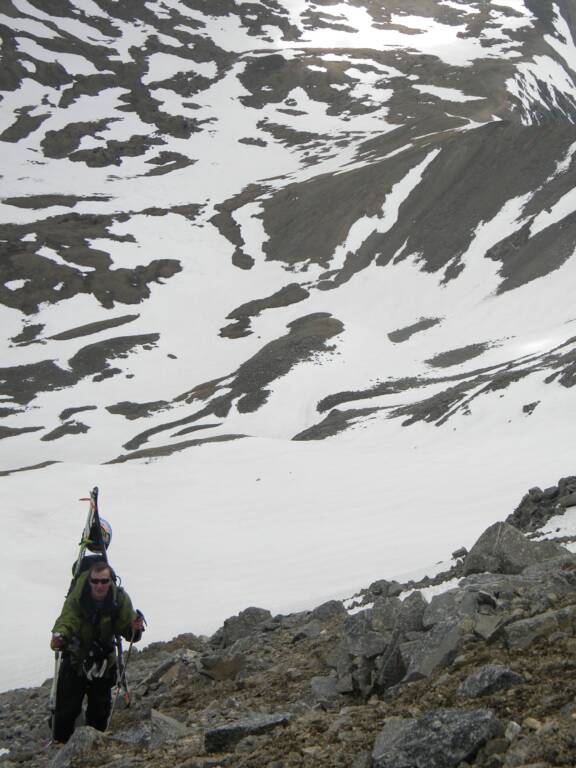 photo- Joel Paula hiking towards Missouri.  photo by Zach Taylor, 2011.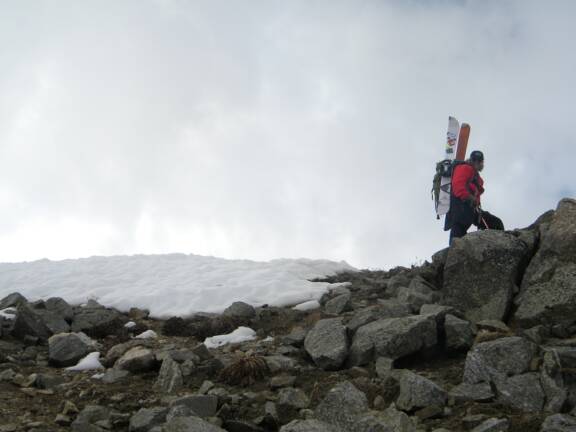 photo- Mike Hood near the ridgeline between Pt 13,930' and Missouri Mountain.  photo by Zach Taylor, 2011.

    We gained the saddle quickly and and walked the ridge over to Missouri's summit.  Fortunately the north face was frozen and did not exhibit the sketchy, mushy, snow character of the valley.  We enjoyed the summit for a couple quick minutes as clouds swirled above us and graupel began to fall.  We did not spend much time on the summit as weather was deteriorating quickly at this point.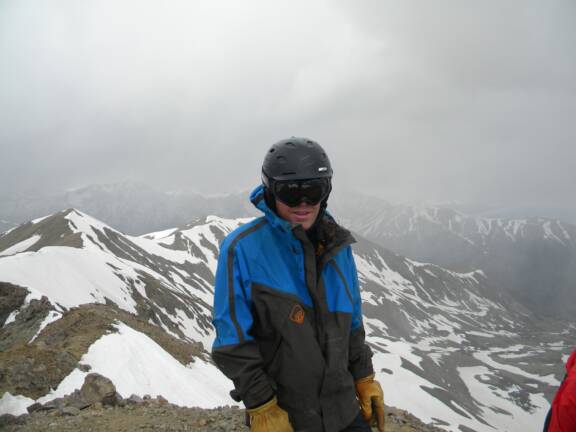 photo- Zach Taylor on the summit of Missouri Mountain.  photo by Joel Paula, 2011.

    Another nice benefit of snowboard mountaineering is that I feel like you can climb in marginal conditions a lot more since you can be back at the valley floor in five minutes in a pinch of snow/weather conditions warrant.  I would not have climbed in that weather if there was not the ability to be off the mountain very quickly.  More snow and graupel fell as we geared up but it never got too bad.

    I dropped in first and rode down halfway to take pictures of the other guys as they descended...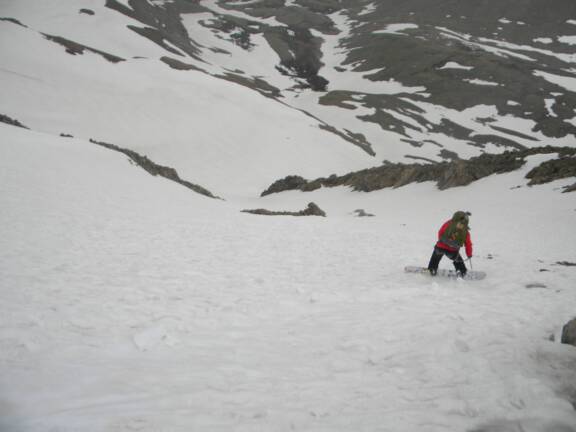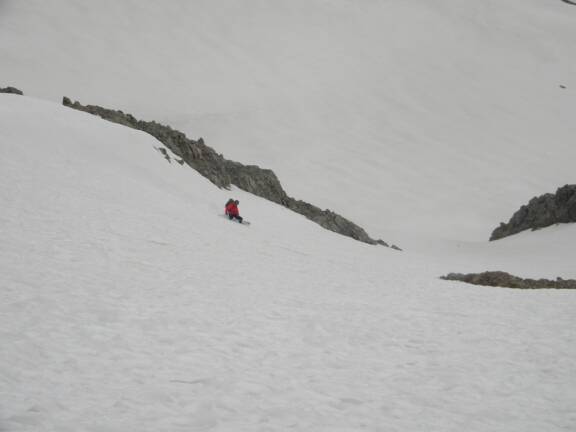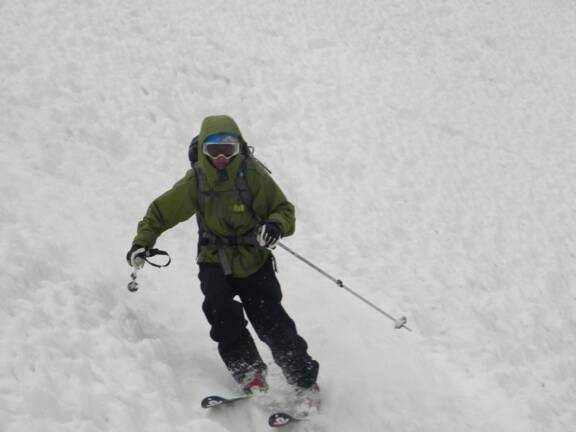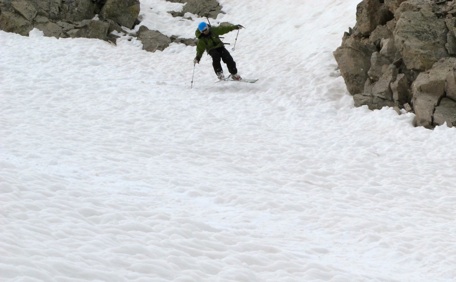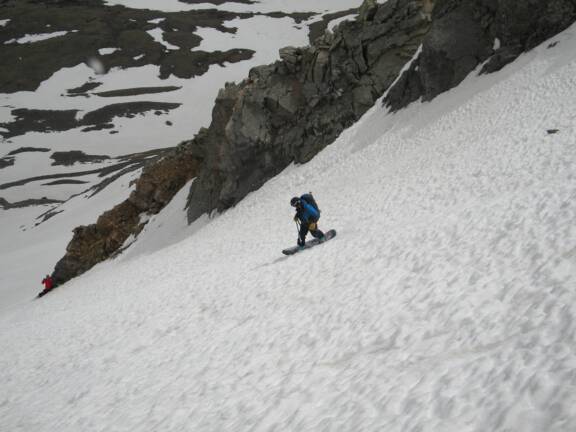 photo- Mike Hood riding the north face of Missouri Mountain.  photo by Zach Taylor, 2011

photo- Mike Hood riding the north face of Missouri Mountain.  photo by Zach Taylor, 2011

photo- Joel Paula on the north face of Missouri.  photo by Zach Taylor, 2011

photo- Joel Paula on the north face of Missouri.  photo by Mike Hood, 2011

photo- Zach Taylor riding the north face of Missouri.  photo by Joel Paula, 2011

    The turns were fun and decently steep although it was not nearly as technical as I thought.  It is one of the easier "extreme" snowboard descents I have done.  It is probably just steep enough that you could slide for a ways if you did not have the ability to stop but it was really fairly mild for its "extreme" reputation.

    We rode out to the valley floor where Mike and I switched over to "ski" mode on our splittys and Joel released his heel for a skate out of the upper valley.  I think Joel had some amusement as he watched both Mike and I awkwardly ski out in tour mode.  We both took at least one amusing fall on the way out in the slushy, funky snow conditions.  I did not feel as bad though when I watched Joel eat it too.  Once we got back to the end of snowline we shouldered our planks again and walked down to the cabin ruins for tea and lunch.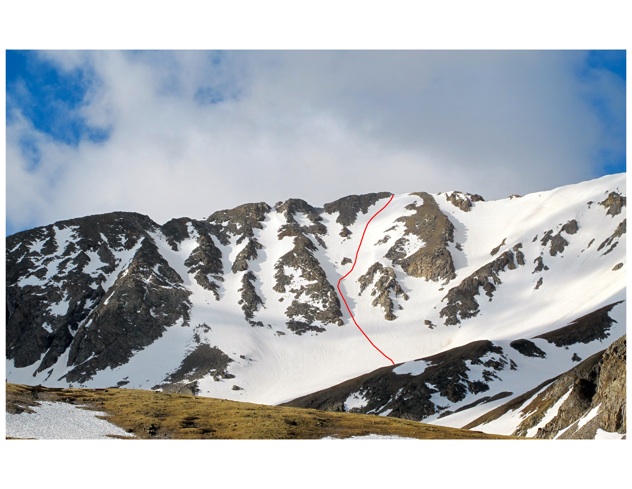 photo- A look at our line on the north face of Missouri.  photo by Mike Hood, 2011.

    After lunch we hiked back down to the trailhead about 1800' below.  Joel said his goodbyes and Mike and I headed towards our next objective of the weekend, Grizzly Peak.

    It was a good trip.  I had not gotten up with Joel since our San Juan trip in the first part of May and I had met Mike a few weeks ago at a party where we were introduced by a mutual friend.  We made plans to get up on something after I got back from the PNW and Missouri was it.  So it was great to get out with a friend I had not seen in a while and a new friend that I had not been up with before.  Check out Mike's trip report for this climb at

http://www.mfhood.com/file/Blog/Entries/2011/6/17_North_Face_of_Missouri_Mountain.html

Happy turns!